Poll: Americans Don't Want Republicans In Control Of Congress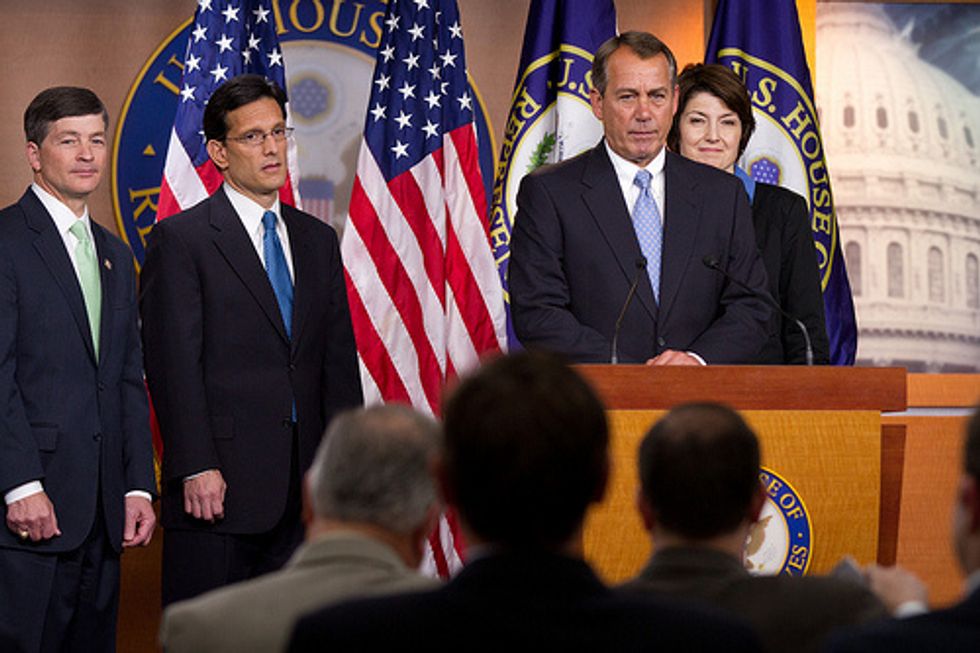 As a result of the government shutdown and debt ceiling debacles, the GOP has put itself in a rather vulnerable position as midterm elections approach.
A USA Today /Princeton Survey Research Poll finds that 47 percent of Americans say that Congress would be changed for the better if every member were replaced in the next election cycle. This is an increase from before "wave elections" in 1994 and 2006, when 40 and 42 percent of Americans respectively wanted to re-elect the entire U.S. Congress.
Only 4 percent of respondents say that replacing a majority of elected leaders in Congress would actually make it worse.
Conservative voters' view of their own party is clearly deteriorating — 52 percent of Republican or Republican-leaning voters agree that Congress would be better if a majority of the current members were replaced.
Respondents also agree that Republicans deserve the blame for the government shutdown , by a 39 to 19 percent margin — 36 percent say both parties are equally responsible. There's little division among Democrats — 8 in 10 believe Republicans are to blame for the crisis.
Contrary to Republicans' expectations, the Tea Party-led effort to topple Obamacare actually increased support for the president's signature health care law.
CNN/ORC reports that 53 percent of Americans support the Affordable Care Act and hope to see its implementation continue. Prior to the government shutdown, that number was just 49 percent.
Similarly, a Washington Post/ ABC News poll last month found that voters opposed the health care law by a 42 to 52 percent margin. That number has narrowed in their most recent poll , which finds that 46 percent support the Affordable Care Act and 49 percent still stand in opposition.
As Steven Schier, a political scientist at Carleton College and co-author of American Government and Popular Discontent told USA Today , "This is a real warning about the GOP pursuing this strategy in 2014. The telling moment will come in January and February, when we face another debt limit and a possible shutdown."
With budget talks commencing in three months and midterm elections only a year away, the GOP is in need of damage control. The numerous attempts to repeal Obamacare—a strategy a growing number of Americans oppose—is already alienating voters. And according to polling data, the Tea Party tactic of shutting down the government seems to be something they could pay for in House and Senate seats in 2014.
Photo: SpeakerBoehner via Flickr