Poll: Female Voters Overwhelmingly Oppose Hobby Lobby Decision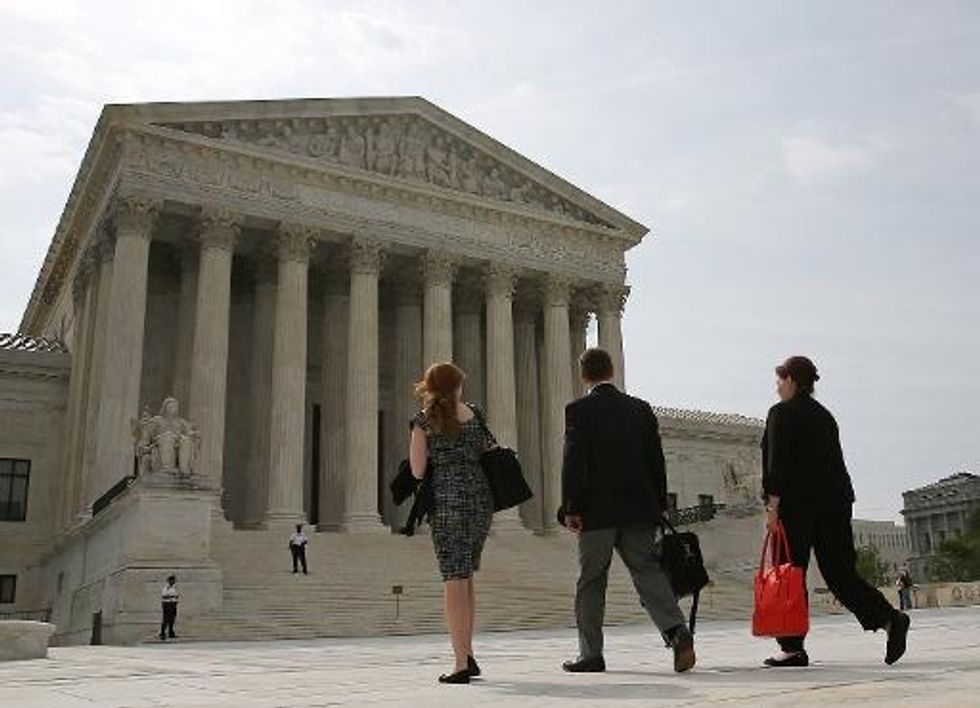 Republicans are already at a disadvantage when it comes to female voters, and their support for the Hobby Lobby ruling could hurt them even more. A recent poll shows that a majority of female voters from across the political spectrum oppose the Supreme Court's decision — and candidates who back it.
Hart Research Associates, a Democratic firm, released a survey on Friday assessing the attitudes of 1,083 women between the ages of 18 and 55 toward the controversial ruling. It found that 71 percent thought that for-profit corporations should not be able to exempt themselves from laws that go against their religious beliefs. This includes 82 percent of Democrats, 73 percent of Independents, and even 52 percent of Republican women.
And 95 percent of Democrats, 82 percent of Independents, and 63 percent of Republicans also think that employers should cover prescription birth control without a co-pay; 57 percent of these women strongly agree with this policy. So Republicans who don't think women should have affordable access to birth control disagree with over half of their female base.
These female voters aren't just passionate about the issue — they're also paying very close attention to news coverage of it. A 58 percent majority of women disagree with the Supreme Court ruling. This includes 73 percent of Democrats, 60 percent of Independents, and 35 percent of Republicans — 59 percent of women have "heard or read a great deal or fair amount about the decision." And 72 percent of female voters say that the decision is "very or fairly important to them personally." Women under the age of 30, unmarried women, and Hispanic and African-American women feel especially strongly about the decision.
The poll also suggests that Hobby Lobby will have a direct impact on the midterm elections — 78 percent of women who are closely following news about the midterms view the ruling as an important personal issue.
The survey is a major warning sign for politicians who came out in favor of the Supreme Court decision; 71 percent of women think these elected officials are "focused on the wrong issues and priorities," and 68 percent think they are "out of touch with them and the everyday lives of women."
A candidate who opposes allowing companies to refuse to cover birth control is more likely to get the vote of 57 percent of respondents. This includes 55 percent of Independents. And among female Republican voters, 34 percent say they would prefer a candidate who opposes exceptions, while only 38 percent say they would rather have a candidate who supports those exceptions.
The survey also found that women don't think for-profit-companies can have religious beliefs, and a majority of female voters think the current accommodations for religious groups under the Affordable Care Act are "acceptable and reasonable."
This isn't the first survey to show that Republican policies are alienating women. A poll conducted last week by Democracy Corps and the Women's Voices Women Vote Action Fund shows that women support Democrats over Republicans in states with contested Senate seats, and that Democrats can win those seats by focusing on issues that are important to women.
Republicans are going to have to figure out a way to show women they're not so "out-of-touch" if they want to win their votes.
AFP Photo/Mark Wilson
Interested in U.S. politics? Sign up for our daily email newsletter!