Poll: Kentucky Senate Race Is 'Down To The Wire'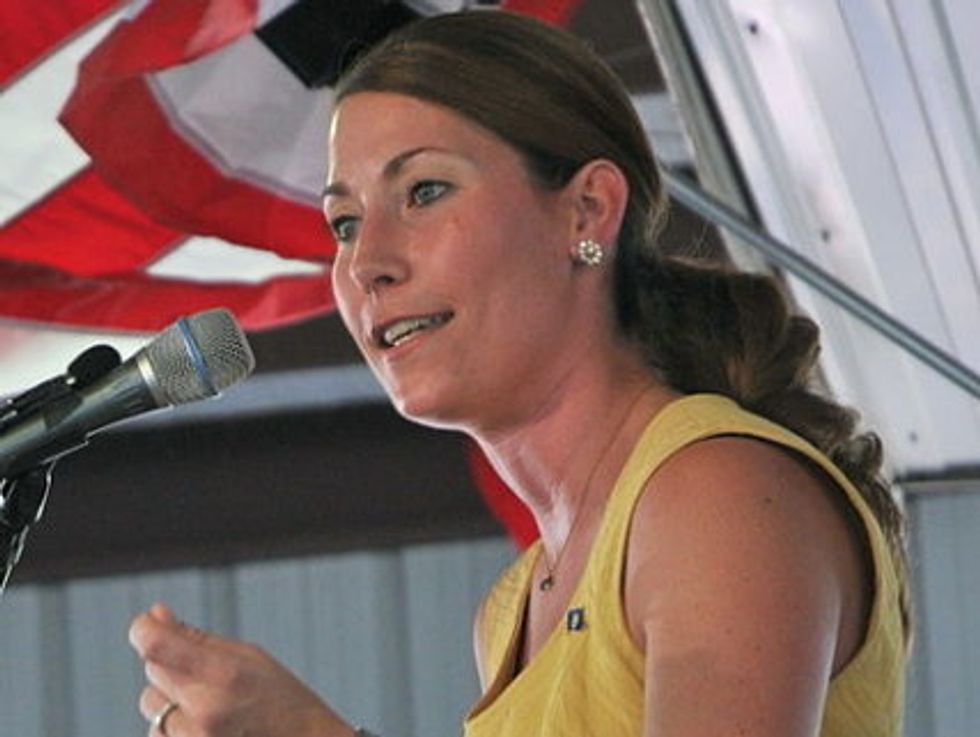 The race between Senate Minority Leader Mitch McConnell and his Democratic challenger Alison Lundergan Grimes "could hardly be closer and will go down to the wire," according to a poll of Kentucky's likely electorate conducted by The Mellman Group for the Grimes campaign.
The poll finds Grimes leading McConnell by 1 point: 43 percent support Grimes, 42 percent support McConnell, and 15 percent are still undecided. The candidates are within the poll's +/- 3.5 percent margin of error.
"The big point here really is that this is essentially a tied race," pollster Mark Mellman said in a Grimes campaign press call.
Among respondents who "strongly" back their preferred candidate, 35 percent support Grimes strongly, while 30 percent support McConnell strongly. And among respondents who recognize both of the candidates' names, Grimes has a 9-point lead (50 percent support Grimes, 41 percent support McConnell, and 9 percent are undecided).
Though McConnell is still far better known than Grimes, as he's been a Kentucky senator since 1984, Grimes has a much "stronger image with voters." The candidates have similar favorability ratings (McConnell's is 42 percent while Grimes' is 41 percent), but McConnell's unfavorability rating is 11 points higher than Grimes' (47 percent to 36 percent).
Grimes has a very strong advantage when it comes to job performance. McConnell has a 29-point net-unfavorable rating for his job performance as the Senate Minority Leader (32 percent view him favorably, 61 percent negatively), while Grimes only has a net-unfavorable rating of 1 point for her job performance as Kentucky's secretary of tate (38 percent positive, 39 percent negative).
Respondents associated Grimes with the phrases "will work to create good jobs" and "will protect Social Security and Medicare." They associated McConnell with "opposes raising the minimum wage," "has been in office too long," and "supports tax breaks for companies that ship jobs overseas."
"Alison's strength is based on a real image advantage," Mellman said.
The poll noted the "millions of dollars of ads" coming from the McConnell campaign against Grimes. But the Grimes campaign has been doing plenty of its own mudslinging, releasing ads criticizing McConnell for voting against a minimum-wage increase and for voting for corporate tax breaks, among other attacks. VoteVets also recently hit McConnell with a tough ad calling out the senator for blocking legislation that would expand benefits for veterans.
"[There's a lot more ads from the other side than from our side," Mellman said. "All of that has some effect on the public perception … I wouldn't say that any ad is one ad that is making a difference."
The poll did not include Libertarian candidate David Patterson, who Mellman says could "siphon" a few points away from either major candidate.
Mellman argued that his poll is more accurate than public polls, because it surveyed the "likely electorate" and didn't just randomly call likely voters. This sample was determined by "analyzing the vote history" of each voter to see how it will affect their vote in November.
Other recent polls have found McConnell pulling ahead of Grimes. The Real Clear Politicspoll average now shows McConnell ahead by 5.2 percent.
"We've been right when these public polls have been wrong," Mellman countered, referencing two times — New York City's 2013 election for comptroller, and Senate Majority Leader Harry Reid's (D-NV) 2010 re-election — that he accurately predicted elections when other polls didn't. "I feel very, very confident in our methods and I feel, frankly, more confident in our methods than the public polls that have been done."
Photo: Patrick Delahanty via WikiCommons
Interested in U.S. politics? Sign up for our daily email newsletter!