Poll: Michigan Governor Rick Snyder Leads Democratic Challenger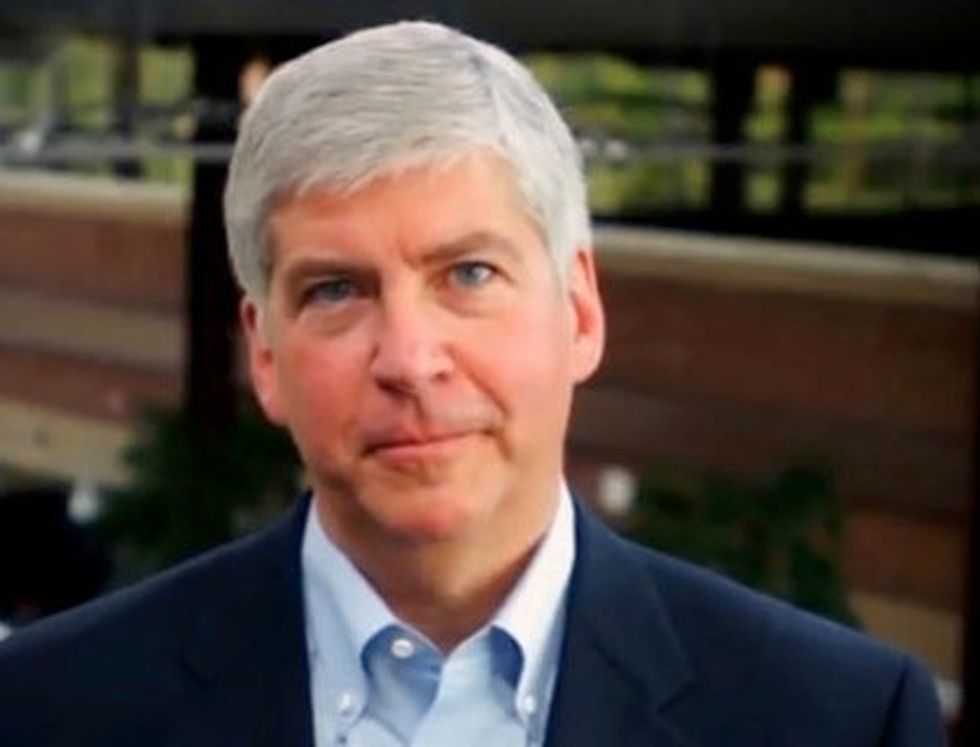 Michigan governor Rick Snyder's decision to challenge his party and endorse a statewide Medicaid expansion may have paid off: The Republican now leads Democratic challenger Mark Schauer by eight points, according to a new poll by EPIC-MRA of Lansing. In a survey of 600 likely voters, with a margin of error of +/- 4 percent, EPIC-MRA has Snyder leading Schauer 44 percent to 36 percent.
EPIC's poll shows Snyder's popularity is on the rise since agreeing to a Medicaid expansion in August. A June Public Policy Polling poll showed Schauer leading Snyder by four points and EPIC's last poll, from May 2013, showed Schauer leading by one percentage point.
Governor Snyder has been, by and large, a conservative governor who pushed through a right-wing legislative agenda during his first term. Notably, he signed a controversial right-to-work bill into law, which put a financial strain on private and public unions. He also cut funding for education and handed corporations tax cuts. But, his decision to back a Medicaid expansion as part of the Affordable Care Act scored him points with moderates and even some Democrats, according to Michigan pollsters.
"I think certainly the success of Medicaid expansion was a boost for him among independents and maybe even some Democrats," pollster Bernie Porn told Michigan Live.
Snyder's support of the Medicaid expansion, however, did not earn him a boost with the Michigan Tea Party. Following the vote, Adrian M. Poulisse, the Republican 1st Congressional District Secretary, argued: "We will see division in our county, district and state party. We will see primary challengers step up against incumbents. We will see some of the most divisive conventions we have ever seen."
These divisions have, in fact, sprouted in Michigan's Republican Party. Former Michigan state representative Jack Hoogendyk pushed for Tea Party members to challenge Republicans in primary elections. Hoogendyk declared "RINO hunting" season on candidates who are "Republicans In Name Only."
For the Michigan Tea Party, one of these so-called "RINOS" is Lieutenant Governor Brian Calley. Calley faces a Tea Party primary because he challenged his base on issues like the Medicaid expansion. "I think that indicates that Calley might be a little concerned, and the party establishment might be a little concerned, that he could be a casualty of Snyder's push for Medicaid expansion," Bill Ballenger, a former Republican state lawmaker, toldMichigan Live. "They're taking it seriously, and they're trying to stamp it out before it even gets started." 

Nevertheless, the splintering of Michigan's GOP has not hurt Governor Snyder's chances for re-election. But Snyder's strong numbers could be because the election is over a year away and his opponent is unknown to Michigan voters — 67 percent of those polled didn't even recognize his name.
Photo via Wikimedia Commons