Poll: Minimum Wage Could Save Democrats In Tight Midterm Races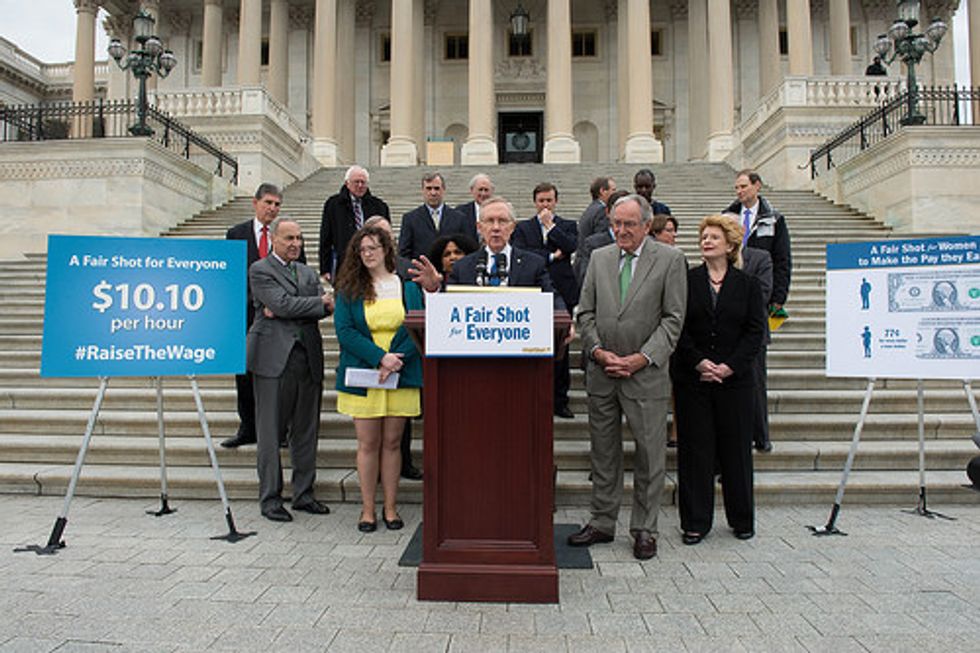 With every day, the Democrats' chances of having a good election night on November 4 seem to be growing more remote. But a new poll suggests that the party could have an ace in the hole during the campaign's home stretch: raising the federal minimum wage.
Public Policy Polling recently surveyed likely voters in six states with some of the most competitive midterm elections in the nation — Illinois, Iowa, Kentucky, Louisiana, North Carolina, and Wisconsin — about boosting the minimum wage to $10.10 per hour, as prescribed by the Democratic-backed Fair Minimum Wage Act. The results of the poll, which was conducted on behalf of the NELP Action Fund, were overwhelming:
• In Illinois, 61 percent support increasing the minimum wage, while just 33 percent oppose it.
• In North Carolina, voters support the plan 58 to 36 percent.
• In Kentucky, the margin is 56 to 35 percent.
• In Lousiana, it's 55 to 38 percent.
• Iowa supports an increase, 53 to 38 percent.
• And Wisconsin endorses a $10.10 minimum wage, 53 to 39 percent.
Additionally, over 70 percent of respondents in all six states say that they couldn't support their families on the current wage of $7.25 an hour.
That leaves the Republican candidates seriously out of step with their electorates. While the Democrats in all six races support raising the minimum wage, the Republicans all stand against it — some of them vociferously, and in ways that seem tailor-made for attack ads. Illinois gubernatorial candiate Bruce Rauner has suggested reducing the wage or eliminating it altogether. Senatorial candidates Joni Ernst (R-IA) and Thom Tillis (R-NC) have also endorsed eradicating the minimum wage. And Wisconsin governor Scott Walker has dismissed the entire concept, saying, "I don't think it serves a purpose."
This could be a serious problem for the Republicans. PPP summarized each GOP candidate's positions on the minimum wage, and asked voters in their respective states whether it makes them more or likely to support the Republican on Election Day. Once again, the results were clear:
• Illinoisans were 30 percent less likely to support Rauner.
• Iowans were 23 percent less likely to support Ernst.
• Wisconsinites were 19 percent less likely to support Walker.
• Kentuckians were 8 percent less likely to support Senate Minority Leader Mitch McConnell.
• Louisianans were 9 percent less likely to support Rep. Bill Cassidy.
• North Carolinians were 6 percent less likely to support Tillis.
With each of these races within 5 percentage points, according to Real Clear Politics poll averages, even a small shift based on the minimum wage could swing the elections for the Democrats.
Clearly, Democrats hold a potentially powerful advantage on the issue. Whether they can use it, however, is less clear. Although raising the minimum wage is central to the Democratic economic message, crises like the war against ISIS and the Ebola virus have undermined the party's ability to keep that message front and center. And there's real reason to believe that liberal Democrats — the group that supports raising the wage the most — could turn out in very low numbers on Election Day.
That said, even if Republicans survive the issue in November, it will continue to dog them in the future. According to the PPP poll, in the four states with Senate races this year, voters say by an average margin of 26 percent that they will blame the Republicans over the Democrats if no minimum-wage increase is passed this year.
In other words, this debate will be back with a vengeance in 2016.
Photo: Senate Democrats via Flickr
Want more political news and analysis? Sign up for our daily email newsletter!