Poll: Mitch McConnell Is America's Least Popular Senator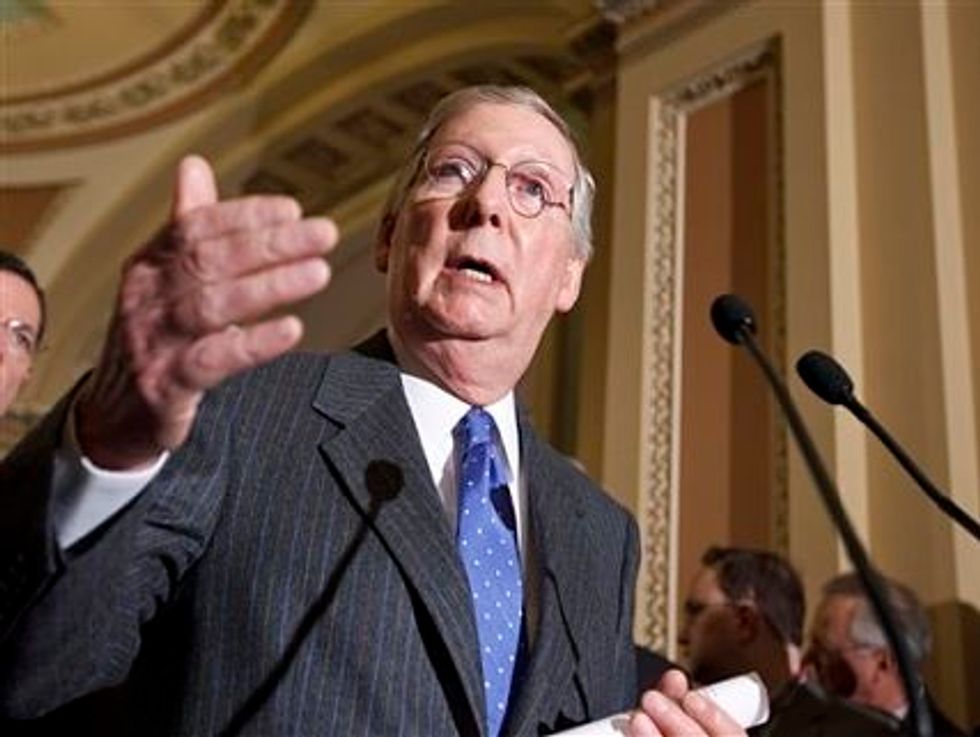 According to Public Policy Polling's latest Kentucky survey, Senate Minority Leader Mitch McConnell (R-KY) is now the least popular senator in America.
The poll finds that only 37 percent of Kentucky voters approve of McConnell, while 55 percent disapprove. His negative 18 percent net approval puts him below outgoing Nebraska senator Ben Nelson, who had been the Senate's least popular member.
Perhaps due to his extremely public role as the face of congressional dysfunction, both Democrats and independents strongly disapprove of McConnell — 23 percent of Democrats approve of him, with 73 percent disapproving, and just 33 percent of independents approve, compared to 58 percent who disapprove.
Despite McConnell's deep unpopularity, PPP finds that he is a good bet to be re-elected:
As unpopular as McConnell is, Kentucky is still a state that voted for Mitt Romney by 23 points last month and because of the political lean of the state, he leads all of the Democrats we tested against him in head to head match ups. 3 of them- Lieutenant Governor Jerry Abramson, Attorney General and 2010 nominee Jack Conway, and actress Ashley Judd — come within 4 points of McConnell at 47/43. Louisville Mayor Greg Fischer trails by 5 at 46/41, Secretary of State Alison Lundergan Grimes has a 7 point deficit at 47/40, Congressman John Yarmuth is down 10 at 48/38, former Ambassador Matthew Barzun lags 48/37, and State Auditor Adam Edelen trails by 12 at 48/36.
McConnell's greatest threat may come from within his own party; PPP finds that only 50 percent of Republican primary voters want McConnell to be their nominee, while 35 percent would prefer a "more conservative" alternative. This suggests that, despite McConnell's active efforts to protect his right flank (such as hiring Ron Paul's former campaign manager to run his re-election effort), he remains quite vulnerable to a Tea Party challenge.
The poll also finds that Ashley Judd would be a strong favorite to win the Democratic nomination if she chooses to challenge McConnell — 29 percent of Kentucky Democrats say that the actress would be their first choice in a primary, followed by Abramson at 16 percent, and Conway at 15 percent, with no other potential candidate breaking double digits.
The full results of the PPP poll can be seen here.
Photo credit: AP/J. Scott Applewhite, File