Rate Of Uninsured Americans Continues To Decline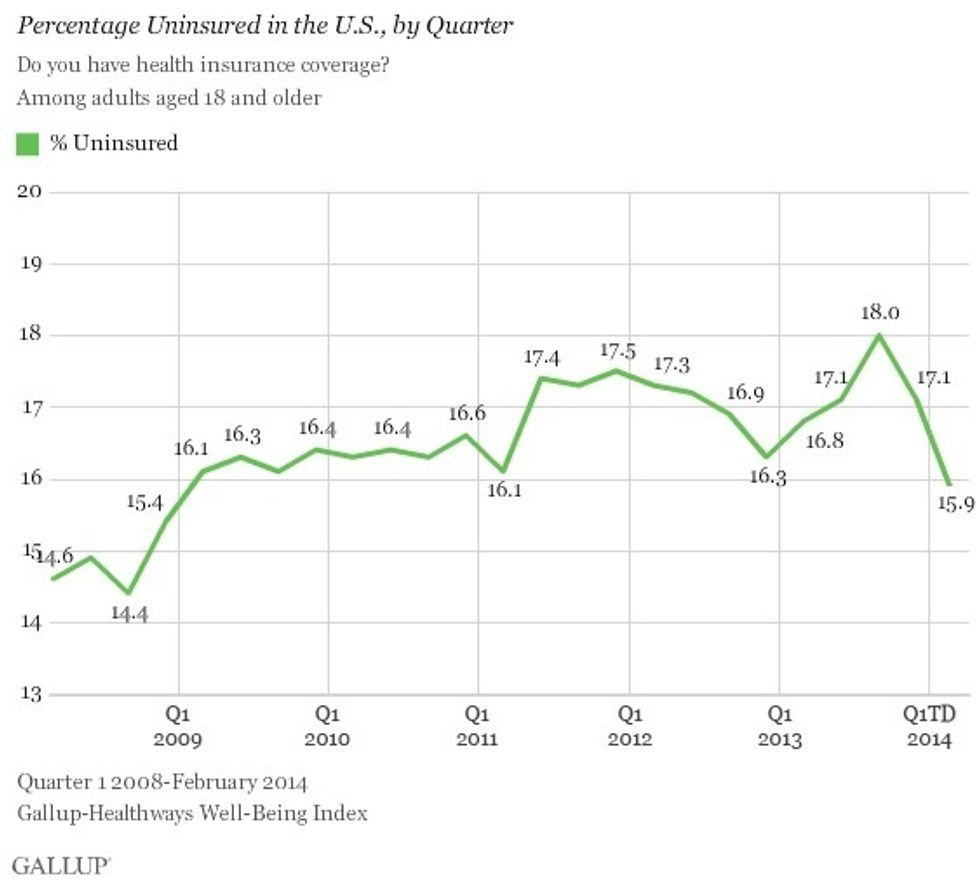 A Gallup poll released on Monday finds that the rate of uninsured Americans is continuing to decline, reaching its lowest point since 2008 after having peaked in the third quarter of 2013.
According to Gallup, "the uninsured rate for almost every major demographic group has dropped in 2014 so far."
Despite nonstop attacks against President Barack Obama's Affordable Care Act and ongoing tales of the law's flaws and horrors, the newly reported numbers show a much different and more positive reality. Though the findings do not prove that the decline in uninsured Americans is a direct result of people obtaining coverage through Obamacare, Gallup attributes a portion of that decline to the Medicaid expansion that nearly half of the states have adopted. Additionally, the poll finds that by the end of 2013, the rate of thodr covered under Medicaid rose from 6.6 percent to 7.4 percent.
The overall decline is most notable among low-income Americans with an annual household income of less than $36,000: since the fourth quarter of 2013, the rate of uninsured in this segment has dropped by 2.8 percent. Similarly, among African-Americans, the rate has dropped by 2.6 percent.
Hispanics, however, "remain the subgroup most likely to lack health insurance," Gallup notes. The rate of uninsured Hispanics is a relatively high 37.9 percent – a rate higher than the 38.7 percent uninsured by the fourth quarter of 2013.
The uninsured rate among young people aged 18 to 25 remains stagnant at 23 percent – reflecting only a 0.5 percent decline since the fourth quarter of 2013. Among older Americans, the rate has actually increased by 0.2 percent. However, uninsured rates are declining in two main age groups: those aged 26-34, by 1.6 percent, and aged 35-64, by 1.7 percent.
Overall, Gallup finds that the rate of uninsured Americans reached 15.9 percent in the first quarter of 2014 – significantly less than the 17.1 percent rate reported in the last quarter of 2013.
As the Boston Herald points out, that 1.2 percent decline "translates roughly to 3 million to 4 million people getting coverage."
The poll's findings are especially good news for the president and proponents of the health care law. Even though the Obama administration has said it does not know how many uninsured people are enrolling in health care plans through the Obamacare exchanges, the poll's numbers are evidence that at least millions are now covered, even if not directly through the exchanges.
The Gallup-Healthways Well-Being Index poll was conducted between January 2 and February 28, and surveyed 28,396 adults. The margin of error is +/- 1 percentage point.
Chart via Gallup