Poll Roundup: Colorado Senate Race Is A 'Nail Biter' Leading Up To First Debate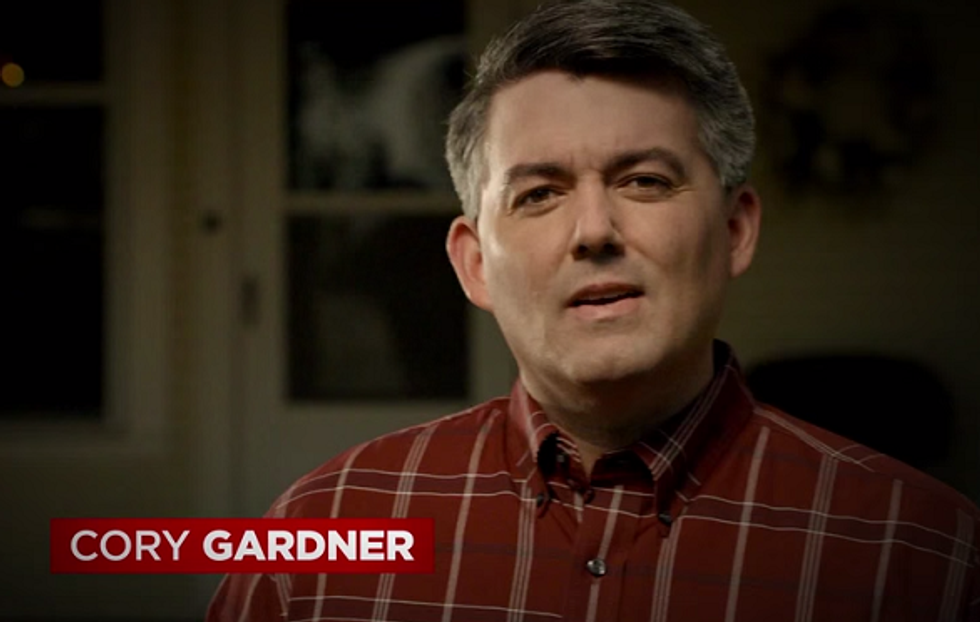 As the 2014 midterm elections draw closer, pollsters across the country will begin releasing masses of data and their predictions of who will control the House of Representatives, the Senate, and statehouses across the country. We'll put those predictions in focus and provide a brief summary of key polls. Here's our roundup from the week of August 31:
Colorado
The latest Rasmussen Reports survey, released on Friday, describes the Colorado Senate race as "nail-biter." Democratic incumbent Mark Udall leads by 2 points, with 44 percent of the vote. Republican challenger Cory Gardner has 42 percent. The candidates are well within the poll's +/- 4 percent margin of error.
Gardner is attempting to win the support of women by supporting over-the-counter birth control, even though in the past he's backed fetal personhood bills that would have restricted some types of birth control. Udall has used this and Gardner's support for other abortion restrictions against him in the past.
The two candidates have their first debate this Saturday. Political analyst Eric Sondermann told KDVR.com that Gardner needs to "come across as credible and reasonable. In tone as well as substance, he needs to put to rest the notion that his views are scary or somehow outside the Colorado mainstream."
But Udall, like many other Democratic candidates, has to fight against President Obama's low approval numbers. "This debate offers an opportunity for him to do the hard work of putting some distance between himself and the Obama-led Democratic establishment in Washington," Sondermann said.
The Real Clear Politicspoll average has Udall ahead by 1.3 percent.
Kentucky
Senate Minority Leader Mitch McConnell appears to be holding on to his lead over Democratic challenger Alison Lundergan Grimes. A CNN/ORC poll released on Wednesday finds that 50 percent of likely voters plan on voting for McConnell, while 46 percent support Grimes, 2 percent support neither, 1 percent would vote for another candidate, and 1 percent have no opinion. When asked if there was a chance they would change their vote, 77 percent said they had "made up" their mind, while 19 percent said there was chance they could change, and 4 percent had no opinion.
Among registered voters, the race is a little closer — 47 percent said they would vote for McConnell, 46 percent for Grimes, 5 percent for neither, 1 percent for another candidate, and 2 percent have no opinion. When asked how confident they were in their decision, 68 percent said their mind was "made up," 24 percent said there was a chance that they could change their mind, and 8 percent had no opinion.
The poll has a +/- 3 percent margin of error. It shows McConnell leading among men and white voters, while Grimes has the support of women, including white women.
In a Rasmussen Reports survey, also released on Wednesday, McConnell leads Grimes by 5 percent. Among likely voters, 46 percent support McConnell, 41 percent support Grimes, 7 percent like another candidate, and 6 percent are undecided. The poll has a +/- 4 percent margin of error.
The Real Clear Politicspoll average has McConnell ahead by 3.2 points.
Florida
A Tampa Bay Times/Bay News 9/UF Bob Graham Center poll released on Tuesday shows Republican governor Rick Scott ahead of Democratic challenger Charlie Crist by 5 percent, and "finds Florida voters mostly optimistic about the state's economic direction but decidedly sour on their gubernatorial choices."
Among voters surveyed, 40.9 percent would vote for Scott, 35.7 percent for Crist, and 6.3 percent for Libertarian Adrian Wyllie. When Wyllie was taken off the ballot, 43.7 percent supported Scott and 37.6 supported Crist.
Voters don't think that either Crist or Scott is honest and ethical.
"This is not a case in which we've got two gubernatorial candidates who are captivating voters by their integrity and their leadership," David Colburn, interim director of the Bob Graham Center for Public Service, said. "The voters are troubled by these candidates, and it seems to be anything can happen over the last two months."
But 48.7 percent of voters think that Florida's economy is recovering, and 25.2 percent said that it will recover soon. Most voters, 7 in 10, said that the governor "can do a lot" about the economy.
"If I were Rick Scott, I'd be playing up the economy as he has been. I would take this poll result and I would run with it," Christopher McCarty, director of the UF Survey Research Center said.
The poll's authors also said that Crist should "try and debunk Scott's efforts to take credit for Florida's improving economy."
The Real Clear Politicspoll average has Scott ahead by 1.7 points.
Wisconsin
A We Ask America poll released on Thursday shows Democrat Mary Burke ahead of Republican governor Scott Walker by 4 percent. Among likely voters, 48 percent support Burke, 44 percent would vote for Walker, 2 percent would vote for a third party, and 6 percent were undecided. The poll has a +/- 3 percent margin of error.
The poll authors point out that "Burke doesn't provide the same type of easy contrast that Walker was able to use in the past against his opponents." Walker has to deal with the consequences of his actions as governor — including his job-creation promises, on which he "fell short."
Burke has to overcome her business career at TREK bicycle, where some have called her an outsourcer for sending jobs to China. President Obama also has a negative approval rating in Wisconsin, which could hurt Burke's chances.
The Real Clear Politicspoll average has Burke ahead by 1 point.
Georgia
A WRBL/Ledger-Enquirer/PMB poll released on Tuesday shows Democrat Michelle Nunn only slightly ahead of Republican David Perdue in the Georgia Senate race. Nunn has 44.74 percent of the vote, while Perdue has 43.09 percent of the vote. The candidates are within the poll's +/- 2.47 percent margin of error.
GaPundit.com editor Todd Ruhm told WRBL that this election will be heavily affected by gender.
"Michelle Nunn does poll better among women," he said. "Her campaign is designed to do better among women. She was chosen and promoted partly to do better among women."
Rehn thinks that Nunn will benefit from the fact that more women turn out to vote than men.
The Real Clear Politicspoll average has Perdue ahead by 1.7 points.
Screenshot: Cory Gardner for Senate/YouTube
Interested in U.S. politics? Sign up for our daily email newsletter!