Poll Roundup: Iowa Senate Race Is 'Deadlocked'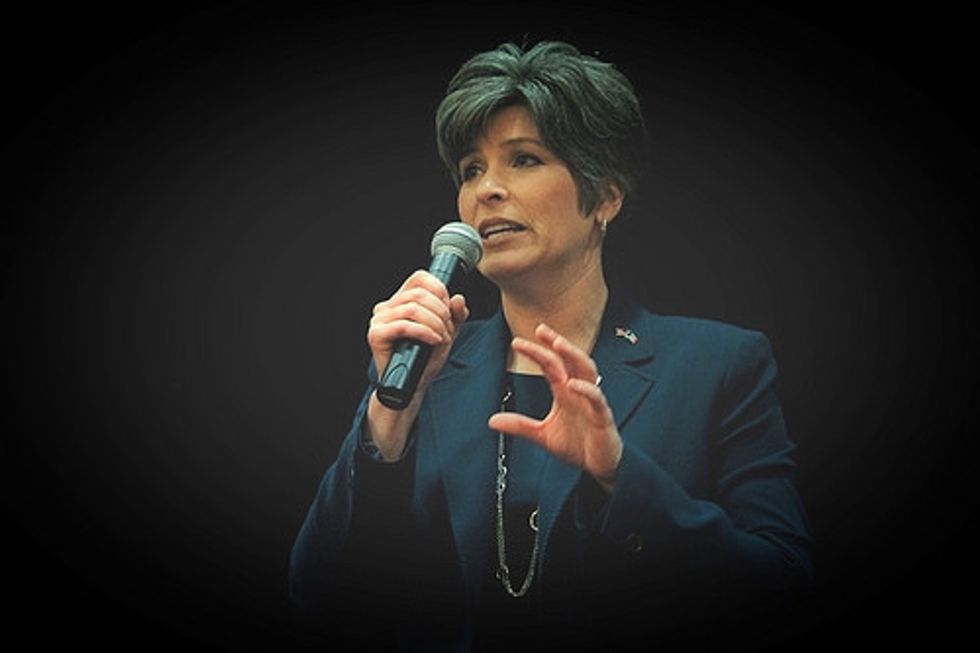 As the 2014 midterm elections draw closer, pollsters across the country will begin releasing masses of data and their predictions of who will control the House of Representatives, the Senate, and statehouses across the country. We'll put those predictions in focus and provide a brief summary of key polls. Here's our roundup from the week of August 24:
Iowa
The Iowa Senate race between Republican Joni Ernst and Democrat Bruce Braley is "deadlocked," according to the latest USA Today/Suffolk University poll. The survey has Ernst and Braley tied at 40 percent. Independent Rick Stewart has 2 percent, and the other three candidates — Bob Quast (representing the Bob Quast for Term Limits party), Libertarian Douglas Butzier, and independent Ruth Smith — each have 1 percent of the vote. Meanwhile, 15 percent of voters are still undecided. The survey has a +/- 4.4 percent margin of error.
Braley is winning 80 percent of Democrats base, while Ernst has 77 percent of the Republican base behind her. Independents split pretty evenly between the two candidates, with 39 percent supporting Ernst and 36 percent backing Braley. Braley leads among voters passionate about jobs, health care, and education, while voters concerned about the budget and national security say that they would vote for Ernst.
"If you drive north into Iowa on I-35 coming from Missouri, you'll see a landscape full of red counties far to the left and blue counties far to the right," Suffolk University Political Research Center Director David Paleologos said. "The poll pits Democrat Braley's congressional district in the northeast against Ernst's Senate district in the southwest, but the voters in between will make the difference."
Though Ernst has made many extreme comments lately, it doesn't seem to be hurting her campaign too much. The Real Clear Politicspoll average has her ahead by 0.2 points.
Wisconsin
A new Marquette Law School poll finds that the race between Republican governor Scott Walker and Democratic challenger Mary Burke is very close. Among registered voters, 47.5 percent would vote for Walker and 44.1 percent would vote for Burke. Another 5.5 percent say they are undecided or don't know, and less than 1 percent would vote for someone else.
Among those who say they are definitely voting in November, however, Burke leads with 48.6 percent, while Walker has 46.5 percent, 2.5 percent are undecided, and less than 1 percent say they would vote for another candidate.
Both results are within the margin of error (+/- 3.5 percent for registered voters and +/- 4.1 percent for likely voters).
"The difference in vote between likely voters and all registered voters is a measure of the roles turnout and enthusiasm play in the election and tells us which party, at the moment, is enjoying greater intensity," Charles Franklin, director of the Marquette Law School poll, said.
In other words, Burke's lead among people who say they will vote in November likely means that Democrats are currently more invested in the election.
The survey also found that Burke and Walker are tied at 45 percent when it comes to who voters think would create the most jobs. Women favor Burke, while men favor Walker.
The Real Clear Politicspoll average has the two candidates tied.
Pennsylvania
Republican governor Tom Corbett might as well just give up hope for a second term. The latest Franklin & Marshall College poll has Corbett trailing Democratic challenger Tom Wolf by a staggering 25 points (49 percent to 24 percent). There's still a large amount of undecided voters, however (25 percent). The survey has a margin of error of +/- 4.3 percent.
Only 24 percent of voters think that Corbett is doing a good job as governor, and less than half of his own party thinks that he's done an "excellent" or "good" job. Just 26 percent of voters think that he deserves re-election. A majority of voters (61 percent) believe that the state is "off on the wrong track."
Corbett has been heavily criticized for his drastic education cuts. He also came under fire this week for suggesting that women in particular support liquor reform because it would save them time when preparing dinner (the latest in a long string of gaffes throughout his tenure).
The Real Clear Politicspoll average has Wolf ahead by 16.6 points.
Massachusetts
For the first time in The Boston Globe's poll of the Massachusetts gubernatorial race, Republican Charlie Baker has pulled ahead of Democrat Martha Coakley. The race is essentially tied — 38 percent support Baker and 37 percent support Coakley.
Baker's lead is within the +/- 4 percent margin of error, but The Boston Globe's Stephanie Ebbert notes that "it shows movement" in the race. According to Ebbert, Baker was helped this week by a Republican SuperPAC that's started airing ads touting his experience. And John Della Volpe — the chief executive of SocialSphere Inc, which conducted the poll for The Boston Globe — attributes Baker's lead to the fact that he's been able to distance himself from his original ambivalent reaction to the Hobby Lobby ruling, which Democrats used against him. Baker's favorable rating has also risen to 47 percent, compared to 41 percent who saw him favorably in August.
Coakley's favorability has dropped 2 points since the beginning of August, from 53 percent to 51 percent. Coakley still has to win her Democratic primary in September. Though she is heavily favored to do so, she's going to need to work to gain the support of the rest of her party once she's past the primary. The survey shows that 48 percent of supporters of her opponent, Steve Grossman, say they would go against the party and vote for Baker over if Grossman loses the primary. Just 28 percent would vote for Coakley.
The Real Clear Politicspoll average still has Coakley ahead by 7.5 points.
Photo: Monica de Argentina via Flickr
Interested in U.S. politics? Sign up for our daily email newsletter!