Poll: Shaheen Leads Brown By Double-Digits In New Hampshire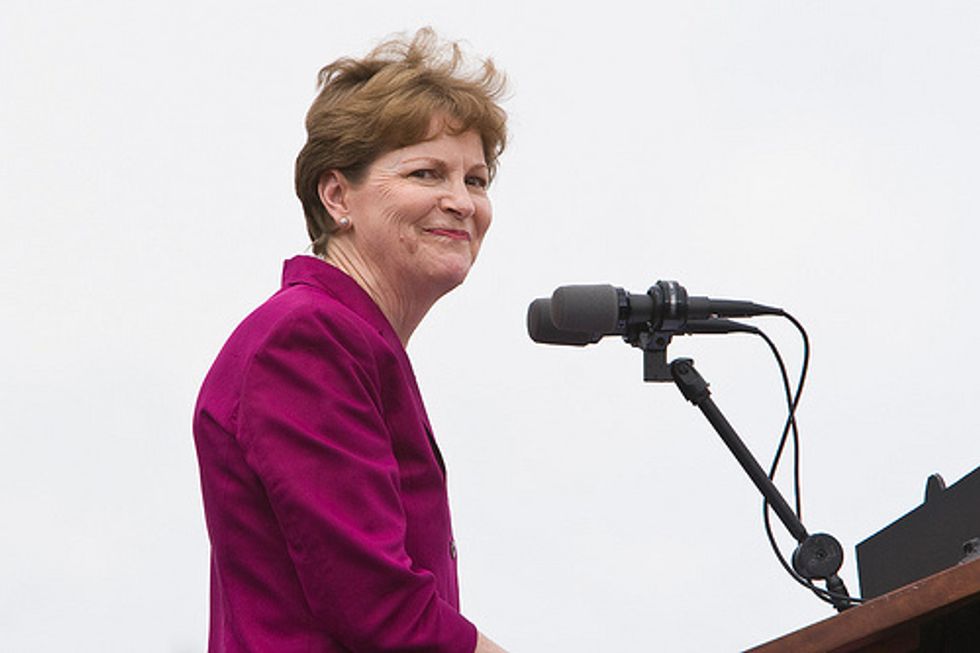 Republican Scott Brown has all but officially jumped into New Hampshire's 2014 Senate race — but a new poll suggests that the former Massachusetts senator will face an uphill battle in his quest to return to Congress.
According to an American Research Group poll released Monday, incumbent Democrat Jeanne Shaheen leads Brown by a 50 to 38 percent margin, with 12 percent undecided.
Shaheen's 12-point lead tracks closely with previous polls; in early March a Suffolk University/Boston Herald poll found her leading Brown by 13 percent, and in January she led by 10 percent in a WMUR Granite State poll.
Monday's poll underscores Shaheen's strength in New Hampshire. The Democrat is trouncing Brown 55 to 28 percent among women voters and 49 to 34 percent among Independent voters, as well as peeling off 13 percent of Republicans. By contrast, Brown is winning just 4 percent of Democrats.
That represents a big difference from Brown's first Senate campaign, when he won a substantial portion of the Democratic and Independent votes en route to an upset win in Massachusetts' 2010 special election. But two years of serving as a reliable Republican vote in the Senate and an ugly 2012 loss to progressive favorite Elizabeth Warren have made it significantly harder for him to position himself as a moderate, greatly complicating his potential path to victory in the Granite State.
In another difference from his last campaign, Brown is refusing to sign a pledge designed to limit outside spending in the New Hampshire Senate race. In 2012, both Brown and Warren signed the "People's Pledge," which required the candidate that benefits from any outside ad to donate 50 percent of the ad's cost to charity. Brown has already benefited from a series of outside ads hitting Shaheen on her support for the Affordable Care Act.
Even if Brown is unable to defeat Shaheen, he could still have a tangible impact on the midterm elections. His mere presence in the race will force Democrats to ramp up their spending in New Hampshire, preventing them from using those resources in less Democratic-friendly states such as Arkansas and Louisiana.
Photo: Roger H. Goun via Flickr