Poll: Swing-State Voters Sour On Trump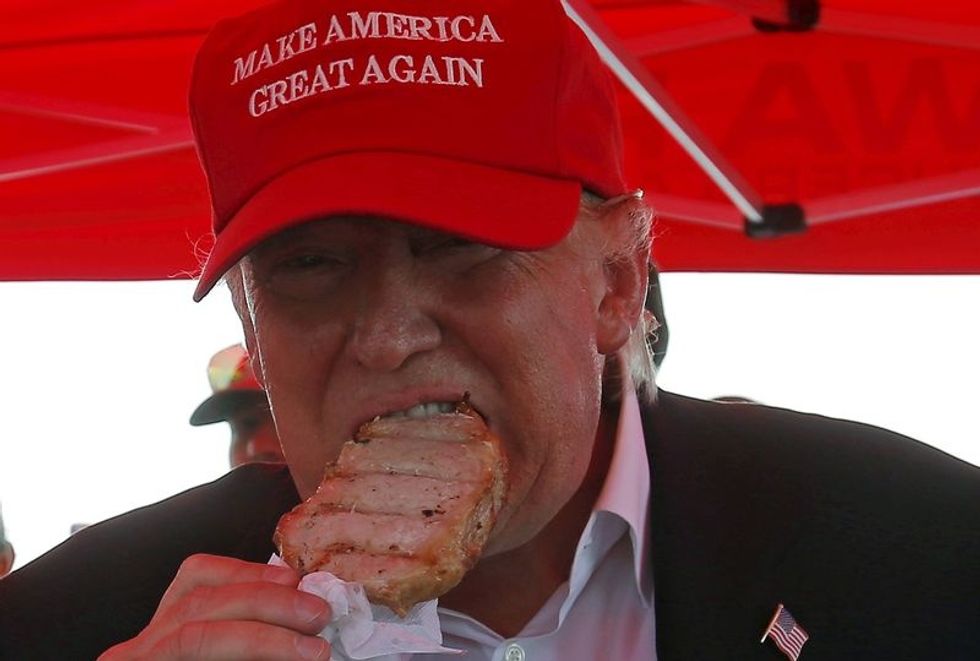 Reprinted with permission fromAlterNet.
Donald Trump is wearing out his welcome among the voters who swung 2016's presidential swing states in his direction, according to just-released regional polls.
The swing-state surveys are more incisive than national polls that found Trump's approval ratings were below 40 percent: 39 percent by Monmouth University Polling Institute to 36 percent by the Washington Post/ABC News poll.
"Trump continues to be deeply unpopular. His standing is a mirror opposite of Obama and Bush at this point in their first terms. Each held a 59 percent job approval rating in Post-ABC polling," the Postwrote. "Half of Americans say Trump is doing a worse job than most past presidents, while just under one-quarter say he is doing better."
The Post-ABC poll found Trump's support had fallen since April, including in the important category of political independents, where only 32 percent support him now compared to 38 percent this spring. Independents are not the only swing voters who matter. In many Midwestern states last November, tens of thousands of voters who previously backed Barack Obama rejected Hillary Clinton and voted for Trump.
That's where the latest regional polls come in, showing that growing number of voters in counties that flipped from blue in 2012 to red in 2016 were having the political equivalent of buyer's remorse.
"There are two ways to view our new NBC/WSJ 'Trump Counties' poll," wrote NBC's news team on Monday. The first way is to see that his overall approval rate in the 429 counties in 16 states they surveyed "stands at 50 percent, which is higher than his 40 percent overall (national) job rating from our June NBC/WSJ poll, or 36 percent that WaPo/ABC had yesterday."
But the second way, which is more reflective of how swing states and the Electoral College interact, finds "his approval rating in these counties is down from his winning percentage in these areas in November 2016," NBC's news team wrote. "In the 'Flip Counties'—think places like Luzerne, Pa., which Obama carried 52 percent to 47 percent, but which Trump won, 58 percent to 39 percent—Trump's job rating stands at just 44 percent. Trump won these 'Flip Counties' by a combined 51 percent to 43 percent margin a year ago."
NBC also polled Trump's standing counties that were won in 2012 by Mitt Romney and where he "surged" and won by larger margins in 2016.
"In the Trump 'Surge Counties'—think places like Carbon, Pa., which Trump won, 65 percent to 31 percent (versus Mitt Romney's 53 percent to 45 percent margin)—56 percent of residents approve of the president's job performance. But in 2016, Trump won these 'Surge Counties' by a combined 65 percent to 29 percent."
These are big drops among two classes of swing voters in swing counties in swing states. NBC soft-pedals its conclusion, saying, "Bottom line: Even in places that he won in 2016, he's taken a hit when it comes to his approval ratings."
We'll be blunter. If these polls are anywhere near correct, it shows Trump is still ahead in reliably red counties—reliably red in that a majority voted for a Republican presidential candidate in 2012. However, a majority of voters in crossover counties, who previously supported Obama, have abandoned Trump. (Only 44 percent approve.)
The counties polled were in 16 states: Colorado, Florida, Georgia, Indiana, Iowa, Maine, Michigan, Minnesota, Missouri, Nevada, New Hampshire, North Carolina, Ohio, Pennsylvania, Virginia and Wisconsin.
A Closer Look in Iowa:
Another recent poll by the Des Moines Register drills down into these findings. Overall, it finds Trump's support has fallen to what appears to be the same level of hardcore enthusiasts seen in the other polls—that he has a base of about one-third of voters.
"In Iowa polls dating back to the Eisenhower era, no president has found himself with a majority disapproval rating as quickly as Trump," the Register said. "Self-identified independents have turned against Trump, with 59 percent now saying they disapprove of the job he's doing compared with 35 percent who approve. In an Iowa poll five months ago, his disapproval rating among independents was 50 percent, 9 percentage points lower than now."
Then, the Register found roughly the same thing as the Washington Post/ABC poll did. That between 24 and 34 percent of voters say Trump has "acted in a way that's fitting and proper for a president," "approve of Trump's use of Twitter," think "Trump is doing a better job than most," is "a positive role model for young people," think "America's leadership in the world has gotten stronger," "believe it was appropriate for Trump's son, Donald Jr., to meet last summer with a Russian lawyer who said she had damaging information about Hillary Clinton," or "trust Trump to negotiate on America's behalf."
"Still, Trump remains popular among the electoral base that won him the election: 90 percent of respondents who say they voted for him continue to approve of his performance, as do 63 percent of Iowans from rural areas," the Register said. "Fifty-seven percent of self-identified born-again Christians back Trump, as do 51 percent of Protestants and a 47-percent plurality of Catholics."
The paper gave an excerpt from an interview with a typical Trump supporter.
"Joan Klinger, a Republican retiree from rural Corydon who dabbles in real estate, said she appreciates Trump's recognition of and devotion to the working class—even as she has low expectations about what he can accomplish in Washington." It continued, "'It doesn't seem like it makes any difference which party gets in there. Whatever they say they'll do when they get in there, they can't really do it,' said Klinger, 67. 'I just want him to annoy the hell out of everybody, and he's done that.'"
This mix of buyer's remorse and defiant defense could be seen in other recent interviews with Trump voters. CNN New Day host Alisyn Camerota sat down with six Donald Trump voters from Florida, Ohio, Iowa and Florida. Three said they were still supporters. The first to speak, a woman identified only as Jackie, was the most defensive. "I would never say I was a supporter of Donald Trump. I voted against Hillary, basically," she said. "I had problems with his talk. His rough talk. His 'grab 'em by the pussy.' All this stuff. But I decided that's just talk, and talk isn't action. But now I feel his words have a lot of power, and cause a lot of ripple effect with our relations with the rest of the world. And his words, they become actions."
Then came John Montgomery, who's grown tired of giving Trump the benefit of the doubt. "I had hoped he would grow into the position. That he would surround himself with people who understood how politics works, but he's his own worst enemy," he said. "Sometimes you have to have that 30-second filter. Just because you think it, doesn't mean you have to say it or tweet it."
But like Iowa's Joan Klinger, there was Gene Huber, a middle-aged white man in a red T-shirt with a photo printed on it of Huber hugging Trump. "This was at the February 18 Melbourne rally," he explained, saying Trump called him up to the podium and he gave Trump a man hug. "President Trump has changed my life. And the promises that he's made, he's doing them… Let's think about," he said, stumbling and then citing the "Paris [climate change] agreement, repeal and replace Obamacare…"
Like Klinger and what the pollsters found, Huber welcomed Trump's outspokenness, starting with his daily tweets. "Talking about the tweeting, our president told us he's a modern-day president. There you go… To me, I love his tweets. I think he can tweet every morning. I actually can't wait to get up in the morning to see them… He talks to us. He's talking to 'We the People.'"
The big picture from these polls, all snapshots in time across sections of the electorate, is that Trump's base has shrunk back to where it more or less was in the primaries—not a clear majority. Democrats uniformly despise him, from his style, his personality and his lack of control to his lies, his lack of knowledge on issues and his policies. And a growing share of independents and crossover voters are losing their faith in him.
Trump vs. Nixon:
One of the more intriguing findings was in the Monmouth University poll, which found that while only 41 percent of the country favor impeaching Trump now, that figure is almost double what it was at roughly this time in Richard Nixon's second term, when he resigned rather than face impeachment.
"Currently, 41 percent of the public think that Trump should be impeached and compelled to leave the presidency, while 53 percent disagree," the poll reported. "The Monmouth University Poll asked the same question used by the Gallup Poll during Nixon's presidency. In July 1973 as the Watergate scandal started to unfold, just 24 percent of the public supported impeachment and 62 percent were opposed. Support for Nixon's impeachment was significantly lower six months into his second term as president than it is for the incumbent today. Interestingly, Nixon's job rating at that point in his tenure—39 percent approve and 49 percent disapprove—was about the same as Trump's current rating."
Steven Rosenfeld covers national political issues for AlterNet, including America's democracy and voting rights. He is the author of several books on elections and the co-author ofWho Controls Our Schools: How Billionaire-Sponsored Privatization Is Destroying Democracy and the Charter School Industry(AlterNet eBook, 2016).