POLL: The Senate's Most Powerful Republican Is The Nation's Least Popular Senator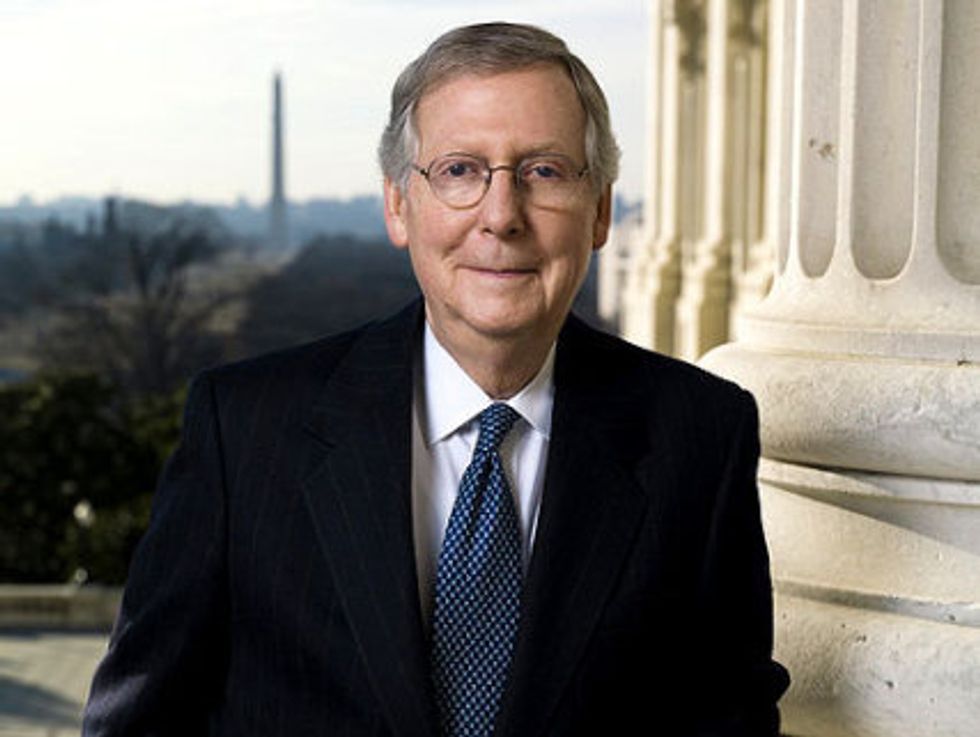 Another poll shows Senator Mitch McConnell (R-KY) in a statistical tie with the likely Democratic challenger for his Senate seat, Kentucky secretary of state Alison Lundergan Grimes.
The Senate Minority Leader only leads Grimes by 1 point with 15 percent undecided, according to a new survey from Public Policy Polling.
And that isn't even close to the most disturbing number for the senator in the poll.
McConnell's favorable-to-unfavorable rating of 31 percent to 61 percent doesn't just make him the nation's least popular senator, it makes him as popular in his home state as President Obama, even though Mitt Romney won Kentucky by more than 20 percent.
The minority leader has formed an alliance with the family of the far more popular Senator Rand Paul (R-KY) to fend off a primary challenge from Tea Partier Matt Bevin, hiring the Pauls' former confidant and relative-by-marriage Jesse Benton to run his campaign.
But the Paul connection has McConnell slightly caught up in a scandal lingering from the 2012 Iowa Caucus. And while McConnell has a huge lead over Bevin, Kentucky voters don't seem to buy the alliance:
Do you think Rand Paul supports Mitch McConnell for re-election to the US Senate, or not?

Think he does …………………………………………. 30%

Think he does not …………………………………….  32%

Not sure ………………………………………………..  38%
Senator Paul has endorsed McConnell, but recently referred to Bevin as  a "good, honest, Christian man." After he made that statement, Benton issued a something of a retraction on the senator's behalf, asserting that Paul didn't know Bevin well.
Earlier this year, Benton told an acquaintance that he was "sorta holding" his nose to work for McConnell because it was going to "be a big benefit for Rand in '16…"
McConnell's attack ads on Grimes have already hurt her favorability but with one-third of voters still "not sure" of their opinion of the Democratic challenger, she still has an opportunity to make her case. Grimes is young — only 35 years old — but she's proven she can produce charming ads and go after her opponent in fiery and funny speeches even in a contentious environment.
The next few months will show if the very unpopular's McConnell's go-to tactic of destroying his opponent's image can still work when his own image is about as bad as it can get.