Polls: Ben Carson Gaining On Donald Trump In Iowa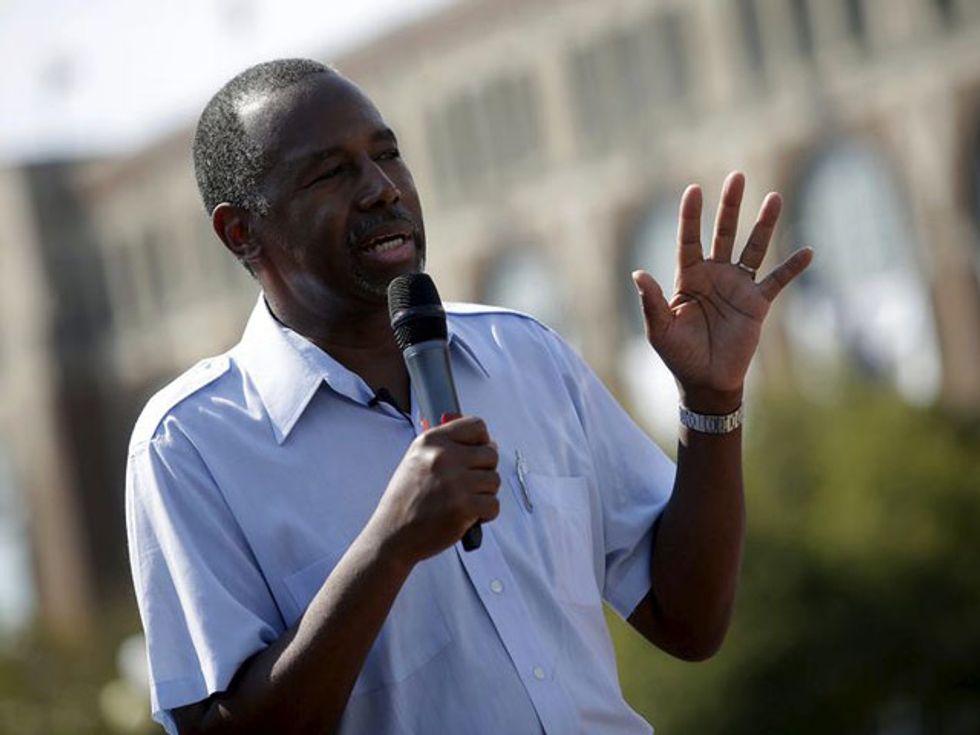 Ben Carson is emerging as the new alternative to Donald Trump in the key early caucus state of Iowa — bringing all the right-wing Tea Party allure, but maybe with a more appealing and polite style.
The new Monmouth University poll has Trump and Carson at 23 percent each, followed way behind by Carly Fiorina at 10 percent, Ted Cruz with 9 percent, and Scott Walker at 7 percent.
Notably, Carson has by far the highest personal rating among Republicans in Iowa, with a mammoth 81 percent favorability, versus only 6 percent of GOP voters who view him unfavorably. By contrast, Trump is at 52 percent favorable to 33 unfavorable — while Jeb Bush is way underwater at just 32 percent favorable to 51 percent unfavorable.
Over the weekend, The Des Moines Register poll showed Trump at 23 percent, Carson 18 percent, Walker and Cruz at 8 percent each, and then 6 percent each for Bush and Marco Rubio, with Fiorina trailing at 5 percent.
The Register poll also showed Carson with overwhelmingly positive ratings, at 79 percent favorable to 8 percent unfavorable. Trump was at 61 percent favorable and 35 percent unfavorable, while Bush was stuck in negative territory — though not quite as badly as in the Monmouth poll — at 45 percent favorable to 50 percent unfavorable.
Photo: Republican presidential candidate Ben Carson speaks at the Iowa State Fair in Des Moines, Iowa August 16, 2015. (REUTERS/Joshua Lott)