Polls: Most Americans Side With Obama On Major Issues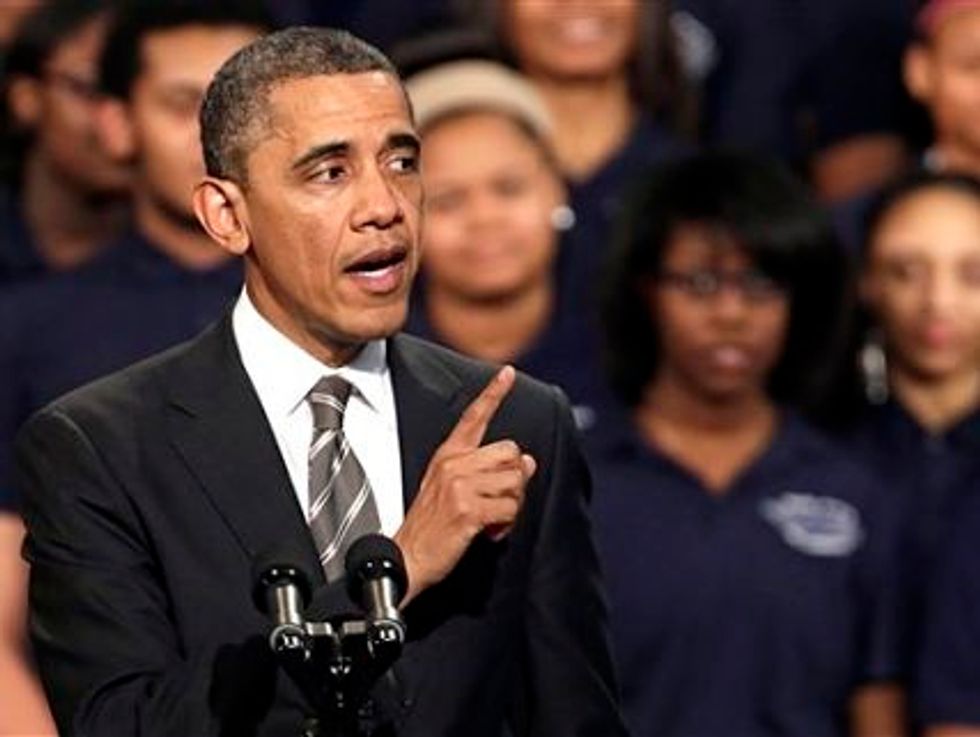 According to two new polls, President Barack Obama has the upper hand on his Republican opponents on literally every major piece of his second-term agenda.
A USA Today/Pew Research poll released Thursday finds that a vast majority of Americans side with President Obama over House Republicans on almost everything the president mentioned in his State of the Union address. On the current budget battle, 76 percent agree with the president that Congress should reduce the deficit through a combination of spending cuts and tax increases, while just 19 percent agree with the Republican position that tax increases should be completely off the table. If no deficit deal is reached by March 1st, when the first sequestration cuts kick in, 49 percent would blame House Republicans, compared to just 31 percent who would blame President Obama.
Americans are behind President Obama's proposal to raise the minimum wage to $9.00 an hour by an overwhelming 71 to 26 percent margin; even 50 percent of Republicans agree with the plan.
On gun control, 53 percent support banning high-capacity magazines, 56 percent want to ban assault weapons, and 83 percent would like to see a stricter background check system. The White House favors all three of these proposals, while Republican leadership has opposed them.
On climate change, Americans like the idea of addressing the nation's energy supply by developing alternative energy sources over increasing production of oil, coal, and natural gas by a 54 to 34 percent margin. Additionally, 62 percent approve of setting stricter emission limits on power plants to address climate change, while just 28 percent oppose the idea.
Finally, on immigration, 47 percent agree with the president's position that better border security and a path to citizenship should be the priority of a new policy, while just 25 percent would like to see an enforcement-only approach.
Overall, the poll finds that Obama has the upper hand over House Republicans on each key issue:
This finding is confirmed by a new Bloomberg national poll, which finds that "Americans by 49 percent to 44 percent believe Obama's proposals for government spending on infrastructure, education and alternative energy are more likely to create jobs than Republican calls to cut spending and taxes to build business confidence and spur employment."
On a personal level, President Obama has an even more dominant upper hand over his Republican opponents. The poll finds the president's approval rating at 55 percent — his highest level of support since September 2009. By contrast, only 35 percent have a favorable view of the Republican Party — a three-year low.
Taken together, the polls repudiate the Republican Party's favored response to the drubbing it received in November. Clearly, the problem here isn't just the GOP's messengers — voters also reject the message itself.
Photo credit: AP/M. Spencer Green