Pot Legalization Across U.S. May Hinge On 2016 California Vote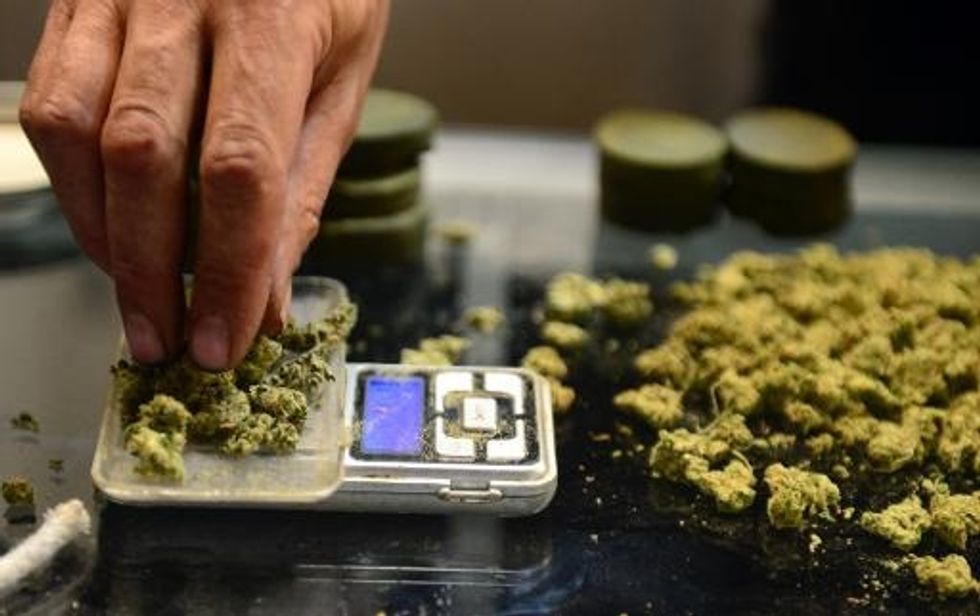 By Alison Vekshin, Bloomberg News (TNS)
SAN FRANCISCO — A fight next year over whether to allow recreational marijuana use in California may serve as a tipping point as legalization proponents press their campaign in other U.S. states.
"A lot of eyes are on California," Gavin Newsom, the state's lieutenant governor and a legalization proponent, said in a phone interview. "It's very different than almost any other state because of the scale and the magnitude of the change and what it will represent across the country."
The most populous U.S. state is among at least five, including Massachusetts and Maine, in which legalization measures are likely to appear on ballots in November 2016. Both advocates and opponents say California is the key battleground, where success or failure is likely to determine whether most of the country decriminalizes the drug for recreational use.
"A state with so much influence and size is very important," said Kevin Sabet, co-founder of Smart Approaches to Marijuana, a San Diego-based nonprofit group that opposes legalization. "We expect a long, drawn-out battle in California — and an expensive one."
At stake is a market of 39 million California residents, more than double the combined size of Colorado, Washington, Alaska and Oregon, whose voters legalized marijuana in 2012 and 2014. California was first to allow medical marijuana in 1996, and its hundreds of dispensaries have made joints a common sight in cities and towns throughout the state. Attitudes toward pot smoking are also shifting as use proliferates, with voters increasingly supporting its decriminalization.
While California voters rejected a legalization measure in 2010, supporters say its prospects are better in 2016 — a presidential election year in which young voters who are more inclined to support legalization are more likely to participate. Backers also cite shifting public opinion and the experience of the four states that have legalized marijuana to help design a measure that appeals to a majority of voters.
Among likely California voters, 55 percent favor legalizing pot, compared with 43 percent who said the drug should remain illegal, according to a March poll by the nonpartisan Public Policy Institute of California in San Francisco. Support is at its highest level since the group began polling on the question in 2010, when a ballot measure to allow recreational marijuana use in California failed.
"With California and some other, smaller states legalizing it in 2016, the federal government will be forced to reckon with this," said Lynne Lyman, California state director at the Drug Policy Alliance, a pro-marijuana group that's leading the effort in the state. "We're hoping that this leads to the end of marijuana prohibition nationally."
Both sides say success will hinge on campaign donations, where marijuana supporters have the advantage. The issue has drawn interest from wealthy donors, including billionaire George Soros, who gave $1 million to California's 2010 measure. It's also likely to generate funding from a marijuana industry developing in other states and providers who want to expand into the California market. Soros was unavailable to comment, spokesman Michael Vachon said.
Opponents can win if they raise $10 million, which would allow them to set up a robust field operation and organize groups, including those in education and law enforcement, said Wayne Johnson, president of a self-named Sacramento-based firm, who ran the opposition campaign on the 2010 pot measure. They will emphasize the impact the availability of marijuana will have on children to garner votes from parents, Johnson said.
"They're the first voters who switch sides," Johnson said. "It's a key demographic that represents the Achilles heel of the yes side."
Lyman said supporters fear the possible involvement of big- money donors such as Sheldon Adelson, the billionaire chairman of Las Vegas Sands Corp., the world's largest casino operator. Adelson poured $5.5 million into defeating Florida's medical-marijuana ballot measure in November. Adelson declined to comment, spokesman Ron Reese said.
California comprises almost half of the legal cannabis market, said Troy Dayton, chief executive officer of ArcView Group, an Oakland-based marijuana investment and research firm that's raised $70,000 for the state's ballot effort.
"Legalizing adult use in California would be a worldwide game changer that would dwarf the markets in Colorado, Washington, Oregon and Alaska combined," he said.
Supporters will increase their odds of passage if they offer a measure that regulates and taxes the industry, emphasizing that use of the drug is already rampant and would then be controlled, Johnson said. They'll need to raise at least $20 million to run an effective campaign, he said.
"I don't think it's a slam dunk to pass," said Rob Stutzman, a Republican political consultant who worked for former Gov. Arnold Schwarzenegger. "There's a lot of opposition to it. There will be a lot of concern about unintended consequences."
Supporters will have the more difficult burden of persuading voters to change the law, while opponents can stir doubt and concern to secure "no" votes, Stutzman said.
The Drug Policy Alliance began raising funds through a political action committee in the fall with the goal of securing $15 million to $20 million for the campaign, Lyman said. The group plans to begin drafting the initiative this month after a series of meetings across the state to gather feedback on issues including taxes, regulation and environmental damage, she said.
The initiative will require 365,880 signatures if it's a statute change and 585,407 for a constitutional amendment, according to the secretary of state's office.
Neighboring Nevada has approved a similar proposal for its 2016 ballot, with measures also likely in Arizona, Maine and Massachusetts, said Mason Tvert, a spokesman for the Marijuana Policy Project, an advocacy group that's helped fund legalization campaigns in other states.
"The drug is ubiquitous already," said Newsom, 47, who is running for governor in 2018 and chairs a pro-legalization group. "We have a very mature industry that has existed formally through medical-marijuana dispensaries since 1996 that's de facto unregulated. In addition we're not generating any revenue."
(c)2015 Bloomberg News, Distributed by Tribune Content Agency, LLC
Photo: Frederic J Brown / AFP