Precious Moments Of Republican Candor Reveal The Party's Core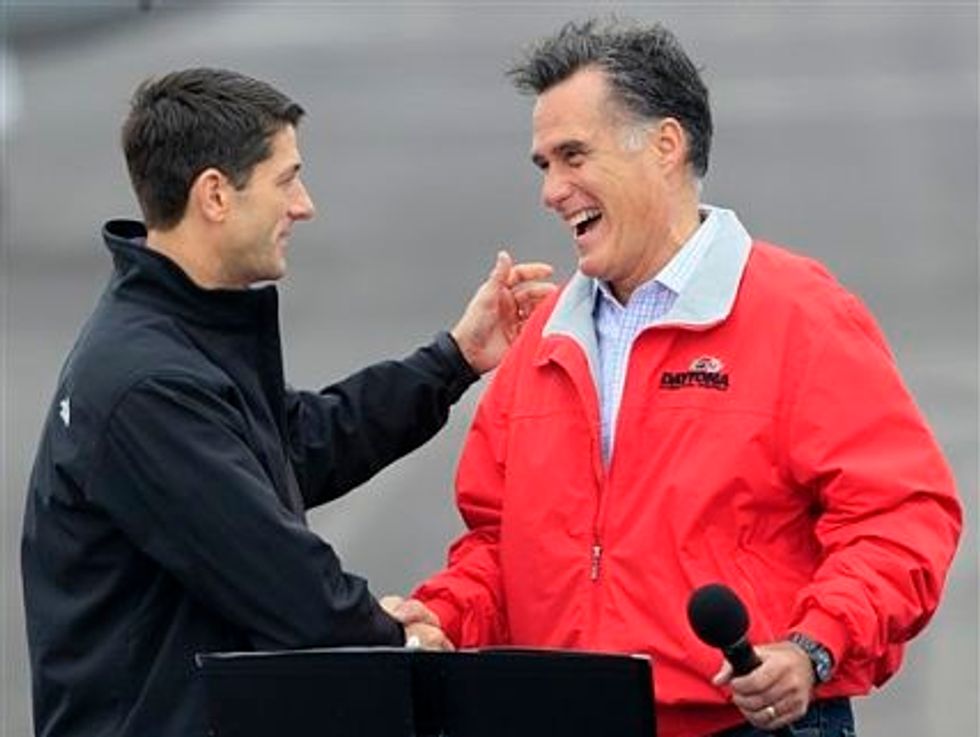 The time-tested tactic used by Republicans to deflect attention from their most unpopular positions — especially on Medicare, Medicaid, Social Security, and taxes — is to cry "class warfare," as if the workers were laying siege to the citadels of finance. It is a complaint that distracts from substantive debate and disguises the real vector of aggression against middle-class and low-income Americans over the past 30 years.
That old style of misdirection has gone stale, thanks to the emergence of audio and video clips that feature prominent Republican candidates voicing their true views… in private, of course. Caught on tape during those fleeting moments, they reveal intentions that they clearly believe most voters should never hear.
Mitt Romney's ugly unguarded blather at a $50,000-a-plate fundraiser in Boca Raton — where he expressed scorn for the "47 percent" who supposedly pay no taxes, glom onto entitlements, and consider themselves "victims" — instantly became notorious when Mother Jones released a pirate videotape that went viral. His harsh (and highly inaccurate) words confirmed negative public opinion about him personally. But there is no shortage of fresh evidence, very little of which has received commensurate attention, that Romney's remarks reflect core attitudes among the elite in his party.
Consider the audiotaped speech delivered by Romney's running mate, Paul Ryan, when he appeared several years ago to pay homage to the late author Ayn Rand at a meeting of her acolytes in the Atlas Society. Although the Wisconsin congressman now insists that he disdains Rand, mostly because of her atheism, he can be heard on tape saying that he measures every important vote according to whether it advances her ideology of selfishness. He denounces Social Security and Medicare, which he constantly promises to "save" and "protect" in public, as "collectivist" schemes that violate individual freedom.
Or consider Tommy Thompson, the former Wisconsin governor and Secretary of Health and Human Services now running for the U.S. Senate in his home state. Appearing before a Tea Party group several months ago, Thompson offered a boast. "[W]ho better than me, who's already finished one of the entitlement programs" — by which he meant welfare reform — "to come up with programs to do away with Medicaid and Medicare?"
Around the same time, Linda McMahon, the World Wrestling Entertainment tycoon and Republican candidate for an open Senate seat in Connecticut, told a Tea Party outfit that she wants to "sunset" Social Security, which means in Washington jargon that she wants a chance to kill it. Surely that would come as a very unpleasant surprise to the working taxpayers who have underwritten the program for decades as a pillar of their retirement.
Obnoxious, offensive, extreme — such blurted gaffes used to be heard mainly from the likes of Rush Limbaugh, who need not worry whether he can win over a majority of the electorate. But the advent of the Tea Party, with its far-right agenda and insistence on purity, has given full voice to the GOP's core crankiness. These are people who proudly pour vitriol on families surviving through unemployment and food stamps.
Naturally, Republican worthies like Ryan, Thompson, and McMahon protest, usually via paid spokespersons, that they would never, ever damage America's most vital programs, and that their empathy for the struggles of the middle class is boundless. Amazingly, they seem to think nobody heard what they candidly told their Tea Party supporters. And if anyone mentions those embarrassing tapes, they will scream " class warfare."
It just may not work this year.
Photo credit: AP/Al Behrman