Priming The Audience For A Ms. President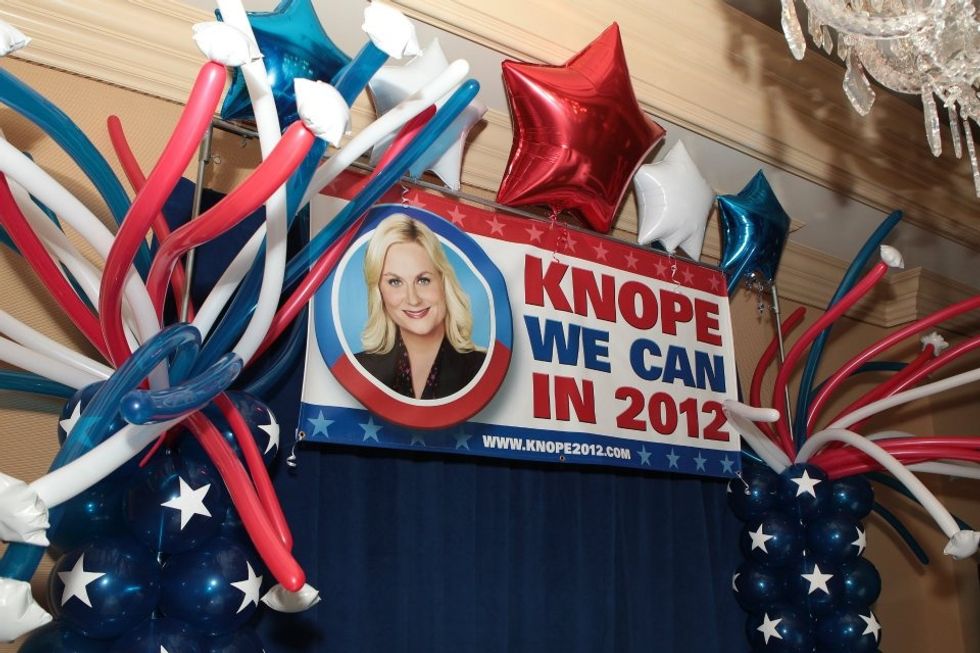 By Mary McNamara, Los Angeles Times (TNS)
Mere hours after Hillary Rodham Clinton announced her candidacy for president in 2016, "Madam Secretary's" Elizabeth McCord (Tea Leoni) helped prevent another Cold War. "The Good Wife's" Alicia Florrick (Julianna Margulies), newly elected state's attorney, was thrown under the bus by the Democratic Party, and Varys (Conleth Hill) uttered the "Game of Thrones" premiere's most memorable line after naming the qualities the ruler of the seven kingdoms should possess.
"Good luck finding him," Peter Dinklage's Tyrion Lannister snorted in response.
"Who said anything about a 'him'?" Varys replied.
If Clinton loses this election, it will not be television's fault. Many things have changed since she lost the Democratic Party nomination to Barack Obama in 2008, but few more pointedly than scripted television's relationship with women. Where once rare enough to be remarked upon, with inevitable comparisons to "Maude" or "Prime Suspect's" Jane Tennison, female leads now abound, many correcting the double standards that have historically kept women from positions of power.
As a controversial American personality, Clinton has directly affected the creation and narrative course of several series. On CBS, "The Good Wife" is the story of long-suffering wife of a philandering politician as she fights her way back to a sense of self that, most recently, included running for office. When "Madam Secretary" premiered on the same network this last fall, some conservative pundits complained that it was overt pro-Hillary propaganda (never mind that though McCord and Clinton share a title, a gender, and a hair color, there the similarities end).
Less generously, the nakedly ambitious Frank and Claire Underwood (Kevin Spacey and Robin Wright) of Netflix's "House of Cards" have been compared to Bill and Hillary Clinton (particularly this season as Claire, dismissive of the traditional first lady role, fought to influence policy), and many "Game of Thrones" fans see Hillary Clinton more in the scheming Cersei (Lena Headey) than the noble but struggling Daenerys (Emilia Clarke).
Either way, these shows are but tremors of a much bigger non-Clinton-specific event. From Westeros to the White House, female characters are in power, and no one within the narrative universe or the television audience thinks it's a big deal.
On the recently concluded "Parks and Recreation," political junkie (and Madeleine Albright superfan) Leslie Knope (Amy Poehler) grew from slightly ditzy local bureaucrat to the canny and competent governor of Indiana and possibly president of the United States (as a maddeningly suggestive final scene seemed to imply). During one of the penultimate episodes, she directly dressed down the Pawnee press for focusing on women's hairstyles and parenting techniques rather than issues during political campaigns.
On the opposite end of the digital and tonal spectrum, Claire Underwood spent the latest season of "House of Cards'" coming to grips with the fact that being married to power is not the same as having power. "Scandal" remains a weekly soap-operatic aria to the similar frustrations of powerful women (including a cuckolded first lady) kept one step removed from the Oval Office. On the other hand, "Veep's" Selina Meyer (Julia Louis-Dreyfus) recently did become president, with all the satiric hilarity that that entailed.
And those are just the overtly political roles. Elsewhere, television abounds with women calling the shots in a variety of arenas.
HBO's "Game of Thrones" is as much feminist primer as fantasy epic; on FX, Elizabeth Jennings (Keri Russell), the female half of "The Americans," is just as dedicated and competent a spy as her husband. For much of AMC's "Walking Dead," Michonne (Danai Gurira) has matched Norman Reedus' beloved Daryl in warrior status, while Carol (Melissa McBride) has transformed from abused wife to post-apocalyptic strategist (scheme softly and carry a big knife). Even the iconic title of "Mad Men" has grown increasingly misleading; as the series winds down, it is skewed as much, if not more, to the rise of its women.
Compare this with the television landscape of 2008. The first series about a female president, the Geena Davis vehicle "Commander in Chief," had bombed previously, and a few scattered stars like Mary-Louise Parker ("Weeds"), Sally Fields ("Brothers & Sisters"), Kyra Sedgwick ("The Closer"), Holly Hunter ("Saving Grace") and Glenn Close ("Damages") had barely begun the great and game-changing A-List Migration to TV from film.
On the Big Four, scripted series, with a few notable ensemble exceptions ("Desperate Housewives," "Brothers & Sisters" "Bones," "Grey's Anatomy"), were dominated by male leads and their stories; President Allison Taylor (Cherry Jones) did not assume office in "24: Redemption" until five months after Clinton withdrew from the race in 2008.
In fact, as the 2008 presidential campaign heated up, many pointed to "24's" David Palmer (Dennis Haysbert), as well as Morgan Freeman's Tom Beck in "Deep Impact," as vital to America's acceptance of a black leader. But scripted television's power to change social attitudes on a large scale can be best summed up in three words (well, two words and an ampersand): "Will & Grace."
The NBC series, a half-hour comedy built around a straight woman and a gay man, did as much if not more in the fight against civil injustice and homophobia than any march or protest. It certainly helped prepare this country for the only recently unthinkable legalization of gay marriage.
Like a mirror doing double duty as a firestarter, television tends to both reflect and catalyze social change, and the increase of strong and complicated female characters is no exception. There has been a big shift in attitude since GOP presidential nominee John McCain chose Sarah Palin as his running mate in 2008 on the daft assumption that even a barely vetted female partner would automatically bring him female votes.
Issues including rape, domestic abuse, gender exclusion, and pay equity are once again hot topics — April 14 was the second-annual Equal Pay Day, marking how far into the next year a woman must work to earn what her male colleagues did the previous year. As high-end professionals like Facebook's Sheryl Sandberg offer women (often-controversial) advice on "making it," women are once again counting heads in boardrooms, newsrooms, and representative bodies like Congress.
Characters like Alicia Florrick, Bess McCord, Daenerys Targaryen, and Selina Meyer remain, like the women who play them, well within Hollywood's narrow definition of beauty; they, like their real-life counterparts, increasingly speak out against the unrealistic expectations successful women still face, especially regarding the traditional feminine yardsticks: motherhood and appearance.
While "Parks and Recreation" began with Leslie Knope continually railing against the "old boys club" and pointing out instances in which she was the first or only woman, those sorts of story lines are all but extinct these days. A female leader is rarely if ever remarked upon, and though many characters still face sexism, it is most often of a more subtle, non-institutionalized kind.
The challenges of balancing work and family are also acknowledged as difficult, but no longer are they cast as moral crises or insurmountable. Most important, that particular struggle is increasingly being presented as less a woman's issue and more a social one — Mom is no longer seen as the primary caregiver by default; husbands are depicted as supportive, participatory mates and parents while still remaining masculine.
None of which means that Hillary Clinton will, or should, become our next president. She has been a long-standing player in what has become one the most divisive eras of American politics. She enters the race with a lot of baggage, both personal and political.
But America's ability to accept a female president, something that seemed questionable seven years ago, now seems moot. And judging from the stories we tell ourselves about ourselves, we are more than ready.
Photo: Knope 2012 via Facebook