New Texts Expose January 6 Coordination Of Proud Boys And Oath Keepers
@Brandi_Buchman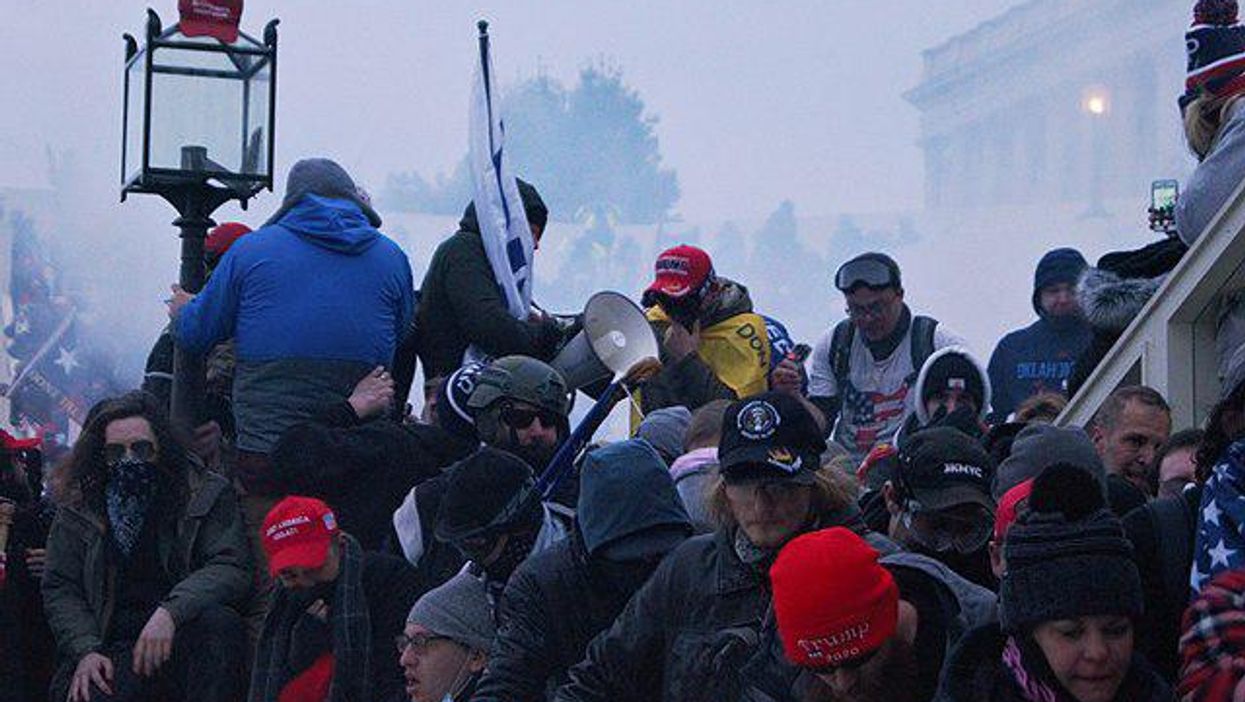 A series of text messages newly poured into the record for the impending seditious conspiracy trial of extremist Oath Keepers leader Elmer Rhodes and his cohort has exposed often frantic correspondence where members discussed providing security details for Trump World figures like Roger Stone, Michael Flynn, Alex Jones, and others.
The texts also appear to show a working relationship with the Proud Boys, another extremist network once headed by ringleader Henry Tarrio, who now sits in jail as he—and his minions—await trial for numerous charges related to the events of January 6, including conspiracy to obstruct Congress and assaulting police.
From December 2021 onward, the text messages made public late Monday demonstrate a startling pathway to January 6. They were released as part of the exhibits that accompanied a pretrial release motion filed by Oath Keeper Edward Vallejo. A hearing will be held on that matter on April 29.
Rhodes, as the apparent ground zero for the group, served as a touchstone for the daily concerns, schemes, and strategy of fellow Oath Keepers coming from all around the U.S. to Washington, D.C., for January 6. He would add people to the group chat, introduce them, and explain their roles.
In the hundreds of texts that were made public, some stand out more than others, like those from late afternoon on New Years Day.
It was hours after Oath Keepers held a conference call for "DC Leadership," when they began chatting about firearm restrictions and magazine limits in Washington. They also spoke about possible loopholes they believed might exist for private security guards.
In one exchange, Jessica Watkins — who prosecutors say was in one of the Oath Keeper stack formations that marched on the Capitol during the breach — mentioned that she heard GOP fink and convicted felon Roger Stone call for security during his appearance on Alex Jones' show, Infowars.
Florida Oath Keeper division leader Kelly Meggs, using his handle "OK Gator 1" initially told Watkins: "We have Stone."
Then moments later, Meggs said he "just texted him."
When another person in the chat believed to be an Oath Keeper—their name or handle is redacted—chimed in that they wanted to shake Stone's hand, Meggs boasted that he could arrange it since he had been to Stone's home "a few times."
"I'm down for doing PSD for folks," Watkins replied, using shorthand for "private security detail."
"I don't want to be a spectator. I want to be useful," she added.
"As per Stewart," a reply from a redacted sender began, "We are all likely to be doing PSD most of the time ..."
Stone has tried to put distance between himself and the Oath Keepers, albeit poorly.
He has also denied being in Washington on January 6, though he was filmed fleeing D.C. that day by a group of documentarians. And in that same film, a screenshot shows he was in a group chat with Rhodes as well as Tarrio.
Joshua James, the Alabama Oath Keeper chapter leader who pleaded guilty to the seditious conspiracy charges in March, served as security detail for Stone on January 5. He also hauled him to meetings at the Willard Hotel where Trump and his cronies Steve Bannon, Rudy Giuliani, attempted coup strategist John Eastman, and others would often meet in their self-described "war room."
Sal Greco, a former New York Police Department officer, allegedly worked alongside James when they did private security for Stone on January 5 and 6. Greco has denied being anything more than a friend to Stone. Greco is facing a police department trial in New York for misconduct.
James, however, admitted that on January 6 he used a stolen golf cart with co-defendant Robert Minuta to evade police as they beelined for the Capitol. From there, James has admitted, he was part of an organized effort to breach the Capitol as lawmakers conducted the counting of electoral votes, a necessary step toward the peaceful transfer of power.
Other text messages from Meggs to the group also indicate a through-line between the Oath Keepers and Proud Boys.
Video has already emerged showing Rhodes meeting with Tarrio in a parking garage on the evening of January 5 in D.C.
Tarrio was arrested just a day before on an outstanding warrant for his December theft and burning of a Black Lives Matter banner from a prominent church.
The Miami, Florida, resident was ordered out of Washington after his release, but before he left, he met with Rhodes, Oath Keeper lawyer Kellye SoRelle, Josh Macias, and Bianca Garcia in the D.C. garage. Macias is the founder of Vets4Trump and Garcia is the president of Latinos for Trump.
As news of Tarrio's arrest first spread, Meggs told the group he tried reaching out.
"I just called him no answer. But he will call [when] he's out," Meggs said of Tarrio.
That evening, another redacted speaker in the chat responded to the news of the arrest.
"They [think] chopping the head off kills it or something? Damn fools should have left him alone," the text said.
This is also far from the first time that prosecutors have exposed a unity between the groups.
In a December 19 message entered into the record by prosecutors last month, Meggs tells a person on Facebook that he spent the week doing outreach to Proud Boys leadership.
"This week I organized an alliance between Oath Keepers, Florida 3 percenters, and Proud Boys. We have decided to work together and shut this shit down," Meggs wrote.
The Three Percenters are an anti-government extremist militia.
A week later, according to exhibits attached to Meggs' request for pretrial release, the Florida Oath Keeper told members their groups had a plan in place to deal with "antifa," or supporters of the anti-fascist movement.
Meggs explained how they would coordinate together on January 6:
"We're going to march with them for awhile then fall to the back of the crowd and turn off," Meggs wrote in December 2021. "Then we will have the Proud Boys get in front of them [and]] the cops will get between antifa nad Proud Boys."
He continued: "We will come in behind antifa and beat the hell out of them."
Many of the Oath Keepers charged with seditious conspiracy who have pleaded guilty have maintained they only came to Washington because they believed Trump would invoke the Insurrection Act.
If he did so, then, in short, they believed they would then have the green light to proceed and assist him as necessary.
The messages revealed Monday also offered a brief glimpse into the network's ties to 1AP, or the First Amendment Praetorian, a self-styled militia. That pro-Trump group was subpoenaed by the January 6 committee already for its connections to Michael Flynn. Flynn used its members as bodyguards at "Stop the Steal" rallies. The group also threw its support behind proposals to seize voting machines as a part of Trump's bid to stay in power.
Like the Oath Keepers had in the past, 1AP also reportedly had members assigned to protect Jones.
Rhodes appeared enthralled by the prospect of working with Jones again in a text Rhodes sent to members on Dec. 31, 2020.
"Bottom line, is those of you wanting to do PSD details will get plenty of opportunity. We may also end up assisting the PSD for Alex Jones again. Which was a great feather in our cap. We worked subperbly (sic) well with both Alex Jones security team (who are awesome guys) and with the Praetorian Guard (also awesome veterans led by SF and SEAL veterans)," Rhodes wrote. "They LOVE working with us because of our legit 'quiet professional' demeanor and skillsets."
Rhodes continued: "It's incredibly important for us to be front and center and again very visible for the patriots AND the domestic enemies. Heck, also to our foreign enemies, who will surely be watching as well."
Jones was subpoenaed by the committee months ago. He had a private meeting with investigators in January and when he emerged, he went on his own show to unpack the day. He vowed that he "stayed silent" and said he didn't know answers to half of what he was asked.
Jones also swore that same day that he did not use members from the Oath Keepers or Proud Boys as his private security. Instead, he said, he hired 12 or 14 people from a private security firm in Texas. He simultaneously claimed that some of those members were D.C. or Maryland police officers.
Jones also didn't think the Oath Keepers or Proud Boys were threat. He chalked up their activities to "live action role playing."
According to the texts, Oath Keepers were also interested in providing security to Ronny Jackson during the insurrection itself. Jackson was the former White House physician under Trump who turned into a congressman for Texas.
"Dr. Ronnie Jackson on the move," one message from an unidentified person stated on January 6 at 3:08 PM. "Needs protection. If anyone inside cover him. He has critical data to protect."
Rhodes sent a text asking what Jackson needed and then offered up his cell phone number.
"Rep. Jackson is frequently talked about by people he does not know. He does not know nor has he ever spoken to the people in question," a spokesperson for Jackson said Tuesday morning.
In another message appearing to involve U.S. lawmakers, on January 3 Meggs told the group that friends to the Oath Keepers mentioned the group "on the call with congressmen,"
"[They] wanted to say thank you all for providing and protecting us," Meggs wrote.
Attorneys for Rhodes, Tarrio, and Meggs did not immediately return a request for comment.
Published with permission from DailyKos.