Puerto Rico Turns To Lewandowski To Lobby Trump On Debt
@eisingerj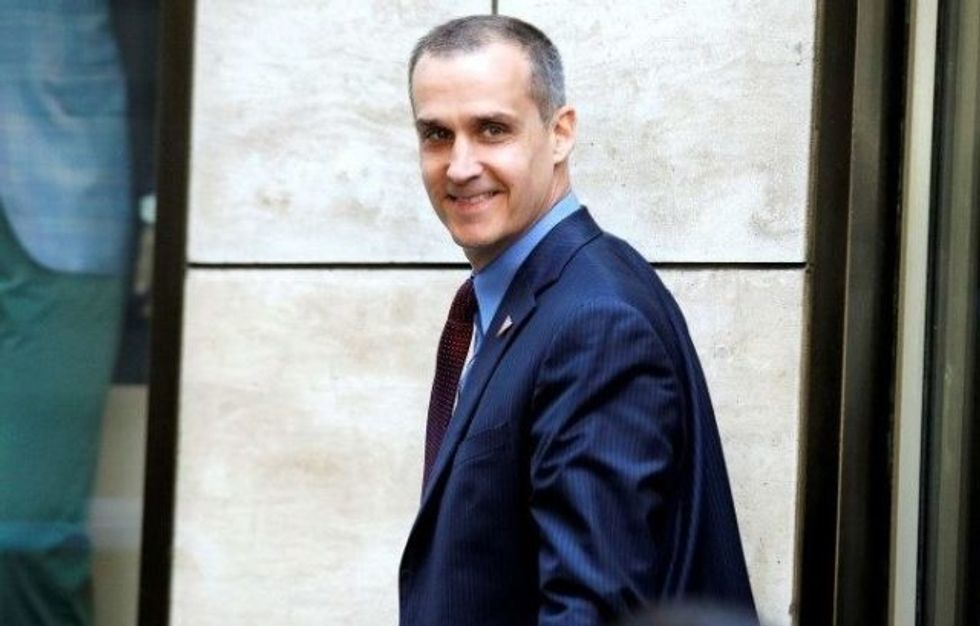 Reprinted with permission from ProPublica.
The hedge funds and insurance companies that want financially strapped Puerto Rico to pay them back in full may have found a new ally: Donald Trump's former campaign manager, Corey Lewandowski.
The newly elected governor of Puerto Rico is in discussions to hire Lewandowski's lobbying firm, at a time when the island's creditors are hoping that the incoming Trump administration will be more sympathetic to them than the Obama administration has been. Such a shift would add to concerns that the new administration's tight ties to banks and investment funds could tilt its policies in favor of Wall Street.
"There's no contract, but we have active talks" with the governor, says Barry Bennett, who recently formed Avenue Strategies with Lewandowski.
The governor wants Avenue to lobby the new administration regarding Puerto Rico's fiscal crisis, though it's too early to say exactly what steps the firm would push for, Bennett said. He denied a report by Caribbean Business that Lewandowski recently arranged a get-together between the new governor, Ricardo Rosselló, and Trump. "There was no meeting with Trump," he said. A spokesman for Rosselló confirmed that the governor did not meet with Trump.
A Trump transition team spokeswoman did not respond to requests for comment.
Lewandowski gained a bulldog reputation as Trump's campaign manager. He was charged with battery for grabbing Michelle Fields, a Breitbart News reporter, after a Trump press conference. Prosecutors later dropped the charges. After being ousted from the campaign, but while receiving severance pay, Lewandowski became a CNN commenter and remained close with the incoming president.
Mired in a yearslong depression, Puerto Rico faces a fiscal crisis, with over $72 billion in debt that it cannot afford, and about $43 billion in unfunded pension liabilities. Its creditors consist mainly of insurance companies that specialize in backing municipal debt; hedge funds, which mainly have positions in the island's general obligation bonds; and mutual funds, which own bonds backed by sales taxes.
Puerto Rico, a commonwealth, is a territory of the United States. Puerto Ricans do not vote in presidential elections but send a delegate to Congress who has limited voting rights. For years, Puerto Rico's creditors have battled the island's government and each other in a high stakes negotiating and lobbying campaign. Now, they're seeking to salvage their investment as Puerto Rico's financial picture worsens.
Until last year, under its constitution, Puerto Rico could not file for bankruptcy, unlike states and municipalities in the rest of the United States. Last June, Congress passed a law, called Promesa, allowing Puerto Rico to file for a type of bankruptcy if necessary. Bondholders could lose out in a bankruptcy, as the island's entire debt would be restructured.
Promesa allowed Puerto Rico to temporarily stop making payments on its general obligation debts, primarily held by hedge funds and other financial companies. The island continued to make payments on the debt backed by sales taxes, known as Cofina. Since the general obligation debt is protected by the Puerto Rico constitution, the general obligation holders argue that it's illegal to allow payment to the Cofina debtholders.
The law also established an oversight board to oversee Puerto Rico's affairs, putting the island under more direct federal rule. The board is made up of appointees chosen by both American political parties and has a Republican majority.
During the campaign for governor, Rosselló, a 37-year-old biomedical engineer and neurobiologist and son of a former governor, called for negotiations with creditors. A member of the New Progressive party, which advocates Puerto Rican statehood, Rosselló claimed during the campaign that Puerto Rico could pay its debts in full. Creditors view him as more sympathetic than the outgoing governor, Alejandro García Padilla, who refused to negotiate with them. Rosselló is expected to hold talks with creditors through the first part of the year, seeking to strike a deal and avoid bankruptcy, according to people familiar with the matter.
Hedge funds with investments in Puerto Rican bonds include Aurelius Capital Management and Monarch Alternative Capital. John Paulson, the hedge fund manager who backed Trump's campaign, owned Puerto Rico debt at one point and has substantial real estate on the island. He appears not to own bonds anymore, according to people involved in the negotiations. A spokesperson for Paulson did not respond to a request for comment.
Trump has appointed several high-profile investors and Goldman Sachs bankers to key cabinet and advisory positions. Trump's choice for treasury secretary, Steven Mnuchin, is himself a hedge fund manager, though he does not appear to have investments in Puerto Rico debt.
The Obama administration pushed for the Promesa law and antagonized the bondholders, particularly the hedge funds. They contend that the outgoing administration ignored their financial interests in favor of seeking to protect the pensions of public employees and create a model for other municipalities facing similar fiscal crises.
Now with a new governor and a new American president, some of the bondholders believe their negotiating position has improved. Trump "can't be as bad as what we had," says one bondholder, who requested anonymity. "I don't believe they will hold Puerto Rico hostage to try to create a mold that they hope will someday help with Chicago, New Jersey or wherever."
Update, Jan. 12, 2017: After this story was published, a spokesman for Rosselló confirmed that the governor did not meet with Trump.
IMAGE: Corey Lewandowski, campaign manager for Republican U.S. presidential candidate Donald Trump, exits following a meeting of Trump's national finance team at the Four Seasons Hotel in New York City, U.S. on June 9, 2016.  REUTERS/Brendan McDermid/File Photo