The Puppet Presidency Begins As Bannon Takes The Reins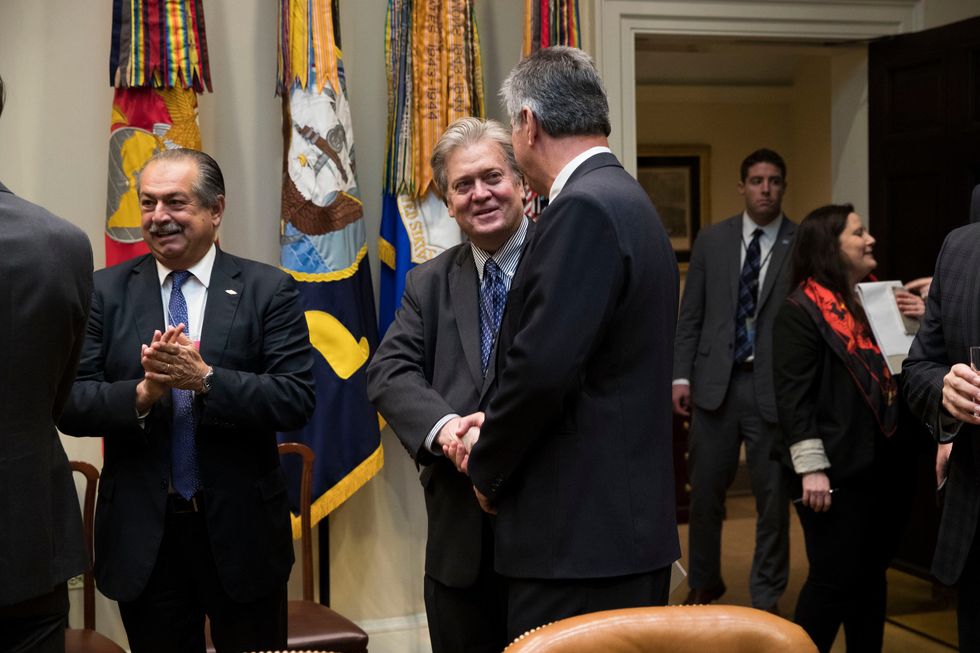 Reprinted with permission from AlterNet.
One key question of the Trump presidency in its first week is: who is actually going to perform the tasks associated with the job?
While the liberal comedians and right-wing pundits agitate themselves about crowd sizes, odd tweets, and imaginary voter fraud, Politico and TheHill supply some data points about the all-important paper flow in Washington. Steve Bannon, the former Goldman Sachs executive-turned-Breitbart News chief, is running the government, while the president argues with actresses.
Politico reports that the executive orders Trump has been signing were prepared and coordinated by Bannon. Various Cabinet secretaries and congressional leaders were not consulted, according to the story. Such procedural corner-cutting is not inconsequential when it comes to spending $25 billion of taxpayer funds or running the CIA.
But whatever the eventual costs, the current reality seems to be that Bannon—not his White House rivals, chief of staff Reince Priebus or Vice President Mike Pence—decides what piece of paper gets put in front of Donald Trump's pen.
The "Breitbartization" of the White House comes as no surprise to people at the conservative news site.
"I'm surprised it took this long," one Breitbart reporter told The Hill. "There are a number of people on staff who clearly have resumes that would lend themselves to the administration. These two are ideologically in line with Bannon. They're people he can trust. It makes sense."
The two are Breitbart immigration operative Julia Hahn and Breitbart's national security propagandist, Sebastian Gorka. Hahn is expected to join the White House as an aide to Bannon. Gorka will also relocate to the White House, likely with a spot on the president's National Security Council, according to Business Insider. Neither has much relevant experience.
So far Trump is rubber-stamping the agenda of a radical Congress on Capitol Hill. But that is not the most distinctive feature of the Trump interregnum. An "interregnum" is a period when normal government is suspended. That is clearly the case in Washington. The Trump administration is not normal American government, not in its ethos or allegiance to democratic norms; it is an interruption.
And Bannon is the interruptor. The Republican congressional leaders may be radical; they are also spineless. When House Speaker Paul Ryan was asked about the president's bogus claims about electoral fraud, he shrugged and said, "I'm a policy guy."
As Trump wobbles and wheezes, Bannon is stepping forward. On the fifth day of Trump's presidency he called a reporter to denounce The New York Times as "the opposition" who, he emphasized, deserved "humiliation."
Bannon projects the image of a strong, if flabby man. He's a winner in the mold of Trump but perhaps more intelligent, an ordinary guy, a Seinfeld fan. He is also a self-proclaimed revolutionary from Wall Street, imbued with the animal spirits of capitalism and the racial chauvinism of the so-called alt-right.
Compared to Bannon, Pence and Priebus are out of his league. They want to play with piety and politics. Bannon wants to remake the globe. Pence worries about the morals of gay people. Bannon wants to depose German Chancellor Angela Merkel.
Bannon's unsurprising emergence as first among equals in the White House is a signal moment in the Trump interregnum. Compared to Trump, he looks presidential.
As the citizenry starts to pierce the smokescreen of Bannon's taunting and Trump's fibs, they will have to pay attention to how the White House actually works.
Traditionally, the American presidency has two leadership functions, neatly summarized in a sign I saw in a friend's kitchen: "El hombre reina; la mujer gobierna." The man reigns; the woman governs. The message is gendered (as they say), but the wisdom it expresses is common sense. Leadership of a household or a nation-state has two dimensions: the ceremonial function of embodying a functioning collective and the practical function of getting things done.
As performed by the last four presidents, the position of the chief executive of the U.S. government was akin to that of the CEO of the world's largest non-profit. While their politics varied widely, Barack Obama, Bill Clinton, George W. Bush, and Bush Sr. all did the same basic job.
These presidents presented themselves as the embodiment of the nation while presiding over a vast network of executive branch agencies. They reported to a fractious board of directors (Congress) and a vast service audience (the American people). Whether Republican or Democrat, these presidents organized their staff to receive, screen, and distill information and policy choices coming in from Cabinet agencies, the armed services, and scores of independent federal agencies. These presidents used the information to direct the governmental actions according to their political calculations and beliefs, and to negotiate with Congress and the courts for money and legitimacy.
This executive aspect of the Oval Office job does not much interest Trump. He is a marketer by trade, with some genius for developing and executing dubious real estate deals. His attention span is legendarily short. He is passionate about a few issues (immigration, regulation, murder in Chicago) but has no interest in public policy as a daily task.
Trump delights in the ceremonial presidency, as demonstrated by his ramblings about crowd size, popular vote margins, and standing ovations. Trump may be losing his mind in public, but he is a master of the ceremonial presidency. Or he is an emperor with no clothes. Or both.
Masha Gessen notes that Trump, like his friend Vladimir Putin, understands the "lie is the message"; Trump's false statements serve as true messages to his supporters. His lies disrupt and distract his opponents and burnish his image as the reigning power. While his opponents bicker about facts, he floats higher: El hombre reina.
It is a tragedy. It is a farce. It is, according to the Washington Post, a story of backbiting, ego contests, and confusion. Yet there is no doubt Trump and Bannon are projecting a strong and clear message to their supporters: The president is on the job. He's a break from the liberal past. His critics are contemptible and petty. You can read all about it on Breitbart News:
America is in control of its borders. … Voter fraud is under investigation. … Madonna has been banned from a Texas radio station. … Milo is courageously fending off oppressive gay leftists. …
America is getting greater, one Border Wall Construction Co. T-shirt at a time.
One would have to go back to Ronald Reagan to find a president as disinterested in daily decision-making as Trump is likely to be. Trump resembles Reagan in key ways, both in his appeal and his politics. The difference is that Reagan was conservative, not radical. The Reagan team sought to capture the existing federal government structure on behalf of the conservative movement.
The Trump team is seeking to dismantle the existing government structure and traditions of government in a way that is not normal. When Reagan came to Washington, the top management team of the State Department did not resign en masse. Under Trump, they just did. They are not partisans but public servants. They would be glad to hand off to a new administration. They want no part of Trump.
Bannon can claim a victory of sorts. The Washington establishment is being routed. And indeed it is. The normal administration of the American government has ended. The interregnum has begun.
Jefferson Morley is AlterNet's Washington correspondent.
IMAGE: Senior staff at the White House Kellyanne Conway, Jared Kushner and Steve Bannon (L-R) applaud before being sworn in by Vice President Mike Pence in Washington, DC January 22, 2017.  REUTERS/Carlos Barria