Putin's Desperate Draft: Head To The Ukraine Front -- Or The Gulag
@LucianKTruscott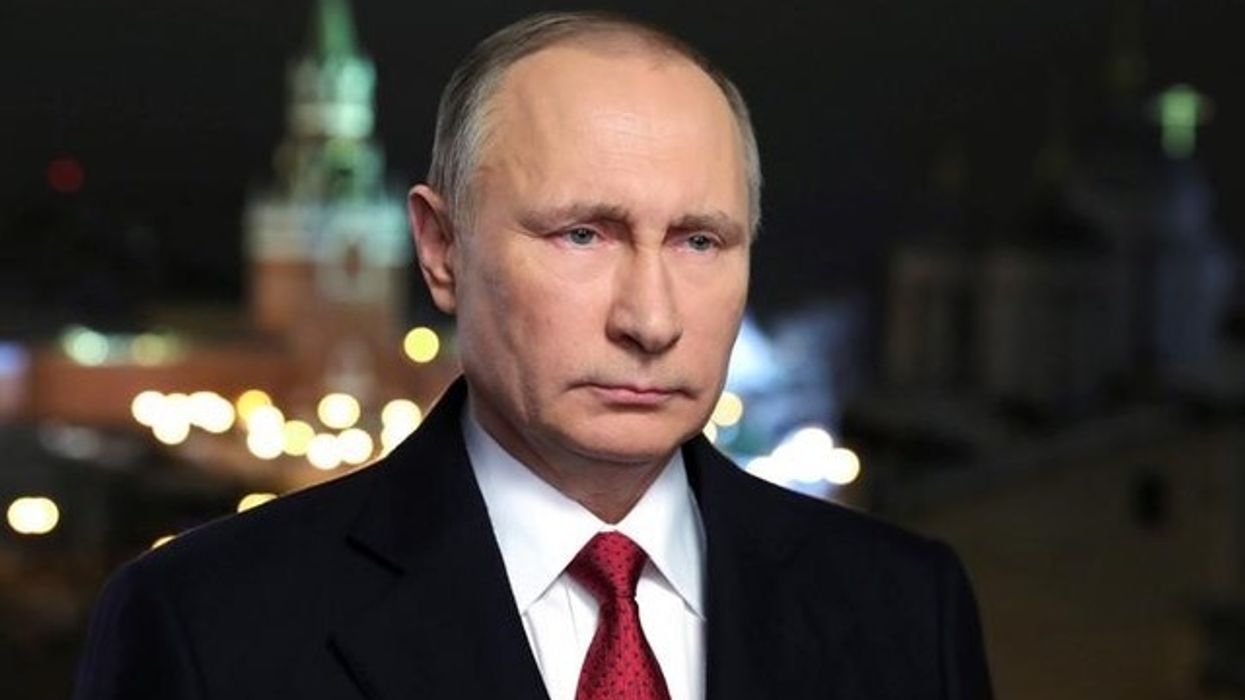 Intelligence officials in Great Britain are telling reporters that "the Kremlin's real goal is to mobilize 1 million," in the planned conscription announced by Russian President Vladimir Putin on Wednesday, according to The Guardian newspaper in London. British defense officials "reiterated in a briefing on Friday that it was their belief it will be very hard for Russia to reach 300,000, never mind any larger figure."
Another official, speaking anonymously, told the Guardian that Putin's announced goal of drafting 300,000 into the Russian army is "an immense number of people to then try to get in any sense of semblance to be able to fight in Ukraine. The authorities will face major challenges even in mustering this number of personnel…and we think that they will be very challenged in training, let alone equipping such a large force quickly."
The Washington Post reported yesterday that conscripts are being told they are to be sent for 15 days of training before potential deployment to the front lines in Ukraine.
Allow me to put this into perspective for you. At West Point during our first-year summer training in what was in those days called Beast Barracks, we didn't handle a rifle for anything other than close-order drill for the first three weeks. When we finally began instruction on the M-14 and M-16 rifles, we spent the first part of a week learning safety procedures when handling firearms and the second part learning to disassemble, clean, and reassemble both weapons. Only then were we trucked out to the firing range to begin learning to shoot the things.
We were issued one bullet at a time when firing the weapons from the standing, kneeling, sitting, and prone positions at first. Finally, after several days of this, we were given clips (for the M-14) and magazines (for the M-16) and taught to use the weapons for more rapid fire at targets downrange. All in all, our weapons training took two weeks, off anD on, with time out for meals, physical training, parades, and classroom instruction on tactics and other subjects.
Then we were given several weeks of tactical training in the field, learning squad and platoon maneuver, planning for combat attacks, how to execute orderly repositioning of forces, and how to defend fixed positions.
The U.S. Army spends about 10 weeks in Basic Training of new recruits and then puts them through another two to three months of what is called Advanced Individual Training for the various combat arms, like Infantry, Armor, Signal Corps, Field Artillery, Engineers, Air Defense, and Aviation. Training for service in non-combat specialties like Ordnance (ammunition), Transportation, Civil Affairs, Military Intelligence, and Psychological Operations can take longer. Soldiers can also be sent for training in Airborne Operations, Special Forces, and Rangers, all of which can add months to the total time necessary to train a soldier to be ready for combat.
Fifteen days? Putin isn't training soldiers, he's preparing to send human beings to be live targets for the Ukrainian army.
And what is he going to do to arm and supply his ill-prepared recruits? New battalions and regiments comprised of hundreds of thousands of recruits will need thousands of new armored vehicles, resupply trucks, howitzers, tanks, and other combat equipment Russia does not have after the loss of multiple battalions of such equipment in Ukraine since February.
The last time Russia experienced this level of mobilization was during World War II when the Soviet Union sent millions of barely-trained coNscripts into combat against the forces of Nazi Germany, which had invaded from the west and reached positions just outside of Leningrad and Moscow by the winter of 1941. The Soviets were able to push back the German armies during that winter and into January of 1942 by being more prepared than the Germans were for the brutal Russian winter, and by sending hordes of soldiers to counter the German offensive and regain land that they had taken.
Soviet casualties over a four-month period were estimated at more than 650,000. Soviet NKVD units (Commissariat for Internal Affairs – a kind of state police force) were positioned behind the Soviet front lines with orders to shoot any Soviet soldiers attempting to retreat, and they even went to field hospitals and executed soldiers who had shot themselves in the foot or the hand to get off the front lines.
In other words, a good part of the Soviet strategy to win the war on the Eastern Front during World War II depended on their army being willing to suffer far more casualties than the German army -- in other words, to spend bodies to take land.
Putin appears to be readying Russia to use similar tactics against the army of Ukraine, which is much smaller than even the Russian army as currently constituted. Putin may be preparing to send so-called human waves against Ukrainian forces to retake territory he has lost and take more of Ukraine than his forces now occupy.
It is a tactic of desperation, evident by his call-up of reserves and drafting of young Russians almost immediately after his army suffered the severe defeat they were dealt by Ukraine in its northeast recently, when the Ukrainian army retook more than 3,500 square miles that had been occupied by Russia since last March.
Putin's desperate gamble is not going over well within Russia. His draft has been focused on poorer regions in the country's east and north and has not yet encompassed the largely middle class cities of Moscow and St. Peterburg. The Washington Post reported yesterday that "more than 1,300 people were arrested at anti-mobilization protests in cities and towns across Russia on Wednesday and Thursday, in the largest public protests since Russia invaded Ukraine on February 24." Reports from inside Russia describe scenes of men being rounded up and forced onto buses headed for military bases. The Post reported that there have been "dozens" of attacks on military recruitment offices across Russia, with some being set on fire.
One scene I saw on the news last night showed recruits being loaded onto buses while their families, including wives, mothers, and children, were held at bay by SWAT-equipped Russian state police wearing helmets, bullet-proof vests and face shields, and wielding automatic weapons. In fact, the state police seen in news footage putting down riots and defending buses filled with recruits from demonstrating families look to be better equipped than many of the soldiers in Ukraine, who have in the past few weeks been reported to be laying down their arms and taking off their uniforms and heading away from the front lines, attempting to disappear into the civilian population ahead of the Ukrainian offensive.
Kremlin spokesman Dimitri Peskov was quoted in the Post saying, "The information about a certain feverish situation in airports is very much exaggerated." He was referring to multiple reports from Russia that flights out of Moscow and other cities have been overbooked over the past few days, and ticket prices have skyrocketed as thousands of mostly male Russians are attempting to flee the country ahead of Putin's mass mobilization. I saw a "Flight-Aware" video on Twitter last night showing what looked like at least a hundred flights leaving Moscow and St. Petersburg, heading south toward Turkey and Azerbaijan and east toward India and other Asian nations that still accept flights from Russia.
It is looking more and more like Putin is preparing for a kind of last stand to protect the areas Russian forces have already taken in Ukraine. "Russian red lines are not necessarily where they say they are," a British defense official told the Guardian. "There are parts of the territory that Russia now controls which are of greater strategic significance to Moscow than others." The defense official was referring to Crimea and the parts of Luhansk and Donetsk in the east that Russian forces and Ukrainians friendly to Russia have occupied since 2014.
Former Russian President Dimitri Medvedev threatened yesterday that Russia might use tactical nuclear weapons to defend Ukrainian territory Russia now holds. "Russia has announced that not only mobilization capabilities, but also any Russian weapons, including strategic nuclear weapons and weapons based on new principles, could be used for such protection. The Donbas (Donetsk and Luhansk) republics and other territories will be accepted into Russia. There is no going back," Medvedev said.
He currently serves as the deputy chairman of Russia's Security Council and is thought to be close to Putin. He is at least the third former Russian official who has been quoted over the last three days as threatening the use of nuclear weapons to defend territories within Ukraine that Russia is using referendums to force into the Russian Federation. There are reports out of Ukrainian cities in the east that local police working with the occupation governments and the Russian military are taking down names of people who have voted against referendums on joining Russia.
Meanwhile, Putin is facing increasing criticism from his right within Russia of his losses in the war and his failure to have taken Kyiv and conquered the country in the short time he had predicted before he launched his attack on Ukraine last February. To pacify his internal opposition, Putin gave a speech on Wednesday saying that he would annex the regions over which Russia does not have full control. He issued a vague threat to use nuclear weapons to defend the annexed regions as part of "Russian soil."
It's a bad situation over there in Russia, and it's getting worse. Putin is making more promises that he very likely cannot keep, and his mobilization of reserves is turning into a full-fledge draft that many Russians do not like at all. A country that only a generation ago had breadlines around the block in downtown Moscow and rampant poverty in its outlying regions got used to the luxury of eating regularly and using their cellphones and having the freedom to travel outside of Russia.
Sanctions are causing shortages outside of Moscow and St. Petersburg, and much of the lifestyle Russians enjoyed before this year is now endangered by Putin's war on Ukraine and by his crackdowns inside Russia. Some Russian experts in this country are wondering how much longer Putin can last. Others point to his KGB-trained expertise in political oppression and speculate that his dictatorial strength should not be underestimated.
Historians disagree about exact figures, but as many as 10 million civilians died in the last Russian Revolution and civil war in 1917. Putin's will to power in this century has already cost his economy dearly and could be just as expensive in human terms.
Watch this space.
Lucian K. Truscott IV, a graduate of West Point, has had a 50-year career as a journalist, novelist, and screenwriter. He has covered Watergate, the Stonewall riots, and wars in Lebanon, Iraq, and Afghanistan. He is also the author of five bestselling novels. You can subscribe to his daily columns at luciantruscott.substack.com and follow him on Twitter @LucianKTruscott and on Facebook at Lucian K. Truscott IV.
Reprinted with permission from Lucian Truscott Newsletter