QAnon Republican Visited Capitol, Urged Muslim Members To Retake Oath With Bibles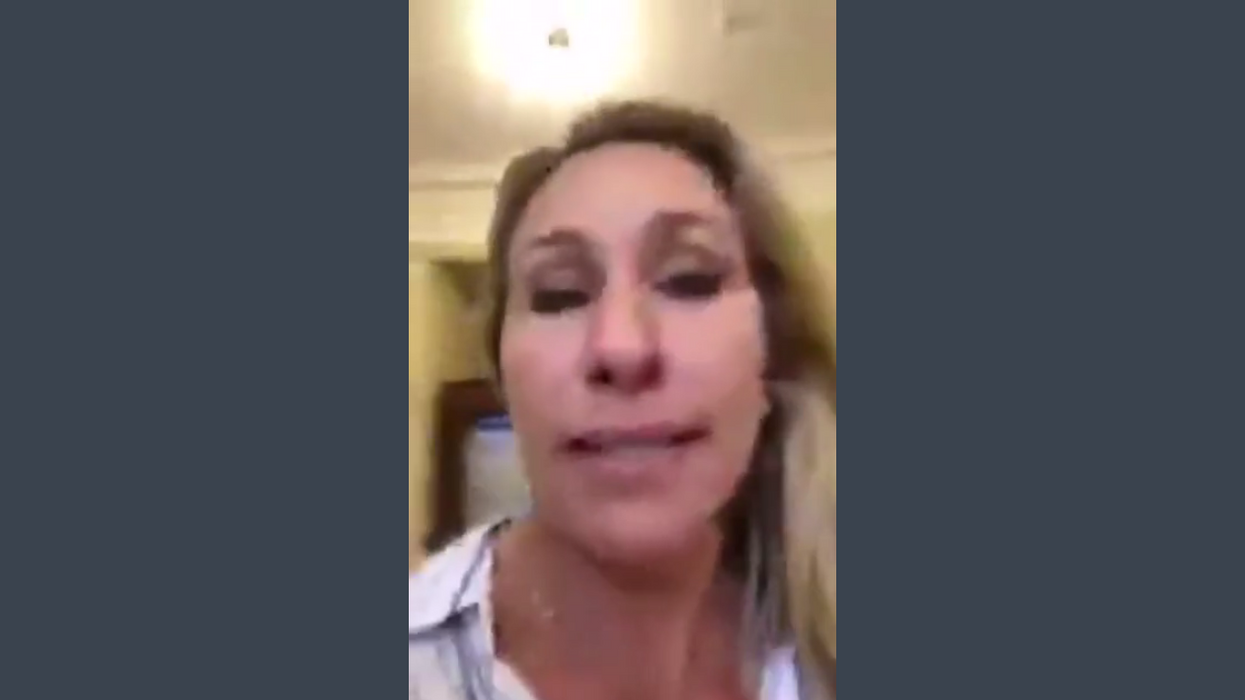 Screenshot from a Facebook video/ MediaMatters
Reprinted with permission from MediaMatters
Republican congressional candidate and right-wing pundit Marjorie Taylor Greene is a bigot both on and offline.
In February 2019, she visited Capitol Hill -- her likely future place of employment -- and filmed herself unsuccessfully trying to interrogate Reps. Ilhan Omar (D-MN) and Rashida Tlaib (D-MI). During the video, she falsely claimed that they're illegitimate members of Congress because they took their congressional oaths of office on the Quran and said she wanted to make them retake their oath on the Bible. She also said she wanted to tell them they "really should go back to the Middle East if they support Sharia." In addition to being bigoted, her remarks are also ignorant as their oaths were legitimate and neither representative is from the Middle East.
---
The Southern Poverty Law Center previously reported on Greene and her visit in an August 16, 2019, article.
Greene is likely to become the first supporter of the violence-linked QAnon conspiracy theory in Congress next year after she won her primary runoff in a heavily Republican congressional district in Georgia. (Greene has disingenuously tried to distance herself from her prior support for QAnon.) She has the backing of key Republicans, including President Donald Trump and House Minority Leader Kevin McCarthy (R-CA).
Before running for Congress, Greene was a right-wing commentator who frequently pushed conspiracy theories, including about the 9/11 attacks, the murder of Democratic staffer Seth Rich, and the mail bombs sent around the time of the 2018 midterm elections.
Politico previously reported that Greene posted Facebook videos in which she expressed "racist, Islamophobic and anti-Semitic views," including stating that "there is an Islamic invasion into our government offices right now. … You saw after midterm elections what we saw so many Muslims elected."
Her anti-Muslim views were additionally on display when she visited the Capitol on February 22, 2019, and live streamed her visit on social media. Halfway through the hour-and-a-half long video, Greene and her companions got the idea to visit Omar and Tlaib and criticize them for being Muslim.
She explained her reasoning, stating:
MARJORIE TAYLOR GREENE: I truly feel like as a woman in America, I really need to go talk to these ladies. Yeah, because they support -- you know what? They support Sharia. And these are -- these are women that really would like to see Sharia in America, and as an American woman, as a business owner, as a mother -- I have two daughters -- I never want to see Sharia in America. And so I really want to go talk to these ladies and ask them what they are thinking and why they're serving in our American government. They really should go back to the Middle East if they support Sharia. So let's go talk to them. I definitely want to go talk to them.
Neither representative was born in the Middle East. Omar was born in Somalia while Tlaib was born in Michigan.
Greene also stated that she wanted to get them to retake their congressional oaths of office because their swearing-ins were supposedly illegitimate. She said that she wanted to "let them know what our law says that you can't swear in on the Quran. So we're going to explain to that. You know, we're going to explain about how you can't swear in on the Quran and we're going to have the Bible and ask them if they would swear in on the Bible." She added: "When they swore in, it wasn't a law yet, right? ... I think at the time they swore in that wasn't passed, because it wouldn't have been passed in a Republican-controlled -- yeah, so it was passed after they swore in, so they're not really official, I don't think. So, let's go ask them to swear in the Bible." In reality, there is no law that requires an oath on the Bible, nor has there ever been.
Greene's attempted visits to see Omar and Tlaib proved unsuccessful as both representatives were not available. She instead resorted to interrogating members of their staffs with questions and comments that were anti-Muslim and conspiratorial.
While in Omar's office, Greene said: "I feel very threatened by this representative and other representatives that really embrace Sharia and embrace Islam. And I feel that's a threat to my freedoms in the future in America and for my daughters and granddaughters. Is Illan Omar -- is she interested in changing any freedom for women or pushing us down in level of equality, because that's what happens in Muslim nations." She added that if "she claims to protect women's rights, she would never support anything that Islam supports. And I want to say that on record."
Filming in Tlaib's office, Greene said: "I'm concerned about is her support for Sharia and her support for Islam. Is that going to ever affect my freedoms as a woman, because Islamic countries and Muslim countries, women aren't treated the same. They're not treated equally as women are here in America."