Seeking Plea Deal, Lawyer Claims 'QAnon Shaman' Was 'Unarmed, Harmless, Peaceful'
@jarrell_zach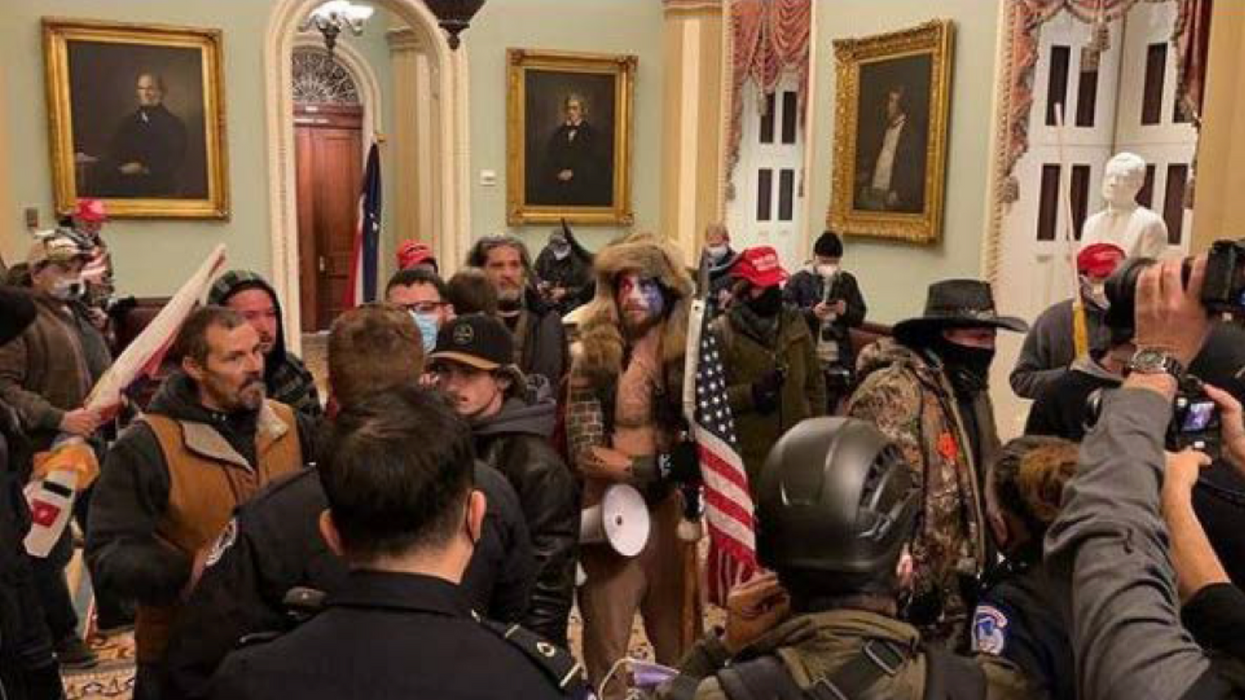 Screenshot from Justice Department complaint
Notorious Capitol rioter Jacob Chansley, better known as the "QAnon shaman," is negotiating a possible plea deal with prosecutors after psychologists found he suffers from multiple mental illnesses, his lawyer told Reuters -- while painting a rosy image of the violent insurrectionist's part during the Capitol riot.
According to Albert Watkins, Chansley's defense lawyer, he was diagnosed with transient schizophrenia, bipolar disorder, depression, and anxiety by officials at the federal Bureau of Prisons (BOP). The findings have not yet been made public.
"As he spent more time in solitary confinement ... the decline in his acuity was noticeable, even to an untrained eye," Watkins told Reuters, adding Chansley's 2006 records from his time in the Navy show similar results.
Watkins also tried to spin Chansley's role in the deadly Capitol insurrection, saying, "What we've done is we've taken a guy who is unarmed, harmless, peaceful ... with a pre-existing mental vulnerability of significance, and we've rendered him a chocolate soup mess."
But Chansley was anything but "unarmed, harmless, peaceful," according to video from within the Capitol he breached with a crowd of Trump-supporting extremists bearing his trademark headdress, face paint and spear.
The participant in the Jan. 6 Capitol riots Jacob Chansley, nicknamed the \u2018QAnon Shaman\u2019 is negotiating a possible plea deal with prosecutors, according to his lawyers. He faces charges including civil disorder and obstructing an official proceeding https://reut.rs/2W4HKw4\u00a0pic.twitter.com/uAohePk8V3

— Reuters (@Reuters) 1627065600
It's not the first time Watkins has tried to downplay the danger Chansley presented during the Capitol riot and claim the spear he wielded wasn't a weapon.
During an attempt to get his client out of jail in late June, the lawyer called the spear a "flagpole," adding that it was "useless" and just "part of the shaman costume."
The prosecutor, James Nelson, wasn't convinced, noting that Watkins "has been talking for more than 20 minutes and hasn't said a single correct thing," during the hearing.
It is not clear if Chansley, whose charges include civil disorder and obstructing an official proceeding, is considering pleading guilty, but, according to Reuters, "defendants negotiating plea deals typically seek to plead to a less serious charge to reduce their potential prison sentences."