Racist Iowa Rep. King Suggests Executing Clintons Over Fake Scandal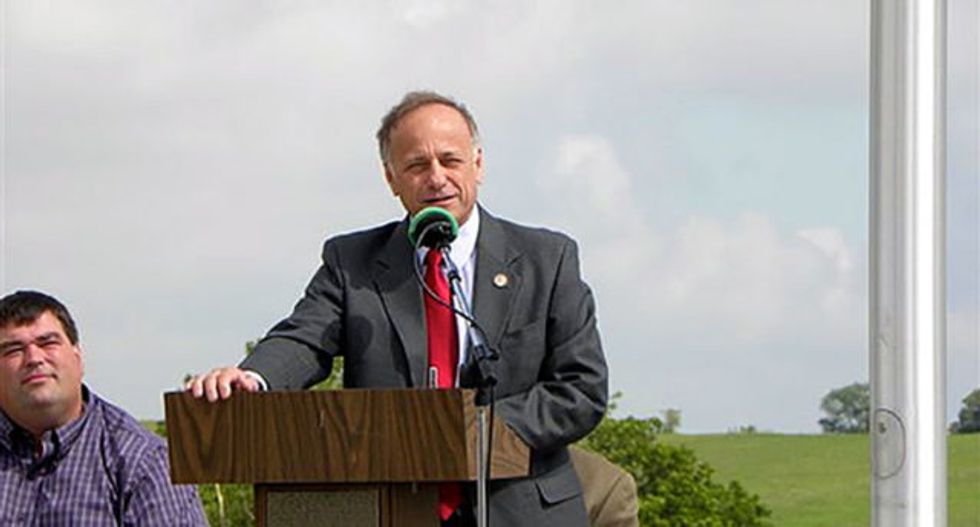 We regret to inform you that Rep. Steve King (R-IA) is at it again.
The noted racist Republican congressman posted an outrageous meme to his campaign Facebook page Monday afternoon that uses a debunked conspiracy theory to suggest that former President Bill Clinton and former Secretary of State Hillary Clinton should be executed.
The meme depicts Julius and Ethel Rosenberg — American citizens who were convicted of treason and later executed for spying on behalf of the Soviet Union during the Cold War — and compares them to the Clintons, whom the meme's authors accuse of not facing consequences for selling uranium to the Russians.
King reposted the meme from the right-wing Facebook page "The Patriot Post" and added the text "#LockHerUp."
Of course, the "Uranium One" Clinton conspiracy theory the meme relies on is beyond false, and has been debunked over and over again. Even Fox News host Shepard Smith debunked the conspiracy theory that many of the Trump sycophants on the propaganda network he works for love to push.
It's outrageous enough that King would repost a meme accusing the Clintons of a nonexistent crime. But on top of that, the meme suggests they should be executed for that nonexistent crime.
King is no stranger to controversy.
In March, he posted yet another vile meme to Facebook in which he fantasized about killing liberals in a new civil war.
Later that month, he refused to deny that he thinks an all-white society would be "superior" to other societies.
Republicans kicked King off of the House committees he once served on for openly questioning what was so bad about white supremacy. (It's worth noting, however, that Republicans tolerated King's racism for years, and only moved to punish King when King's otherwise strong hold of his heavily Republican House seat in Iowa became jeopardized by the antics.)
King is still protesting his removal from those committees, claiming over the weekend that he was a casualty of "a political lynch mob."
He even claimed that his removal from House committees was similar to how Jesus was persecuted.
Sadly, King's latest Facebook post is par for the course for the unhinged, racist Iowa Republican.
Published with permission of The American Independent.