Reacting To Supreme Court Defeat, Trump Seeks To Unlawfully Delay Census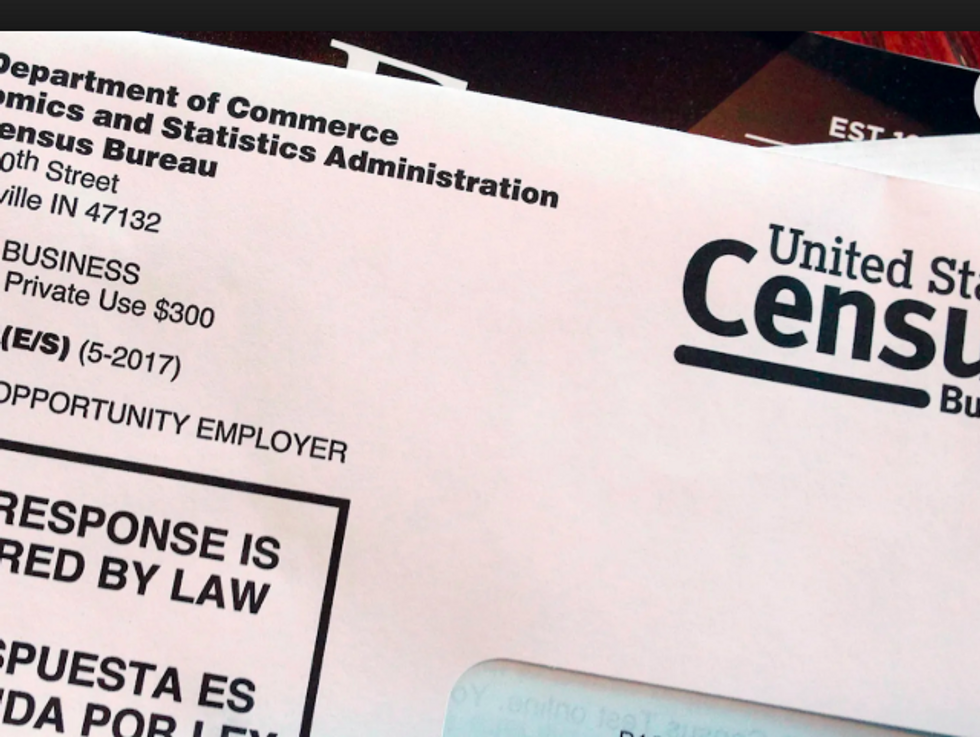 In a blow to the Trump administration's plans, Chief Justice of the United State John Roberts issued an opinion Thursday ruling against the Commerce Department's plan to include a citizenship question on the upcoming 2020 Census.
While the administration claimed that the question was designed to help the Justice Department enforce the Voting Rights Act, Roberts and a majority of the court found that this explanation was not supported by the evidence in the case, and the Supreme Court upheld a lower court's decision to remand the decision back to the agency. Many observers argued this will likely prevent the department from adding the question in time for the upcoming Census (though there's some debate about this), and President Donald Trump, in two rage-filled tweets sent from his Japan trip, said he wants to delay the process:
…..United States Supreme Court is given additional information from which it can make a final and decisive decision on this very critical matter. Can anyone really believe that as a great Country, we are not able the ask whether or not someone is a Citizen. Only in America!

— Donald J. Trump (@realDonaldTrump) June 27, 2019
The problem? The timing of the Census is mandated in the Constitution — it must be taken every ten years. A president certainly cannot delay it for his own narrow reasons, "no matter how long." It has to take place next year.
Legal experts quickly pointed this out:
The Constitution mandates that the census be conducted every "Term of ten Years." Pushing the census beyond that ten-year term would be unconstitutional. https://t.co/9lTvW1z7f7

— Renato Mariotti (@renato_mariotti) June 27, 2019
Of course. What other provisions of the United States Constitution might we pause until such a time as they become convenient for you? https://t.co/oetKxjHCxe

— Susan Hennessey (@Susan_Hennessey) June 27, 2019
THE REQUIREMENT TO TAKE THE CENSUS EVERY TEN YEARS CANNOT BE DELAYED IT IS MANDATED BY THE CONSTITUTION WHAT IS WRONG WITH YOU ARE YOU KIDDING ME WITH THIS HOW IS THIS REALITY https://t.co/oL3q5uWGHP

— Bradley P. Moss (@BradMossEsq) June 27, 2019
The census is constitutionally mandated to begin in April 2020. It can't be delayed because you want to add a discriminatory, unnecessary & unlawful question https://t.co/QxF8hX7FLB

— Ari Berman (@AriBerman) June 27, 2019
And others noted that Trump's new suggestion contradicted what his own administration's lawyers had previously argued:
"The lawyers" repeatedly told #SCOTUS that June 30 was a hard-and-fast deadline for finalizing the Census—in response to requests from the _challengers_ for more time.

It won't exactly help the government's credibility if, all of a sudden, that turns out to not have been true. https://t.co/yTxwNegPX0

— Steve Vladeck (@steve_vladeck) June 27, 2019
Perhaps most revealing of all is Trump's clear rage. Does anyone actually believe that he's this worked up about protecting the Voting Rights Act? He's never shown any interest in protecting the law, and his party is devoted to undermining it. The purpose of the citizenship question is to discriminate against areas that have non-citizens and warp the Census in favor of Republicans and white people.