Reciting Prayers, Woman Takes Down Confederate Flag At South Carolina Capitol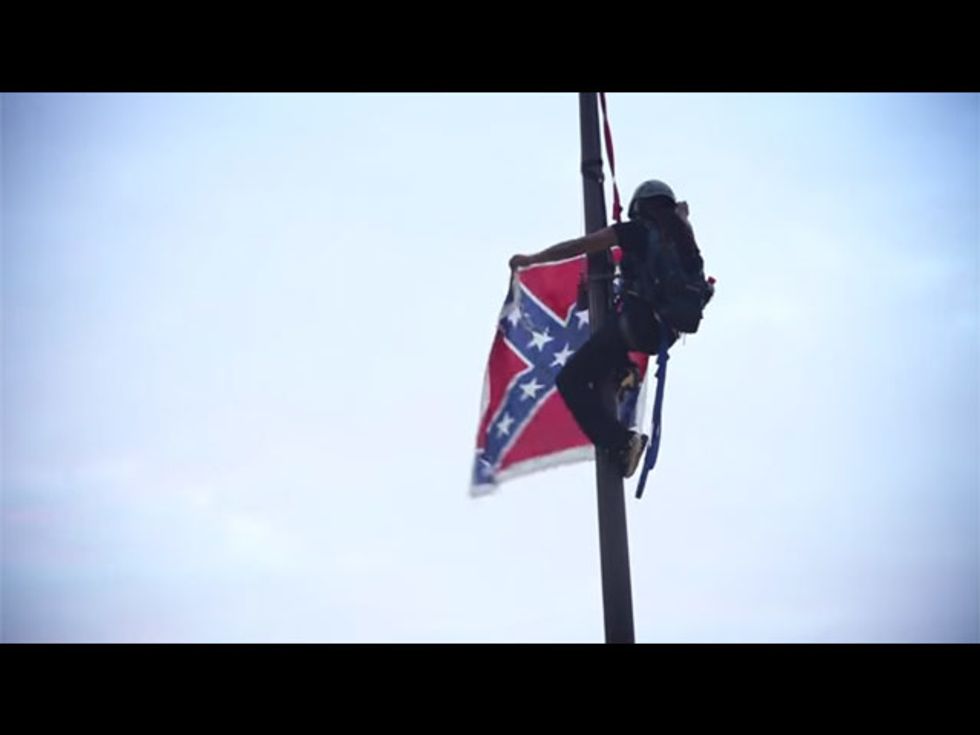 A woman publicly took down the Confederate flag at the South Carolina state Capitol grounds early Saturday morning, climbing the pole at the Confederate memorial and removing that flag before she then submitted herself to be arrested. A new Confederate flag was then put back in its place.
The woman has been identified as Brittany "Bree" Newsome, an African-American resident of Charlotte, North Carolina, Columbia's newspaper The State reports. Newsome has been detained on a vandalism offense — and in the hours since, a popular hashtag has emerged on Twitter, called "#FreeBree."
Governor Nikki Haley (R-SC) called this week for the Confederate flag to come down, in the wake of the massacre at a historic black church in Charleston by a confessed white supremacist. Haley's statement has in turn kicked off a process of debates and votes in the state legislature, which is still ongoing. That flag has been located at a Confederate war memorial on the Capitol grounds since 2000 — a compromise measure after it had previously flown from the state Capitol dome itself, placed there in 1962 as a gesture of state defiance against desegregation and the civil rights movement.
In a video posted on YouTube, showing Newsome clad in climbing gear, she grabbed the Confederate flag and cried out: "You come against me with hatred, and oppression and violence — I come against you in the name of God! This flag comes down today!"
Newsome also recited Christian prayers as she descended the pole: "The Lord is my light and my salvation. Who shall I fear?"
As she descended, the pole was surrounded by three police officers. She assured them in a calm and friendly tone of voice: "I'm gonna come, sir. I'm gonna comply. I promise you, I'm coming down. I'm prepared to be arrested."
Of the three arresting officers, two were black and one white. The arrest appears to have gone smoothly, with Newsome and the officers cooperating to help her over the waist-high iron fence surrounding the flagpole before placing both her and a white male accomplice in handcuffs.
The State also reports:
At about 7:45 a.m., a maintenance worker and a state security officer, neither of whom would give their names or comment, raised a new banner after removing it from a plastic sheet. The two state employees who arrived on the State House grounds to put the flag back up were African-Americans.
A member of a group associated with Newsome expressed disappointment to the paper that the Confederate flag was put back up again: "All they had to do was keep it down."