Red Cross General Counsel Resigns Over Handling of Sexual Assault Allegations
@JustinElliott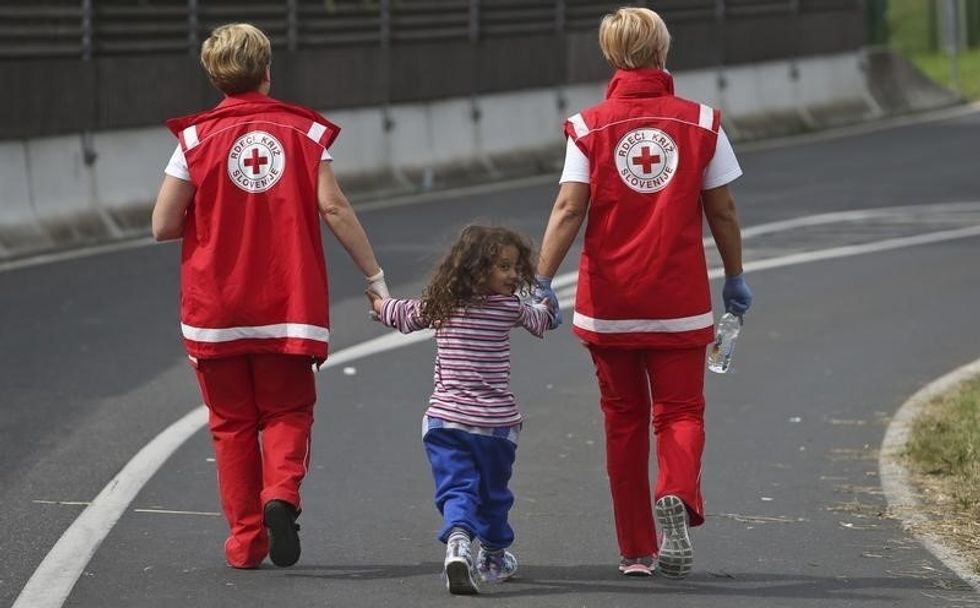 American Red Cross General Counsel David Meltzer has resigned after a ProPublica story detailed troubling aspects of how he handled a sexual misconduct case involving another senior official at the charity.
In his resignation letter, dated Jan. 31 and effective immediately, Meltzer wrote to American Red Cross CEO Gail McGovern that he deeply regretted his handling of the case. "I want to ensure that the reputation of the institution remains strong and that nothing interferes with the organization's ability to effectively carry out its important mission," his letter says.
In an organization-wide email this morning, McGovern announced the resignation. "Over the course of the last year, we have seen news accounts of other organizations and institutions contending with serious instances of sexual harassment and the harmful repercussions that such misconduct can create. Last week, it was our organization's turn to again struggle with these issues," McGovern wrote. "I am committed to moving forward in a way that strengthens us as an organization."
ProPublica's story last week reported that in 2012 the charity pushed out a senior executive in its international division, Gerald Anderson, after an internal investigation concluded he sexually harassed at least one subordinate. Another Red Cross employee accused him of rape. Through his lawyer, Anderson has denied any sexual misconduct. Save the Children, which hired Anderson after he left the Red Cross, said in a statement today that "Anderson is no longer employed by Save the Children."
At the conclusion of the investigation in 2012, Meltzer sent out an email announcing Anderson's departure in which Meltzer praised Anderson for his "dedication" and "leadership." Meltzer then angered some employees at a staff meeting when he said he wished Anderson were staying at the charity, according to several people who attended.
Shortly after he left the Red Cross, Anderson got a job as senior director for humanitarian response at Save the Children, a global charity based in Connecticut. Anderson was given a positive reference by a senior Red Cross official, according to Save the Children. The Red Cross said last week it was taking disciplinary action because of the positive reference but declined to provide details.
In his resignation letter, Meltzer apologized for his statements around Anderson's departure.
"I deeply regret the damage this language may have caused the organization and its wonderful staff — particularly the employees involved in this matter," he wrote. "I also deeply regret that my words could have undermined confidence in the commitment of the Red Cross to properly address complaints of this nature. I would never want to be the cause of such a result. Rather, I feel strongly that every employee must feel comfortable and protected in reporting harassment and other misconduct to management."
Meltzer couldn't immediately be reached for comment.
Meltzer's resignation follows what multiple staffers described as a tense week at the charity. At an emotional staff meeting last week of the International Services Department, where Anderson and his accusers had worked, multiple employees called for Meltzer's resignation and a public apology to the two women who made the allegations in 2012.
Meltzer worked for the Red Cross for over 12 years, rising from senior vice president for international services to a dual role as general counsel and chief international officer. In those positions, he helped oversee some of the charity's largest — and at times, most troubled — projects. He played a leading role in its half-billion-dollar relief program after the 2010 Haiti earthquake, the subject of a previous investigation by ProPublica and NPR.
Meltzer has also tried to manage the charity's relationship with overseers on Capitol Hill. A 2016 Senate report found that Meltzer had successfully maneuvered to limit the scope of an inquiry into the charity's disaster relief operations by the Government Accountability Office.
ProPublica is a Pulitzer Prize-winning investigative newsroom. Sign up for their newsletter.