REMINDER: The Number Of Uninsured Americans Increased by 7.9 Million Under George W. Bush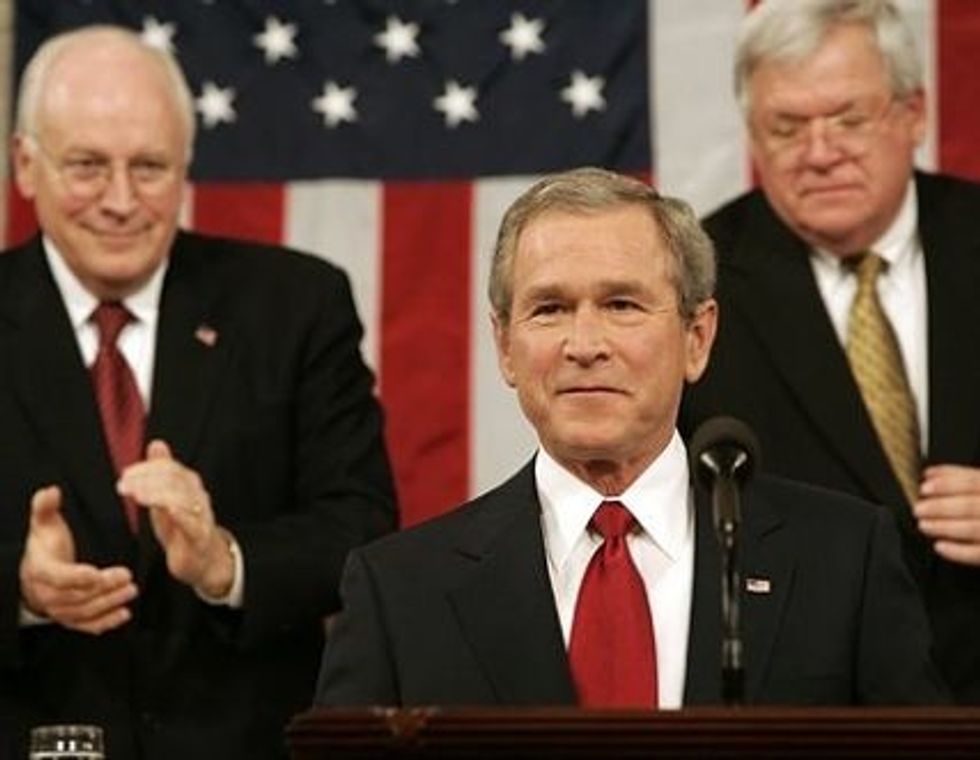 The week President Obama took office, initial jobless claims, the statistic that immediately gauges layoffs, hit a 26-year high with 637,000 applying for unemployment insurance in one week. It was clear that the president was inheriting a record deficit, a cratering economy and two floundering wars. But buried in all those crises was an unspoken slow-motion disaster that people rarely mentioned: the steady crumbling of our health care system.
"When [former president Bill] Clinton left office, the number of uninsured Americans stood at 38.4 million," Ron Brownstein wrote in 2009. "By the time [former president George W.] Bush left office that number had grown to just over 46.3 million, an increase of nearly 8 million or 20.6 percent."
The numbers were just as bad when you looked at the share of the uninsured.
When Clinton left office, 13.7 percent of the population was uninsured. Bush left with 15.4 percent lacking coverage. And the only health reform the last Republican to occupy the White House enacted in his eight years was to add an unfunded prescription drug benefit that guaranteed cuts would need to be made at some point.
So the 15.4 percent of Americans Bush left uninsured in 2008 continued to rise in 2009 to 16.1 percent, then peaked at 16.3 percent in 2010. In 2011, it dipped to 15.7 percent, the biggest drop since 1999. The last census report showed that 48.6 million Americans were uninsured — that's 15.4 percent. Exactly where it was in 2008.
It would easy to credit the recovering economy for the rise of insured Americans — initial jobless claims last week were half of what they were when Obama took office. But the percentage of the uninsured is now lower than it was in 2006, before the Great Recession hit.
The New York Times' Paul Krugman calls the Affordable Care Act's role in bringing health-cost growth to its lowest rate on record the law's "secret success." But the other secret success is how Obamacare is helping to reverse the growth of the uninsured population. This began in 2011 with children and young adults being able to stay on their parents' plans until age 26, covering more than three million. And it continues this year with millions of Americans being added to the Medicaid rolls and millions likely to sign up for private plans, if the law's health care exchanges begin working well enough.
Still Republicans are playing up the estimated 5 million cancelations of plans due to Obamacare the same way they played up the deficit and faltering economy President Obama inherited as if it had been his fault.

We won't know how many of these people end up in new plans until next year, but we do know that nearly all of them will pay the same or less with a new plan that cannot deny them coverage or charge them more if they get sick.
"To sum up, lots of people losing coverage are losing policies they never liked much, that they would have dropped soon anyway, and that would have left them facing potential financial ruin if they got sick," The New Republic's Jonathan Cohn wrote. "Even those with truly good policies had no guarantees that in one year, let alone two or three, they'd still be able to pay for them."
Now, millions of Americans are being offered affordable health insurance possibly for the first time in their lives, promising to cut the ranks of the uninsured by millions in just a few years.
While Republicans are mourning cancelations of the exact kinds of plans that left massive holes in our health care system, the question is: Where were those crocodile tears when almost 8 million Americans became uninsured under George W. Bush… and Republicans did nothing to stop it?