Report: Pence Still In Jeopardy As Trump Mulls Replacement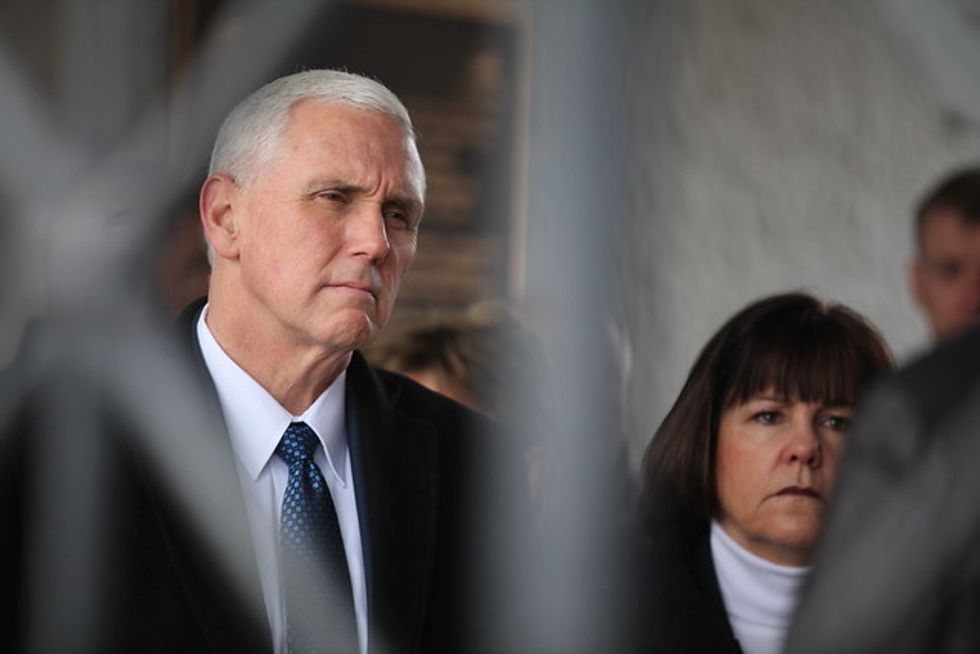 Trump is still privately questioning whether to keep Mike Pence as his running mate, Yahoo News reported on Thursday.
"Behind the scenes, tensions have been mounting among Trump, Pence and their top advisers ever since the GOP's resounding losses in the 2018 midterms," the outlet reported.
After the party lost control of the House and Democrats secured a historic popular vote victory over the GOP, Trump "asked aides about replacing Pence."
According to Yahoo, Trump hasn't let go of his concerns and during his August vacation at his New Jersey golf resort, Trump advisers say he continued to ask about how removing Pence from the ticket would be received.
At the same time, Pence's team is reportedly concerned about a push from Ivanka Trump and Jared Kushner to replace him with a woman on the ticket. Trump has always been weak with woman voters — he lost to Hillary Clinton by 13 percentage points among — and they are a major reason he has never had a positive approval rating.
Just a few weeks ago, Pence was publicly humiliated when former U.N. Ambassador Nikki Haley started a rumor about her possibly replacing Pence. Pence then had to reassure supporters by publicly addressing Haley's comments.
"There are certain pockets out there that want to solve their problems by replacing the running mate," a Pence adviser told Yahoo.
While Pence is in the unenviable position of reassuring the world his job is secure, he has also been scurrying around in public to push Trump's pet projects.
"He's on a tightrope," an RNC member who helped to connect Pence with Trump back in 2016 told Yahoo. Brought on to shore up weak support for Trump with the religious right, Pence has had to do more to demonstrate loyalty.
A Pence "confidant" cited his appearance at a border detention camp photo op in July as an example of the sway Trump now has over Pence. At that event, Pence used migrants posed in front of cameras to claim that reports of substandard conditions in migrant detention facilities are overblown.
Additionally, Pence this week stayed at Trump's property in Doonbeg, Ireland, nearly 200 miles away from the meetings he had scheduled in Dublin. Forced to explain the arrangements, which cost taxpayers extra and enriched Trump, the White House continually changed its story, eventually blaming the episode on Pence's desire to be near his ancestral home.
Instead of operating like a unified team, Trump and Pence are sounding more like warring political factions.
Published with permission of The American Independent.