Report: Ross Threatened Weather Service Officials Over Alabama Lie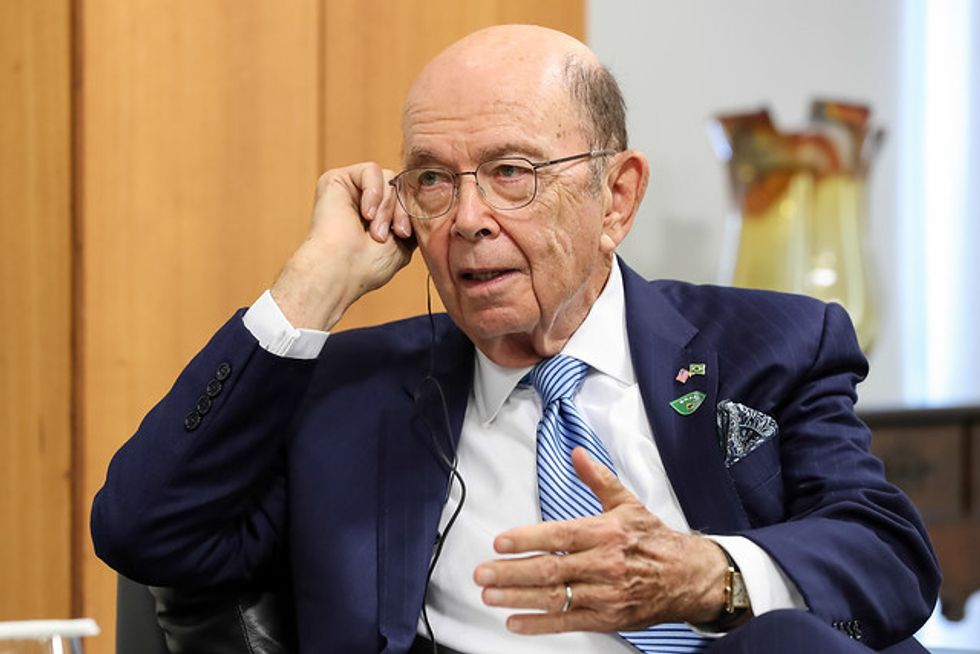 The New York Times reported on Monday that Commerce Secretary Wilbur Ross threatened to fire employees at the National Oceanic and Atmospheric Administration (NOAA) for contradicting Trump's made-up story about Hurricane Dorian hitting Alabama.
NOAA falls under the Commerce Department's jurisdiction.
According to three sources, the threat came after the National Weather Service (NWS) office in Birmingham, Alabama, contradicted Trump.
On Sept. 1, Trump claimed that the hurricane threatened the state, an assertion that was quickly corrected by the NWS. In a tweet that same day, less than an hour later, the agency's Birmingham office issued a statement saying "Alabama [would] NOT see any impacts from #Dorian" as the weather system would remain "too far east."
In the days since, however, Trump has doubled down and continued to push his initial claim, even appearing during an official White House briefing with a Sharpie-altered map indicating a threat to Alabama.
"Mr. Ross phoned Neil Jacobs, the acting administrator of NOAA, from Greece where the secretary was traveling for meetings and instructed Dr. Jacobs to fix the agency's perceived contradiction of the president," the Times reported Monday.
Jacobs refused to do Ross' bidding and was told that the political staff at NOAA would be fired otherwise.
On Monday, NWS head Louis Uccelini defended the forecasters at a public meeting, commending them for correcting Trump and doing "what any office would do to protect the public."
Uccelini noted that the forecasters had "public safety" first and foremost on their minds.
Senior Trump administration officials have since claimed the Birmingham office was "motivated by a desire to embarrass the president more than concern for the safety of people in Alabama," the Times reported. In a statement to CBS News Monday afternoon, a Commerce spokesperson called the Times report "false," saying Ross "did not threaten to fire any NOAA staff over forecasting and public statements about Hurricane Dorian."
Ross has continually been embroiled in scandals since his tenure with the Trump administration began. Recently, he was cited for contempt by Congress after he refused to cooperate with its investigation into a racist citizenship question on the 2020 decennial census.
Documents from a former GOP operative later showed that such a question would benefit non-Hispanic whites and would aid the Republican Party's political efforts.
Ross also attracted national attention back in February for lying about his own financial situation. The Office of Government Ethics singled him out at the time for failing to disclose stock holdings from which he was supposed to divest.
Published with permission of The American Independent.