Report: Scott Walker's Jobs Agency Pouring Money Into Red Districts, Neglecting Others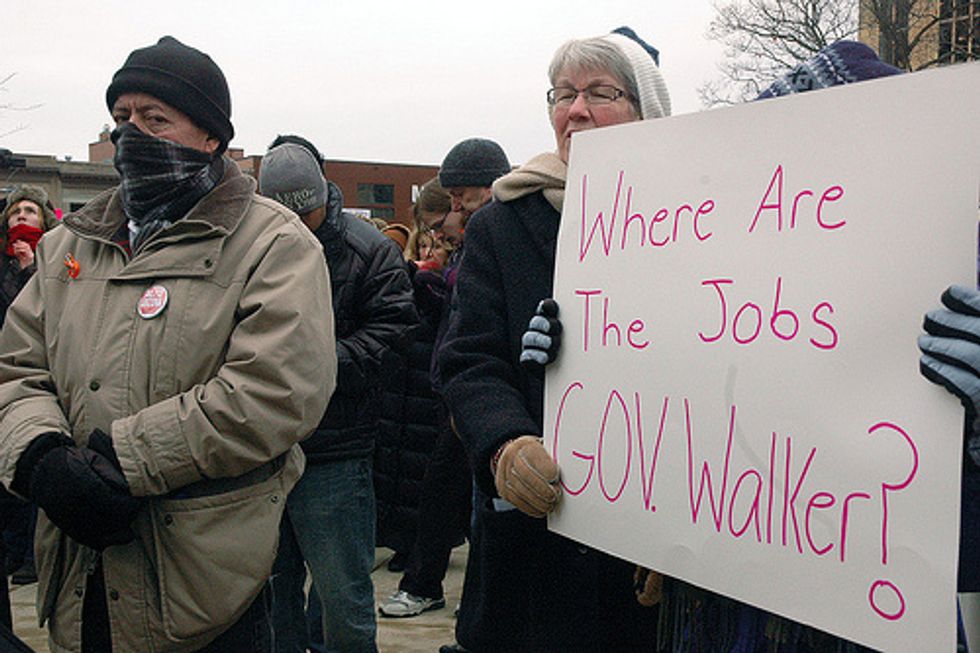 Wisconsin governor Scott Walker has long been criticized for his state's poor jobs numbers — but now the potential 2016 presidential candidate is under fire for the locations of the jobs that have been created.
In 2011, under Walker, the Wisconsin Economic Development Corporation was established as the state's largest private-sector jobs agency. The WEDC's purpose is to develop and facilitate economic programs that create new jobs or subsidize already existing ones. Using taxpayer money, the WEDC awards, grants, and loans money to businesses across the state.
According to a Citizen Action of Wisconsin report released in February, however, data reported by the WEDC shows "[jobs] impact concentrated in a handful of legislative districts" – specifically, districts represented by Republicans.
Furthermore, because red districts in the state are benefiting more from the WEDC than other districts are, members of the Republican Assembly who are in leadership positions benefit from a disproportionately increased number of jobs in their districts.
Using numbers reported by the WEDC, the report finds that Republican assembly districts have approximately 86 percent more jobs projected in the first quarter of the 2014 fiscal year than Democratic districts. While there are 453 jobs projected per Democratic district, an overwhelming 842 jobs are projected per Republican district.
Additionally, while over 6,000 jobs are projected to be created in just one GOP assembly district alone, 14 districts have zero jobs projected, which calls the WEDC's methods of distributing funds and impacting job creation into question.
"There's a real question about what's actually being done with public money, and whether or not the resources are being distributed fairly across the state," says Robert Kraig, the executive director of Citizen Action of Wisconsin.
WEDC spokesman Mark Maley denies the agency has committed any wrongdoing, explaining, "What we're really focused on is economic development all over the state. We absolutely do not make any political favorites or geographical favors, when it comes to granting awards."
WEDC's own data, however, proves inconsistent jobs impact across districts not only represented by different parties, but also home to varying socioeconomic classes. As Citizen Action points out, there is one job impacted for every 36 residents in Wisconsin's Waukesha County, but one job impacted for a whopping 166 residents in Milwaukee County. The difference between the two counties extends beyond partisanship: Waukesha's average income is 73 percent higher than Milwaukee's, and its poverty rate is 75 percent lower.
Maley denies that the impoverished county — which also happens to be Democratic — is not being helped by the WEDC. In fact, he says, a million-dollar grant has been awarded to the city of Milwaukee to renovate an automotive facility, but the grant will not show up in the report because it was not part of the WEDC data used by Citizen Action.
Governor Walker also denies that any particular districts are favored under the WEDC and blames the "completely biased and partisan" Citizen Action report for painting a different reality.
Walker adds that "…you have a significant number of business leaders more often than not [who] happen to be Republicans vs. Democrats. We measure success not by party affiliation. We measure success by whether those employers are creating jobs."
But as Kraig counters, the conservative governor's logic suggests that Wisconsin families should "move to Republican districts where they can live in closer proximity to the supposed 'job creators,'" which not only is an unrealistic and unfair expectation, but the answer to an already shaky defense.
Photo: Lost Albatross via Flickr