Report: Second-Largest Radio Broadcaster To Drop Limbaugh, Hannity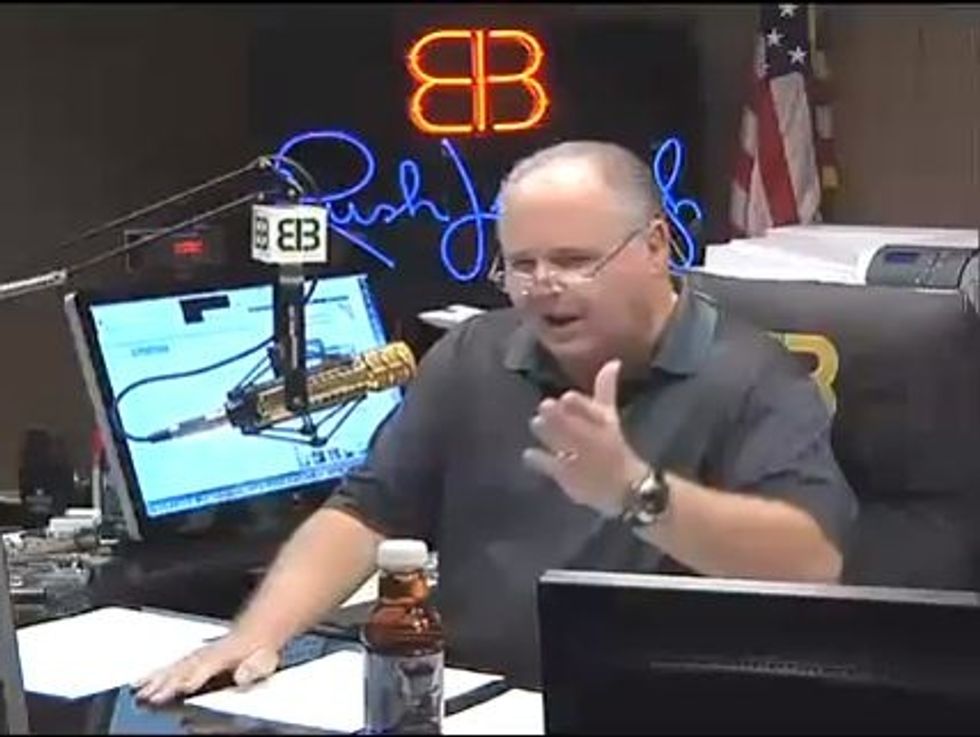 Is this the beginning of the end for right-wing radio?
According to a Politico report, Cumulus Media — the second-largest owner and operator of AM and FM radio stations in America — does not plan to renew its contracts with either Rush Limbaugh or Sean Hannity. In practice, the decision will drop the two highly rated hosts from more than 40 Cumulus channels in major media markets.
According to Politico, the decision to drop Limbaugh and Hannity is financial. Cumulus and Premiere Networks, which distributes the two shows, have been unable to reach an agreement on the cost of distribution rights.
Cumulus' disagreement with Limbaugh and Hannity on the question of their value is almost certainly tied to their trouble finding advertisers who are comfortable running alongside the right-wing hosts' often offensive and controversial content. ThinkProgressreports that 142 advertisers dropped Limbaugh's show after he launched a series of sexist attacks against women's health activist Sandra Fluke in 2012, and Cumulus CEO Jack Dickey has publicly suggested that the exodus cost his company millions of dollars. Similarly, ThinkProgress has reported that nearly 100 advertisers dropped Hannity's show, and his reputation as a ratings giant has been damaged in the wake of his disastrously inaccurate 2012 election coverage.
Even if Cumulus does drop Limbaugh and Hannity, they will not simply disappear from the airwaves — indeed, they are reportedly already set to sign with rival syndicate WOR. But there are still major questions about the broader future of right-wing radio, as the majority of its listeners tend to be older, whiter, and consequently winding a slow path towards demographic irrelevance. As radio executive Randall Bloomquist told The Daily Beast's John Avlon back in 2011: ""There are a lot of program directors whose radio 'spider-sense' is tingling…They're thinking 'this conservative thing is kind of running its course.'"
"'We're saying the same things from morning 'til night and yes, we've got a very loyal core audience,'" he added, "'but if we ever want to grow, if we want to expand, we've got to be doing more than 18 hours a day of 'Obama is a socialist.'"
UPDATE: Limbaugh responded to the report on his show Monday.
"You are gonna be able to get this radio program on as many, if not more, radio stations down the road than it's on now, and what you're being treated to is just a public business negotiation," he said, according to Politico. "Negotiations have been taken public by one side of this. I thought it was done. I thought it was over with. And folks, I would love… I mean, I love inside baseball stuff, and I would love to pass this on, but I must use proper business restraint here."
He added, ""But I just want to assure you, everything's cool, and as always, what's on the table for this program is growth."