Republican Campaign Chairman Aspires To Historic Majority In Midterms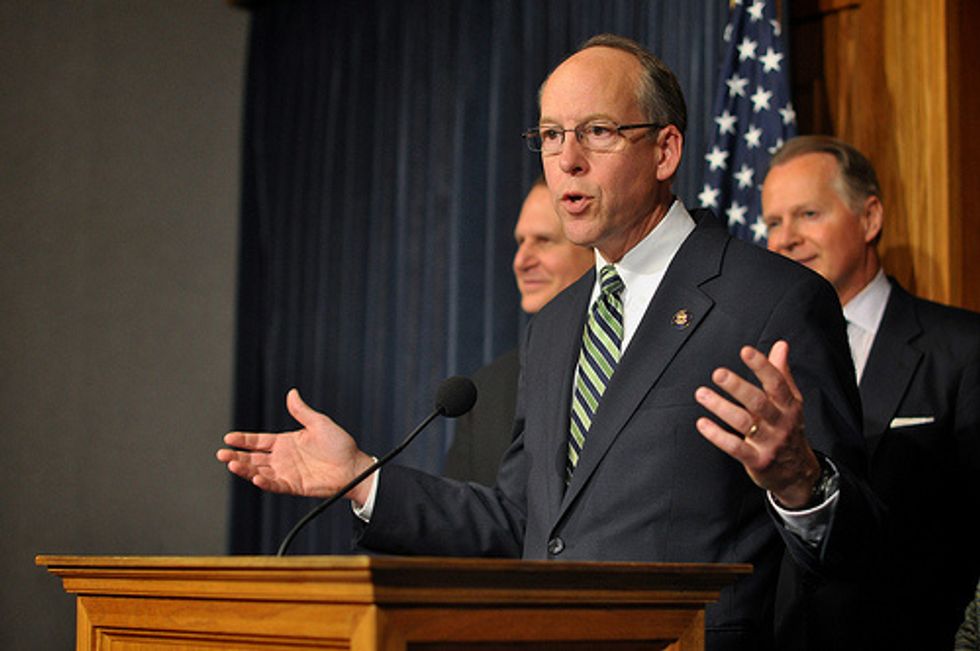 By Emily Cahn, CQ Roll Call
WASHINGTON — National Republican Congressional Committee Chairman Greg Walden called a 245-seat House majority an "aspirational" but "achievable" goal for the midterms — a more reserved prediction for his party than in previous comments.
"I think going into this cycle we are still poised to get to 245. It is an aspirational goal but also an achievable goal," Walden told reporters Friday morning at a breakfast hosted by the Christian Science Monitor."We'll know in 46 days, but I will tell you that we have every confidence we will pick up seats."
In May, Walden set a goal for House Republicans to gain 11 seats on Election Day, calling the effort the "Drive to 245."But fewer than seven weeks before the midterms, it's clear Republicans would likely have to win nearly every competitive open or Democratic-held seat to achieve this.
Currently, the Rothenberg Political Report/Roll Call rates nine Democratic-held seats as a Tossup or Tilt Democratic.
Walden said tailwinds are behind his party but ceded that after the decennial redistricting process in 2010 there are fewer seats in play on the map compared with previous cycles.
"It's really a pretty narrow playing field," Walden said Friday. "There are a majority that tilt our way, at least this cycle we're seeing it, and that's why we have an opportunity to pick up 10, 11 seats."
House Democrats must net 17 seats to take back the majority — a scenario party operatives said is nearly impossible.
But Democrats have a cash advantage on the NRCC. The Democratic Congressional Campaign Committee had $54.5 million in cash on hand as of Aug. 20. The NRCC has yet to release its August fundraising numbers, but as of July 20 it had $48 million in the bank.
Walden dismissed the notion his committee's cash disparity would have a negative impact on House Republicans on Nov. 4.
"They are spending a lot of money to defend their members," Walden said. "Generally speaking, they've got to do more to overcome the headwinds of the failed policies of President Obama."
Photo: House GOP via Flickr