Republican Party Chairman Suspends Partnership With NBC For February 26 Debate
@reuters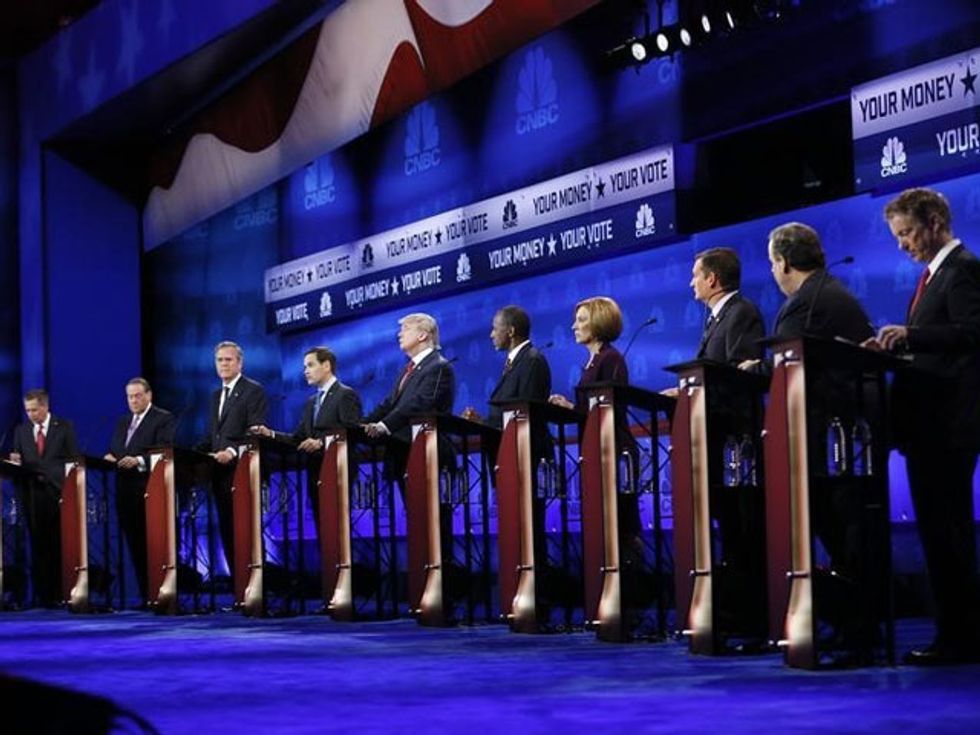 By Steve Holland
WASHINGTON (Reuters) – The Republican National Committee on Friday dumped NBC News from sponsoring a Feb. 26 debate of presidential candidates in the fallout over a debate conducted by media partner CNBC this week that was roundly criticized by the candidates.
The move comes as several campaigns seek to change the format for the remaining debates due to concerns too many candidates are on stage at the same time and do not get enough time to speak.
RNC Chairman Reince Priaebus cited "bad faith" in announcing the party will suspend its partnership with NBC News for the Feb. 26 debate to be held in Houston. Telemundo and National Review are co-sponsors of the event.
Priebus told NBC in a letter that the committee wanted to ensure its candidates would be given a "full and fair" opportunity to lay out their political visions. The party has complained about the handling of Wednesday night's debate by CNBC.
The CNBC debate in Boulder, Colorado, was supposed to be devoted to discussing the candidates' views on how to improve the U.S. economy but frequently strayed from that theme and the moderators struggled to maintain control.
Texas Senator Ted Cruz and New Jersey Governor Chris Christie were among those candidates who objected to questions during the debate. Christie wondered aloud why they were being asked about Fantasy Football competition when Islamic State militants are killing people in the Middle East.
"This is a disappointing development. However, along with our debate broadcast partners at Telemundo we will work in good faith to resolve this matter with the Republican Party," an NBC statement said.
Representatives from several campaigns are to meet on Sunday to discuss how to repair what they feel is a broken debate format that is backed by the RNC and TV networks.
At least one campaign has suggested that instead of having 10 or 11 candidates on stage at the same time, that the group be split in two for two debates of 90 minutes each.
(Reporting by Steve Holland; Editing by Bill Trott and Andrew Hay)
Republican U.S. presidential candidates (L-R) Governor John Kasich, former Governor Mike Huckabee, former Governor Jeb Bush, U.S. Senator Marco Rubio, businessman Donald Trump, Dr. Ben Carson, former HP CEO Carly Fiorina, U.S. Senator Ted Cruz, Governor Chris Christie and U.S. Rep. Rand Paul participate in the 2016 U.S. Republican presidential candidates debate held by CNBC in Boulder, Colorado, October 28, 2015. REUTERS/Rick Wilking