Senate Republicans Insist They Won't Ban Abortion, Despite McConnell Gaffe
@next2godwin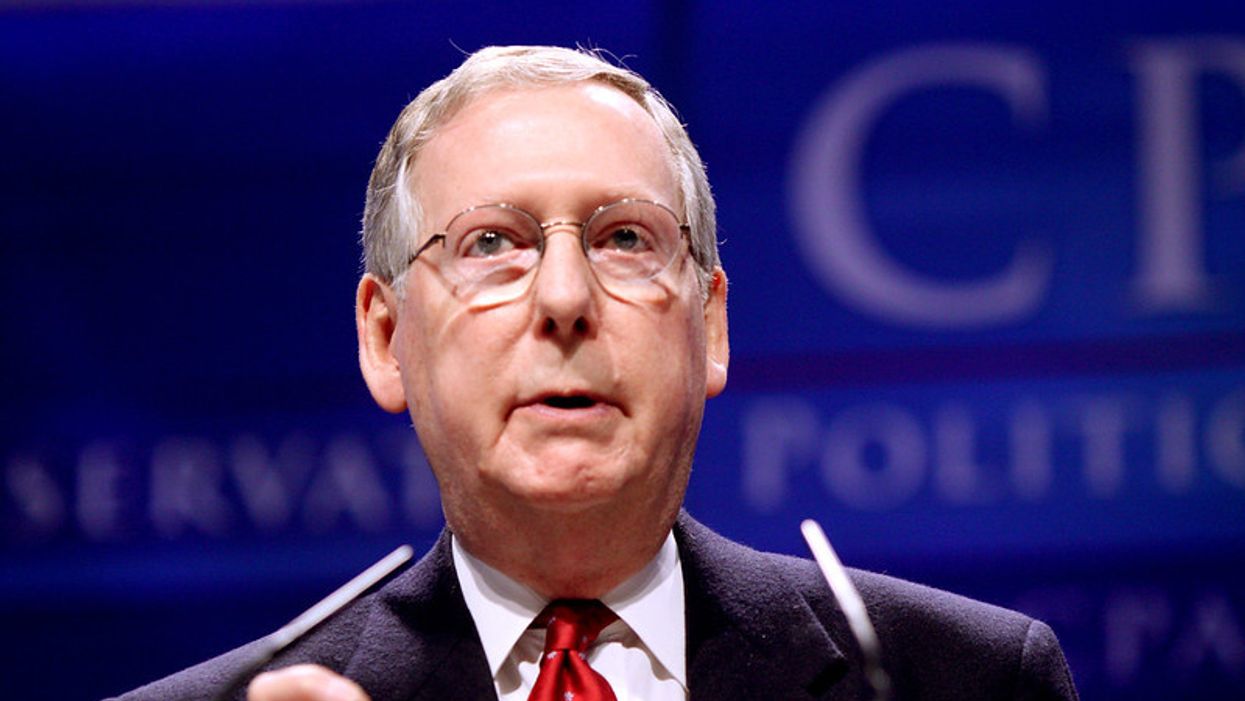 For decades, Republicans have assailed pro-abortion Supreme Court rulings — for instance, 1973's Roe v. Wade and 1992's Planned Parenthood v. Casey, among others -- but with the end of Roe reportedly imminent, conservative Congressional representatives are quickly dialing back their anti-abortion rhetoric, fearing public reaction could cost them in the midterms.
Despite secretly meeting with leading anti-abortion activists to brainstorm plans for a federal ban on abortions nationwide, GOP lawmakers were quick to dismiss Senate Minority Leader Mitch McConnell's weekend suggestion that the party could soon turn its sights to enacting a total abortion ban.
"I don't think it's really an appropriate topic for Congress to be passing a national law on," said Senator John Cornyn (R-TX), according to CNN.
Senator Josh Hawley (R-MO), a religious rightist, echoed Cornyn, telling Newsweek, "No, I don't support a federal ban on abortion after Roe vs. Wade, if it's overturned in the first instance."
Hawley added, "I think it would be better for states to debate this, allow it to breathe and for Congress to act where there's national consensus."
Senator John Barrasso (R-WY), the third-ranking Senate Republican, noted that the leaked Supreme Court draft opinion suggested that states should regulate abortion. "I want to see the states have that opportunity and the authority to do so," Barrasso said when asked for his thoughts on a potential federal abortion ban.
Republicans in Congress are trying to keep focus trained on inflation, crime, and border security, as recent polls show that most Americans oppose national legislation to ban abortion. So they want to talk about almost anything else.
"You need — it seems to me, excuse the lecture — to concentrate on what the news is today," McConnell himself said last Tuesday. "Not a leaked draft but the fact that the draft was leaked."
Last week, in an interview with USA Today, McConnell promised that Republicans, if they win back the Senate, won't scrap the filibuster for a total abortion ban by a simple majority vote.
"If the leaked opinion became the final opinion, legislative bodies — not only at the state level but at the federal level — certainly could legislate in that area," the minority leader told the paper. "And if this were the final decision, that was the point that it should be resolved one way or another in the legislative process. So yeah, it's possible."
However, McConnell dodged questions from CNN on whether he'd bring an abortion bill to the floor of a Republican-controlled Senate.
Democrats immediately decried McConnell's abortion ban suggestion, and GOP lawmakers, sensing a rapidly spreading wave of public outrage at attempts to overturn abortion rights, have expressed little interest in it or noted that there wouldn't be enough votes to enact such a ban.
Senator Lindsey Graham (R-SC) played down the notion his party would have the votes for a total national abortion ban. "It's about as possible as this vote we will take on Wednesday," Graham told CNN, referring to an upcoming Democratic effort to codify in federal law .
"Let's see what happens. I'm not going to get into what-ifs," Senator Shelley Moore Capito said, declining an opportunity to weigh in on the matter.
Senator John Thune (R-SD) declared his support for an abortion ban with exceptions, but noted that his stand might not be a consensus within his party. "That's my personal position," Thune said. "That's certainly not a caucus position. I don't think we have any idea at this point about any of that."
Despite sudden Republican back-pedaling on abortion, Democrats have signaled their intention to use the looming Supreme Court ruling to ask voters to punish Republicans in November.