It's The GOP In Disarray, As Trump Tears His Party Apart
@EricBoehlert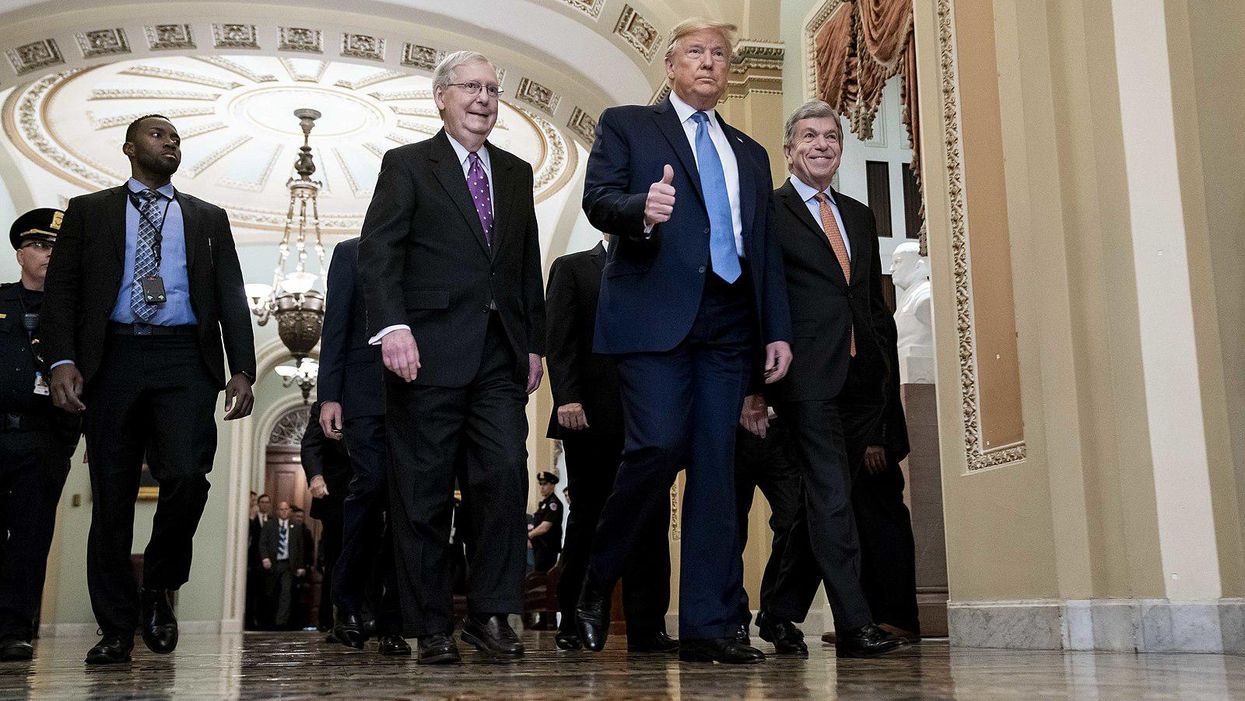 Photo by The White House
Hours after Trump took the extraordinary step of un-endorsing a Republican in the Alabama primary for the U.S. Senate race, the candidate responded. He claimed Trump had repeatedly pressured him, in 2022, to "rescind" the last election and to help illegally install the Republican back in the White House.
The stunning and bitter feud is just the latest that Trump has detonated within the GOP. A one-man wrecking crew who's committed to sowing discord throughout the Republican Party, Trump seems to take glee in pitting it against itself as he insists his personal grievances about the "stolen" election be the GOP's most pressing electoral issue.
Dems in Disarray has been a Beltway media go-to narrative for years. Why won't they apply it to today's comically fractured GOP?
Trump views the unfolding primary season not as a way for the party to position itself for midterm contests against Democrats, but as a chance to exact revenge on Republicans whom he considers to be insufficiently loyal to Mar-a-Lago.
Lashing out at the previously-endorsed Rep. Mo Brooks in Alabama, Trump insisted the withdrawal was because Brooks had recently told a radio show host it's best for the GOP to look forward, not back. The implication is that Trump will now find a primary candidate in Alabama who is fixated on Trump's win being "stolen" and he'll support that person. But there is no such candidate in the race. There are two other leading players besides Brooks and neither seem interested in running on Trump's laundry list of 2020 grudges and slights.
Trump's throwing a tantrum and the GOP has to clean up the mess. Again. It didn't help that Brooks, a right-winger who rode the Tea Party wave to office, was floundering in Alabama GOP primary polls and that Trump hates being associated with a loser.
So where's the nonstop "feuding," "civil war," "chaos" coverage for today's fractured GOP? Those were the hysterical words the press used last spring to describe Democrats when just two senators initially refused to support the White House's infrastructure bill.
Remember when Biden and his team were filling out their cabinet in an orderly manner? The D.C. press lost its mind with Dems in Disarray coverage — the president-elect was facing a "considerable challenge" while "confronting factionalism and fierce impatience." Alliances had been "strained," his choices were "vexing" "frustrated" and "increasingly skeptical" supporters. Biden had "irritated" Democratic lawmakers who are "complaining."
Oh my!
And don't forget during the spring of 2020 when the New York Times basically wrote off the Biden campaign, insisting the "perilously passive" candidate was "grappling," "uncertain," "tentative," "cloistered," "stuck at home," and "struggling with basic technical difficulties," while Democrats were "worried" and "perplexed" — Biden won the election by 7 million votes.
In Georgia today, not only is Trump trying to end the career of Republican Gov. Brian Kemp in his high-profile reelection run, the egomaniac is targeting Kemp's allies, too. "For the second time in as many weeks, the former president endorsed a little-known Republican challenger to one of Kemp's closest political loyalists," the Atlanta Journal-Constitutionreports.
Trump is likely fuming that the candidate he is backing against Kemp, former U.S. Senator David Perdue, is trailing, setting up a potentially humiliating Trump defeat.
Meanwhile, Trump can't stop insulting the GOP's most senior senator, Mitch McConnell (R-KY), calling him a "dumb son of a bitch" and a "stone cold loser." Can you imagine what the D.C. press coverage would look like if a former Democratic president launched grenades at Speaker of the House Nancy Pelosi from the sidelines on a weekly basis? For Trump though, the press shrugs, committed to its Trump-being-Trump mindset, where there's nothing does truly damages his party.
Trump is still the party's presumptive 2024 nominee and there is a cult-like following around him. But his runaway narcissism is taking a toll on the party, and the press ought to center its Trump coverage that way.
Republicans know all too well how Trump can spoil their chances for success. Democrats swiped two surprise, run-off Senate victories in January 2021 largely because Trump was still obsessed with overturning his election loss, while waging war on Georgia Republicans for not doing enough to help him steal away Biden's win.
Trump not only distracted the GOP during the crucial run-off elections, he likely animated Democratic and Independent voters by loudly lying about the 2020 election. Recall that Republicans lost the White House, House and Senate while Trump was president.
There's also no indication Trump's revenge tour is connecting with voters. A recent Gallup poll offered participants a chance to rank the 30 most important issues facing America. "Election reform" was a choice that nobody selected.
It's the GOP that's in disarray, trust me.
Reprinted with permission from PressRun
https://pressrun.media/p/gop-in-disarray-trumps-tearing-the?s=r