GOP Fears Its Mediocre Senate Candidates Will Ruin Midterm Campaign
@kerryeleveld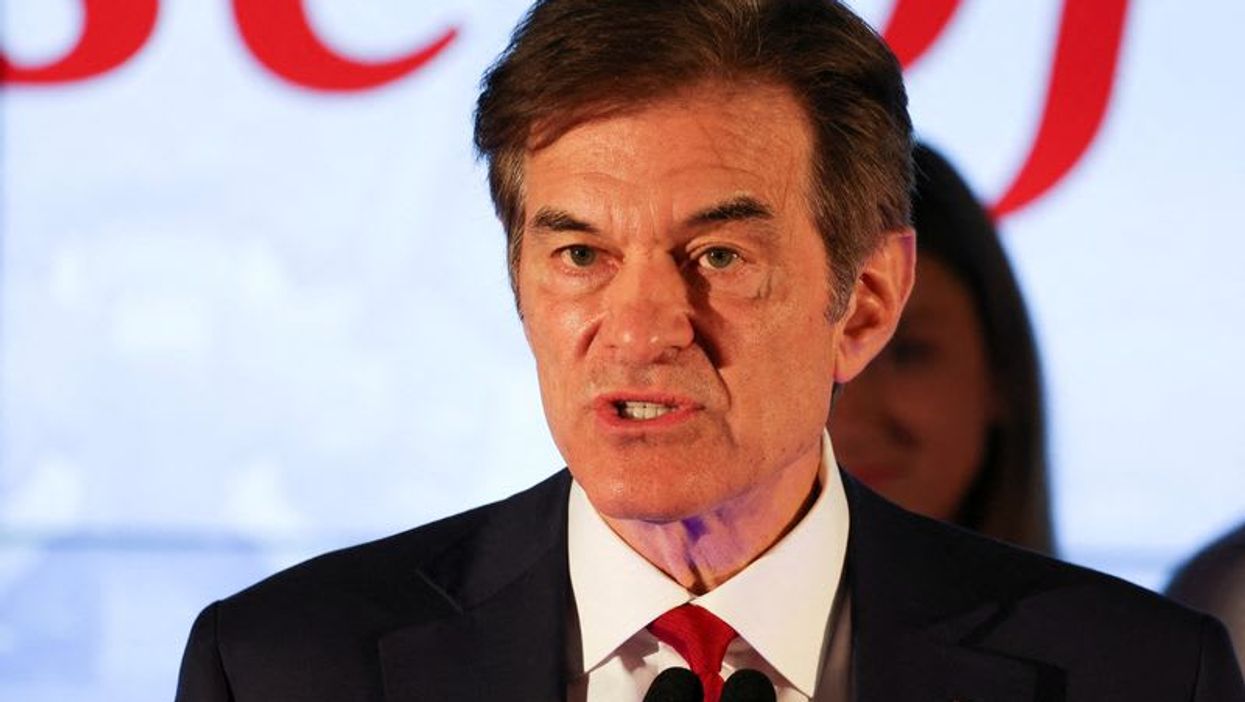 Photo by Reuters
After months of sharpening their knives in anticipation of the midterms, Republicans' glee has turned gloomy as the election cycle's contours shift.
That is particularly true in the Senate, where a several-point post-Roe bump for Democrats in the generic ballot is perhaps the least of Republicans' worries. The main problem is that Republicans are saddled with subpar, Trumpian candidates in the most critical Senate races at a time when Donald Trump's star appears to be falling.
On background, one GOP strategist warned of "massive problems on the candidate front." On the record, veteran GOP operative Kevin Madden offered a more tempered view: "There are warning signs that some of these candidates are not as strong as they could be given the opportunity at hand."
Take Trump's hand-picked candidate in Georgia, the verbally challenged former football star Herschel Walker, where the National Republican Senatorial Committee is already trying to perform an intervention, according to TheWashington Post.
The Senate GOP campaign arm recently installed several trusted Republican operatives to help right Walker's ship, including veteran strategist Gail Gitcho as a senior adviser, Chip Lake as a consultant, and Brett O'Donnell, the party's "most celebrated debate prep strategist," according to the Post.
O'Donnell's in for a treat with Walker, who is making a strong bid for the most consistently incoherent candidate on the trail in modern memory.
Walker's latest triumph was dumbing down the climate change debate by 'splaining how America is cleaning up China's air quality.
"Since we don't control the air, our good air decide to float over to China bad air. So when China get our good air, their bad air gotta move. So, it moves over to our good air space. And now, we gotta clean that back up," Walker clarified. Got that?
It doesn't help that Walker's staff was reportedly blindsided by the discovery that the candidate fathered three children he had never publicly acknowledged. But Walker's biggest deficit appears to be that his campaign doesn't trust him to ... well ... talk.
When Georgia conservative radio host Erick Erickson invited Walker on his show for a one-on-one, hour-long chat, the campaign declined because aides didn't want him going "free form" for an entire hour, per the Post.
"I don't know anyone who has confidence in the campaign including people on the campaign. He doesn't have standard candidate discipline," Erickson said. "He just doesn't have a deep grasp of the issues nor really the desire to learn those issues."
Senate Republicans are also haunted by flashbacks from the 2010 and 2012 cycles, when wackadoodle GOP candidates doomed their chances of regaining control of the upper chamber.
In Ohio, Trump-backed GOP Senate nominee J.D. Vance has compared abortion to slavery, saying they had both "distorted" American society.
"There's something comparable between abortion and slavery, and that while the people who obviously suffer the most are those subjected to it, I think it has this morally distorting effect on the entire society," Vance said in an interview with the Catholic Current last October. "I think that's one of the underappreciated facts about abortion," Vance added.
Vance's Democratic challenger, Rep. Tim Ryan of Ohio, called the comparison "absolutely disgusting" in a tweet about the remarks.
"We cannot let him anywhere near the Senate," added Ryan, who has pledged to end the filibuster in order to codify abortion protections into federal law. On Friday, the Ryan campaign announced that it hauled in an eye-popping $9.1 million in the second quarter.
In Pennsylvania, TV huckster Dr. Mehmet Oz quickly fell behind the Democratic Senate nominee, Lt. Gov. John Fetterman, who has been recovering from a stroke he suffered in mid-May. Early polling last month showed Fetterman leading Oz by 9 points.
Fetterman is expected to return to the campaign trail within weeks. In the meantime, Fetterman has been pounding Oz for being a carpetbagger from New Jersey.
\u201cPro tip: don\u2019t film an ad for your PA senate campaign from your mansion in New Jersey.\u201d

— John Fetterman (@John Fetterman) 1657215549
Even GOP incumbent Sen. Ron Johnson of Wisconsin isn't exactly on a glide path to reelection this fall.
Though some election analysts have just begun to recalibrate their predictions in this post-Roe environment, Democratic strategist Simon Rosenberg doesn't view abortion as the only driving force favoring Democrats.
For the past two cycles, he says, nothing and no one have galvanized a coalition of voters to vote against Republicans more than Trump and the MAGA movement have. Rosenberg expects November to follow in similar fashion.
"The question is, are there forces in the election more powerful than the disappointment in Biden?" posited Rosenberg. "The answer is yes, and that is opposition and fear for MAGA, which is the thing that has driven the last two elections."
Reprinted with permission from Daily Kos