Republicans Are Way Ahead — In SuperPAC Money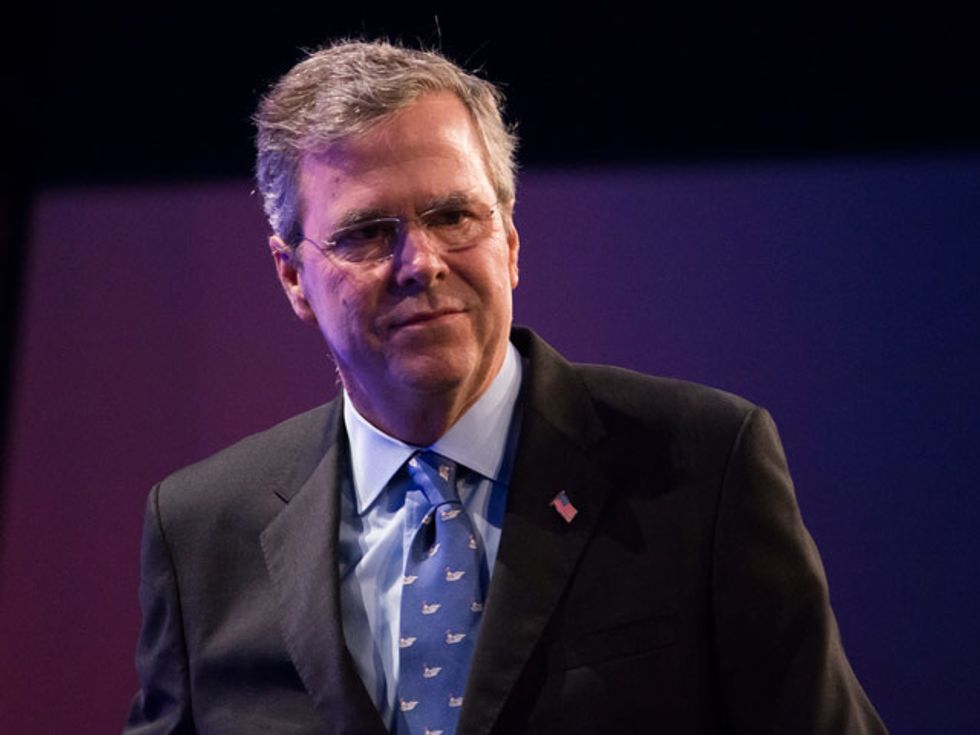 The 2016 election is turning into a crowded marathon — and a mad dash for money. And while a certain Democratic frontrunner might be ahead in the polls, it turns out that Republicans are actually in the lead in the money race.
In the post-Citizens United world, campaign fundraising has become bifurcated, split between the candidates themselves and the "SuperPACs" — separate organizations that technically don't coordinate with candidates, but effectively are farmed out to raise a lot of money to run ads that support a specific candidate and/or trash their opponents. And this route is where Republicans are really outpacing the Democrats.
With 15 declared candidates, Republicans, of course, have a much larger and seemingly more competitive field than the Democrats. So a lot of that money will end up being spent on candidates who won't actually make it to the ballot on November 8, 2016. On the other hand, all that primary spending could still have some effect in building up Republican mobilization overall.
Hillary Clinton raised $45 million for her campaign — by far the largest amount going directly to a campaign committee at this stage of the race. Add to that $15.6 million by the pro-Clinton SuperPAC, Priorities USA, and Clinton's overall strength is roughly $62 million.
But look over on the other side of the field: Jeb Bush's campaign committee raised $11.4 million — while his Right to Rise USA SuperPAC announced that it's raised a total of $103 million so far this year. This brings Jeb's effective total fundraising haul to an intimidating lucre of $114 million — nearly twice the overall financing for Clinton. No other candidate even comes close to Jeb Bush's campaign finance structure, which is weighted so heavily outside of the official campaign itself.
Bernie Sanders surprised the political world when he raised $15 million, the closest of any possible Democratic competitors against Clinton. Sanders has also said he does not want any SuperPAC. However, as The Washington Post reports, at least one supporter out there is trying to start one up and get billionaire support.
Trailing way behind Sanders on the Democratic side is Martin O'Malley, who raised $2 million.
Among other Republican candidates besides Bush, there are also some impressive hauls that even approach Clinton's. Ted Cruz has raised $14 million, plus $37 million by his friendly SuperPAC, for $51 million overall. Marco Rubio brought in about $13 million on his own, plus $32 million raised by two different outside groups, for a total of $45 million.
And even among candidates who weren't in the race as of last quarter, there have been impressive showings by SuperPACs. Chris Christie's allies brought in $11 million. And a group supporting John Kasich — who still isn't in the race yet — brought in $11.5 million.
Photo: Jeb Bush, May 16, 2015, iprimages via Flickr