Republicans Consider Stripping Health Insurance From Tens Of Thousands Of Arkansans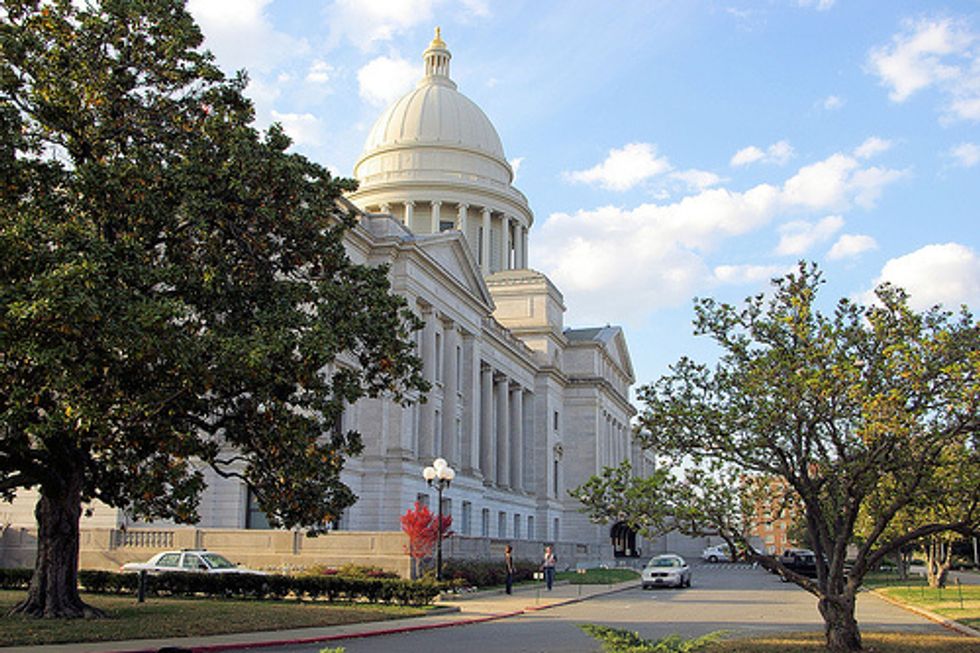 In Arkansas, approximately 83,000 low-income residents are in danger of losing their health insurance as early as July 1.
In 2013, Arkansas' Republican-controlled legislature devised an alternative plan to expand Medicaid while still protecting the state's poorest residents and hospitals. Through the plan, commonly referred to as the "private option," Arkansas distributes federal funds — provided under the Affordable Care Act — to eligible recipients, who then use the funds to buy private health insurance plans. Proponents note that the plan offers private coverage to residents who would otherwise be unable to obtain it.
As TheWashington Post reports, Governor Mike Beebe (R) welcomed the plan, saying it would save taxpayers nearly $90 million this year. The Obama administration later approved the plan, adding two necessary conditions: that cost-sharing and recipients' benefits remain the same as the traditional Medicaid program, and that the total costs of the private plan do not exceed those of implementing traditional Medicaid expansion.
Over the past year, the private option has become so popular that variations of it are now being adopted in several states, like Pennsylvania and Utah.
"In crafting the 'private option,' Arkansas has provided a pathway for other states. They truly are trailblazers," Deborah Bachrach, a partner with consulting firm Manatt Health, told  the Post.
In recent weeks, however, Republicans have threatened to jump ship on the plan, jeopardizing the program that offers protection to tens of thousands of Arkansans.
With the state's May primaries quickly approaching, Republican lawmakers facing more conservative challengers are feeling the pressure to vote against a renewal of the program's financing.
"You've got a very small minority of people who can derail this," explains Governor Beebe, who says that the sudden lack of support has to do with "ideology versus pragmatism."
"If we lose one or two votes, it's critical," he added.
Considering that Arkansas requires 75 percent of the members of both houses to pass appropriations measures, "one or two" GOP votes are certainly critical to the program's future. And in recent weeks, two Republican state senators have voiced their opposition to extending the private plan.
Senator Missy Irvin, who voted for the program last year, announced she would no longer support it, citing a decision made by Arkansas Blue Cross and Blue Shield – Arkansas' dominant health insurance company – to cut reimbursement rates by 15 percent to specialists who participate in its federally run online insurance exchange plans. Irvin might have had another motive, however; she is currently facing a primary challenge from Tea Party candidate Phil Grace, who pointed to Irvin's support for the private option as one of the main reasons he chose to run.
The argument against the plan made by Grace and other conservatives like him is rather vague, but it still has the power to sway other GOP votes.
"Right now, Washington is broken and trillions of dollars in debt. We can't count on D.C. to keep promises for any funding and Arkansas certainly can't foot the bill. The only way to deal with D.C.'s issues is for states to band together and push back," Grace says.
Grace's opposition to the private program – which has been echoed by other conservatives running in 2014 — steers clear of the GOP's typical "big government" arguments, leaving it seeming rather arbitrary. 
State Senator John Cooper, another Tea Party favorite, also says that he will not vote to reauthorize the plan's funding — which is not a surprise, since he won the state's special election by running against the program. Cooper argues that it will not save Arkansas money in the long term, despite reports to the contrary.
If Republicans vote against the private option – a vote that come could as early as next week – the implications for the state's poor residents are burdensome and great. Before the private option existed, Arkansas had one of the most restrictive Medicaid programs in the nation, which made it especially difficult for struggling individuals and families to obtain coverage.
Photo: L. Allen Brewer via Flickr