Battlecry Of Republican Primary Rumbles: 'You're Soft On China!'
@next2godwin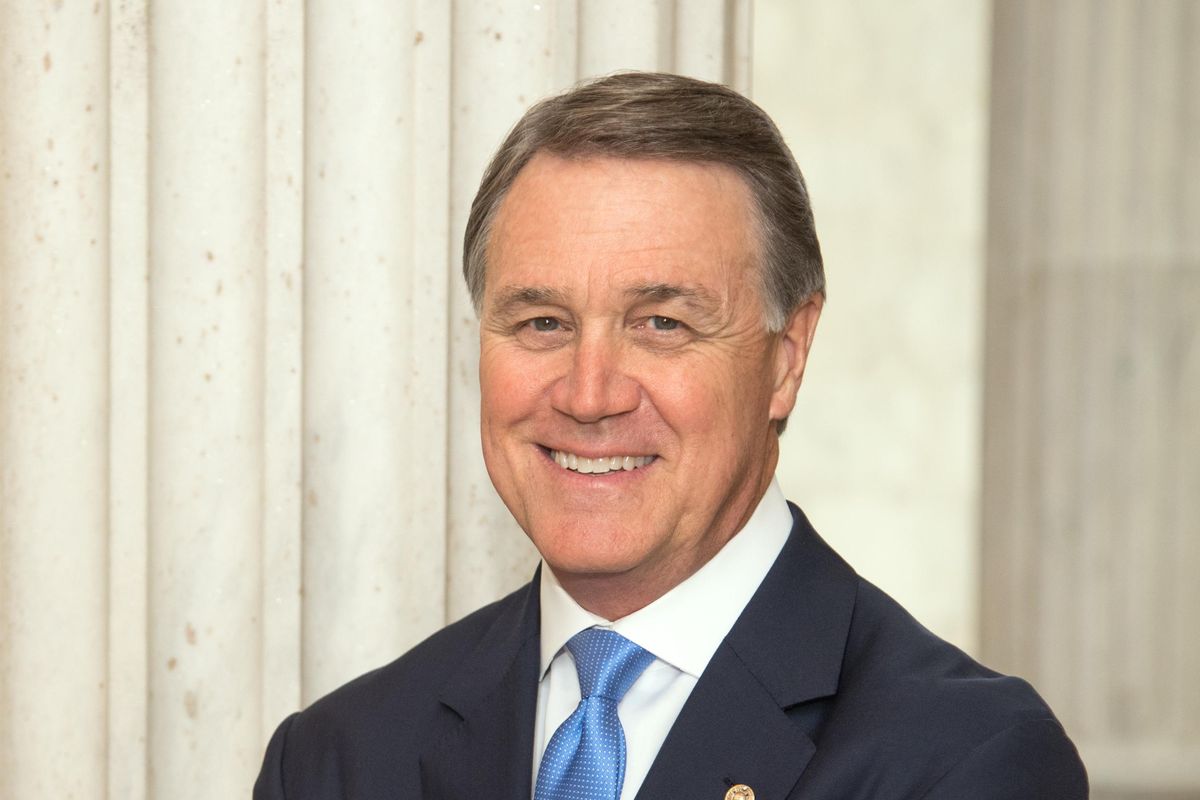 David Perdue
With most conservative candidates in primary races across the country pledging allegiance to former President Trump and disseminating his Big Lie, what is a Republican candidate to do to get ahead? Why, just accuse their Republican opponent of having ties to China, of course!
Spurious, misleading, and even exaggerated accusations of connections with China are a source of anxiety for Republicans in the 2022 races, while campaign strategists and candidates have labeled such allegations a "prime attack in a Republican primary," according to the Washington Post.
Incumbent Georgia Gov. Brian Kemp — who is running against four other candidates in the Peach State primary, chief among them former Senator David Perdue — ran a TV spot accusing hisTrump-backed rival Perdue of outsourcing jobs to China before becoming a senator.
"Millionaire David Perdue got rich sending jobs to China," the narrator in Kemp's ad claimed. The ad used a clip of Perdue in his days before the Senate, when he said, "I lived over there. I've been dealing with China for over 30 years," and another clip from a Georgia Public Broadcasting interview where Perdue claimed, "We outsourced every single product that we sold in our stores."
Kemp's communications director touted the effectiveness of the China ad in a statement to the Post. "We tested a number of hits, and that was the best-polling one — the outsourcing to China." Tying Perdue to China has become central to the incumbent governor's paid advertising and messaging.
Invoking China is a crucial strategy in the Pennsylvania primary, too. Candidate Mehmet Oz, whom Trump is backing, has accused opponent David McCormick of carrying out business deals with China. McCormick struck back, as one would expect, alleging that Oz made bank from dealings with Chinese state TV and patronized products made in China.
In a blistering attack last Friday night, Trump accused McCormick of being a "liberal Wall Street Republican" who has managed money for China. "I don't know David well, and he may be a nice guy, but he's not MAGA," the former president added.
A pollster who has worked for Trump and is polling in many 2022 primaries told the Post that tough talk on US-China relations, even far-fetched claims, is all the rage in this year's Republican primary debates because that's what Republican voters want to hear.
"If you coddle China, or you are soft on China, that makes you not so much America first and not so tough," pollster Tony Fabrizio said. "Being tagged as soft on China is not a good thing. Trump focused and catalyzed some of it. But China has been seen as the primary world foe for at least the last decade or more."
Fabrizio also spoke of a poll he conducted earlier this year which showed that Republicans consider China a bigger threat to national security than Russia, even after Russia's missile bombardment of Ukraine has claimed thousands of civilian lives.
Two years of battling the Covid-19 pandemic, coupled with Trump's litany of anti-China messaging, has increased the Republican voters' negative perception of China. In March, the Chicago Council on Global Affairs conducted a poll that found that 75 percent of Republicans considered Beijing's development a "critical threat" to the interests of the United States of America, up from 67 percent in 2020 and 42 percent in 2018, according to the Washington Post.
Last year, Trump's team ran a poll to ascertain the former president's most effective messages and found that the former president's supporters love his attacks on China.
An informal adviser for Trump, Michael Pillsbury, weighed in on this seismic perception shift. "It is something quite new — Republicans used to be the business of party and free trade," Pillsbury told the Washington Post. "And I remember during the early considerations of President Trump — putting heavy tariffs on China — there were voices within the White House and within the party that this goes against Republican traditions."
"The current mood toward China," Pillsbury added, "is darker than it has been in decades in the United States."