Republicans Blame Obama (And Biden) For Russian Election Meddling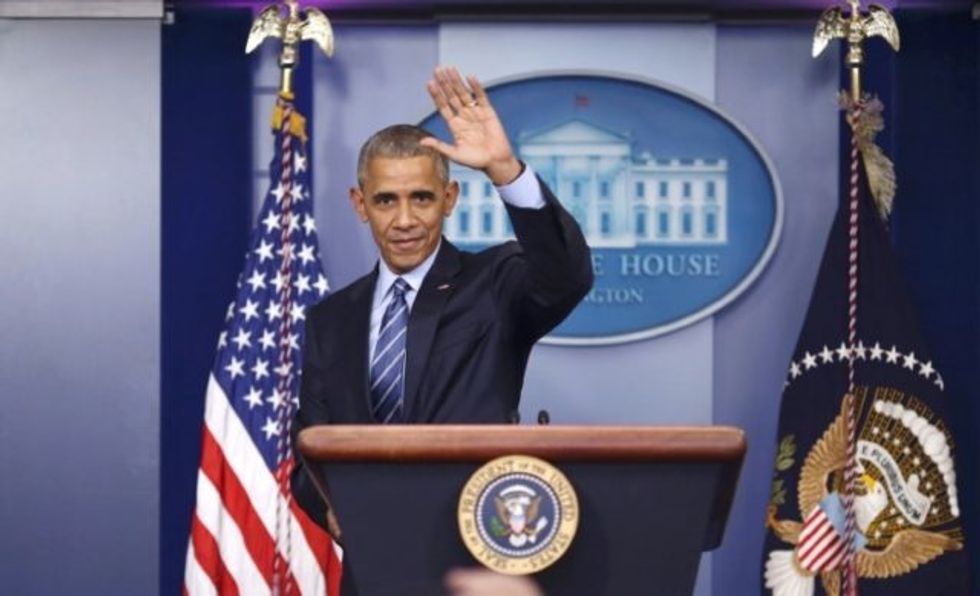 Republicans have decided to blame President Barack Obama for the extensive contacts between the Trump campaign and Russian operatives.
"We need a full accounting of what Obama and Biden knew and when they knew it," Ronna McDaniel, the Republican Party national chairwoman, wrote on Friday.
The day before that, Trump's reelection campaign released a video and email that fabricated a "stand down" order from Obama, after he purportedly learned that Russia was interfering in the election.
Sarah Sanders parroted the lie while speaking to reporters on Thursday, arguing that the Obama administration "actually didn't do anything to stop interference in the election."
In reality, when the Obama administration tried to raise the alarm on Russian election interference, it was blocked.
The Obama administration learned about Russia's infiltration attempts in July 2016 and held a briefing with congressional leaders in August of that year.
When Senate Majority Leader Mitch McConnell caught wind, he threatened to publicly accuse Democrats of trying to throw the election if the CIA came forward with the information they had.
"I will condemn you and the Obama administration for trying to mess up this election," McConnell reportedly told then CIA-director John Brennan.
And now, thanks to the Mueller Report, we know there was repeated contact between Trump's campaign and Russian operatives.
Trump campaign leaders, including Trump's son Donald Jr., sought out the Russians in 2016 for information that they believed would be damaging to Hillary Clinton.
So, at the same time that President Obama and his national security team were trying to prevent Russia from interfering in the election, Trump's campaign was reaching out for Russian help.
And Mitch McConnell was actively working against American interests in service of short-term Republican Party gains.
The reality is completely the opposite of the story being peddled by Trump, his campaign, and his underlings.
Obama tried to stop a foreign government from perverting one of America's most sacred institutions, and now the Trump team is clumsily trying to blame him for Trump's own violations of national trust.
Published with permission of The American Independent.
IMAGE: President Barack Obama waves as he leaves the podium after speaking to journalists during his last news conference of the year at the White House, December 16, 2016. REUTERS/Carlos Barria