Republicans Blitz Trump At Presidential Debate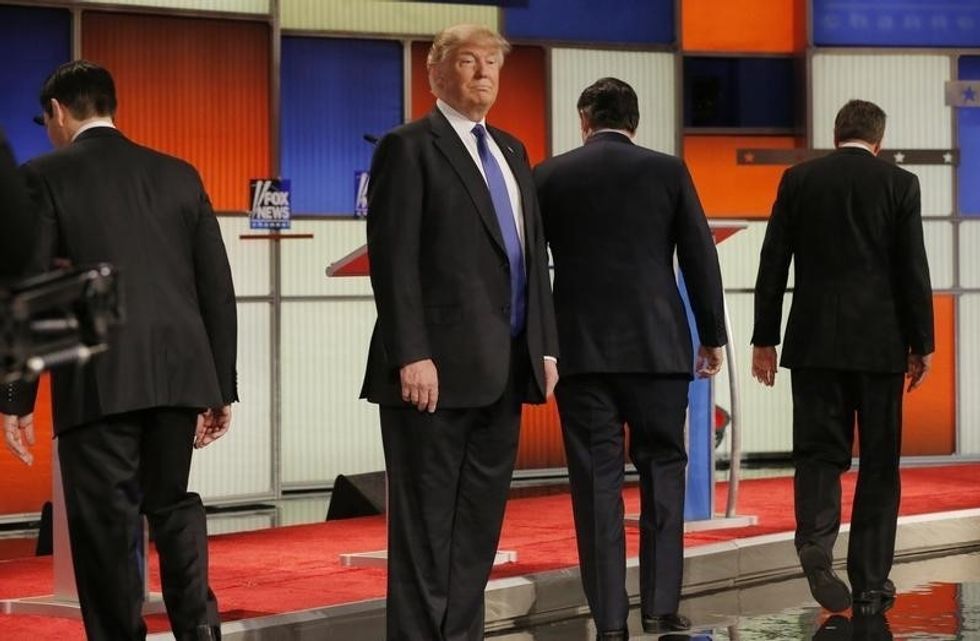 DETROIT (Reuters) – U.S. Republican presidential front-runner Donald Trump came under withering attack from rivals Marco Rubio and Ted Cruz at a debate on Thursday as the party's establishment sought to unite behind a last-ditch anti-Trump effort.
The Fox News Channel debate became a mud-throwing fracas from the outset with tensions mounting over the New York billionaire's ascendancy and his drive to be the presumptive nominee should he win nominating contests in Florida and Ohio on March 15.
When the Fox questioners showed Trump changing his mind on a variety of topics from the Iraq war to whether to allow Syrian refugees into the United States, Trump shrugged. "You have to show a degree of flexibility," he said.
At center stage, Trump, 69, defended himself from criticism earlier in the day from 2012 Republican nominee Mitt Romney and faced further questions about his business record. Trump called Romney a failed candidate.
U.S. senators Rubio, of Florida, and Cruz, of Texas, questioned Trump's immigration policy and his use of foreign workers at his exclusive Mar-a-Lago resort in Palm Beach, Florida.
Cruz, 45, demanded Trump release the audiotape of an off-the-record session he had with New York Times editorial writers on Jan. 5.
Cruz and others have suggested that in the session Trump might have been more flexible on immigration than in public statements insisting he would build a wall between the United States and Mexico and deport 11 million illegal immigrants.
Trump refused to release the tape but said he would be flexible, for instance, on the height of the wall. He also abruptly changed his position on foreign workers, saying more of them who are highly skilled should be allowed to remain in the United States.
FOREIGN WORKERS
Rubio, 44, pressed Trump on the foreign workers he has imported to work at his Palm Beach resort, jobs he said could go to Americans. Trump said the workers were for a short November-to-March season.
"People don't want a short-term job," Trump said. "So we bring people in and we send people out."
Rubio asked Trump why he does not bring his clothing-making operations to the United States from China and Mexico if he is so interested in bringing jobs home, a central tenet of his unconventional campaign.
"This little guy has lied so much about my record," Trump said in response to Rubio, adding that he had begun bringing some clothing operations home from overseas.
But Rubio persisted: "The answer is he's not going to do it … The reason he makes it in China and Mexico is because he can make more money on it."
"Don't worry about it, little Marco, I will," Trump said dismissively.
"Well, let's hear it, big Donald," Rubio responded.
Fox News moderator Megyn Kelly, who famously clashed with Trump at the first Republican debate last August, generated a fresh exchange in pressing Trump to explain his involvement with Trump University, a now-defunct online education company that has faced lawsuits from people who feel they paid out money for Trump U and got nothing in return.
"Give me a break," said Trump. "Let's see what happens in court. This is a civil case. It's very easy to have been settled."
Rubio accused Trump of fleecing everyday Americans for personal gain.
"He's trying to do to the American voter what he did to the people who signed up for this course," Rubio said.
Trump called Rubio a "con artist" for missing a lot of Senate votes.
The debate went down a negative path early on when Trump responded to Rubio's contention last month that Trump had "small hands."
"Look at these hands," Trump said, flashing his two hands to the crowd. To the suggestion that he might be small elsewhere, Trump said: "I guarantee you there is no problem."
SUPPORT FOR CLINTON
Cruz suggested Trump would be the wrong candidate to send into battle against Democratic front-runner Hillary Clinton because he has supported her financially in the past.
"Actually it was for business," Trump replied. "Let me tell you something, Ted, the last person that Hillary Clinton wants to face is Donald Trump."
Trump was joined on stage at the Fox Theatre by his three remaining rivals, Rubio, Cruz and Ohio Governor John Kasich, 63, who again presented himself as rising above the squabbling of his rivals.
It's a far smaller field than the 17 Republican candidates that began the race for the 2016 presidential nomination, but one that is still splintered between the incendiary New York businessman and three experienced politicians.
The debate was the candidates' first face-to-face gathering since Super Tuesday nominating contests this week gave extra momentum to Trump but did not knock out his rivals.
Mainstream figures in the party are seeking a strategy to halt Trump's march to the nomination for the Nov. 8 election to succeed Democratic President Barack Obama.
Some party leaders and donors are critical of Trump's positions on trade and immigration, including his calls to build a wall between the United States and Mexico, deport 11 million illegal immigrants and temporarily bar Muslims from entering the country.
(Reporting by Steve Holland; Additional reporting by Ginger Gibson and Emily Stephenson; Editing by Howard Goller)
Photo: Republican U.S. presidential candidate Donald Trump remains standing at the front of the stage as rivals Marco Rubio (L), Ted Cruz (2nd R) and John Kasich (R) head to their podiums at the start of the U.S. Republican presidential candidates debate in Detroit, Michigan, March 3, 2016. REUTERS/Jim Young