Republicans Criticize Obama's State Of The Union As Partisan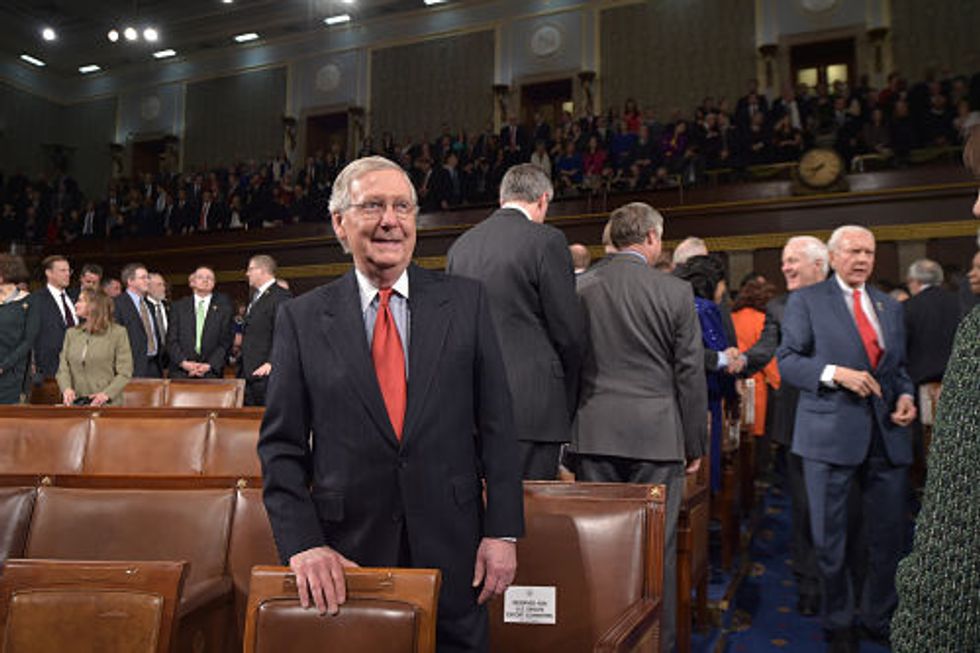 By Michael A. Memoli and Lisa Mascaro, Tribune Washington Bureau (TNS)
WASHINGTON — Lacking the presidential bully pulpit but boasting the largest congressional majority in generations, top Republicans accused President Barack Obama of loading his State of the Union address with partisan priorities instead of demonstrating the leadership needed to move shared priorities like tax reform and trade through Congress.
GOP leaders tapped one of their newest faces to give their official prime-time response to the president's address. Rather than respond directly to the president's speech, though, Sen. Joni Ernst of Iowa began what she called a conversation with the nation about her party's agenda, framing it as aimed at boosting the middle-class families like the one she grew up in.
"We heard the message you sent in November — loud and clear. And now we're getting to work to change the direction Washington has been taking our country," she said.
Republicans have seemed determined since the election to shake the GOP's image of catering to the nation's wealthy elite. Ernst, calling herself a mother and soldier, recalled that while growing up she had to put plastic bread bags around her one good pair of shoes to keep them dry in the rain. These Americans "have been hurting" in the current economy, but "too often, Washington responded with the same stale mind-set that led to failed policies like Obamacare."
"That's why the new Republican majority you elected started by reforming Congress to make it function again. And now, we're working hard to pass the kind of serious job creation ideas you deserve," Ernst said.
In an unusual three-week buildup to the president's annual address to Congress, the White House had released details of many new proposals. That gave Republicans a head start in developing their response. So the party sought to turn Obama's post-midterm determination to focus on economic fairness against him, saying he was abandoning past pledges of cooperation.
"The American people have spoken," Senate Majority Leader Mitch McConnell (R-KY) told reporters before Obama's speech. "I think they expect us to sort out the things that we can agree on and try to make some bipartisan progress."
But instead, McConnell said, Obama has "indicated he's not for much of anything the American people voted for last November."
"I just say this with all due respect to him. He doesn't set the agenda in the Senate. We're going to try to do the things that we think will make America a better place," he said.
In a morning address to the U.S. Chamber of Commerce, Senate Finance Committee Chairman Orrin G. Hatch (R-UT) accused the president of advancing a tax plan that Hatch said "appears to be more about redistribution, with added complexity, and class warfare" instead of a serious proposal that could be the starting point for negotiations with the new Congress.
"(It) is unfortunate, because we're going to need real leadership from the White House — not just liberal talking points — if tax reform is going to be successful," Hatch said.
Rep. Jeb Hensarling (R-TX), chairman of the Financial Services Committee, also swatted back Obama's tax proposals, particularly a new fee on Wall Street companies, as the kind of policy that will ultimately raise lending costs.
"If President Obama has his way, hundreds of billions of dollars in new taxes will undeniably trickle down on to consumers. They'll face fewer choices, higher costs and less economic freedom," he said.
After Obama announced sweeping new policies to loosen trade and restore relations with Cuba, several Republicans who oppose that approach invited like-minded activists to attend the speech as their guests in the House chamber.
Sen. Marco Rubio (R-FL) said he hopes the presence of Cuban activist Rosa Maria Paya, whose father promoted democracy in Cuba and was killed in a 2012 automobile accident that some have suggested was orchestrated by Cuban officials, will remind Obama of the Havana government's abuses.
House Speaker John A. Boehner invited two other Cuban pro-democracy advocates, Jorge Luis Garcia Perez and Yris Tamara Perez Aguilera.
As in recent years, a prominent conservative political group organized the so-called tea party response to Obama's speech separate from the official Republican response. Rep. Curt Clawson (R-FL), a relative newcomer and former college basketball player, delivered some of it in Spanish, saying to the Latino community that "the law must be followed," but that "you are all welcome with us."
But, returning to English, he said: "As we respect our immigration laws, we've also got to be fair to the more than 10 million Americans currently struggling to find good jobs…. To do this, we need to secure our borders first."
Photo: U.S. Senate Majority Leader Mitch McConnell (R-KY) waits for the start of the State of The Union address by President Barack Obama on January 20, 2015, in the House Chamber of the U.S. Capitol in Washington, D.C. (Mandel Ngan/AFP/Pool/TNS)