Republicans Fear Losing Senate Because Trump Is So Unpopular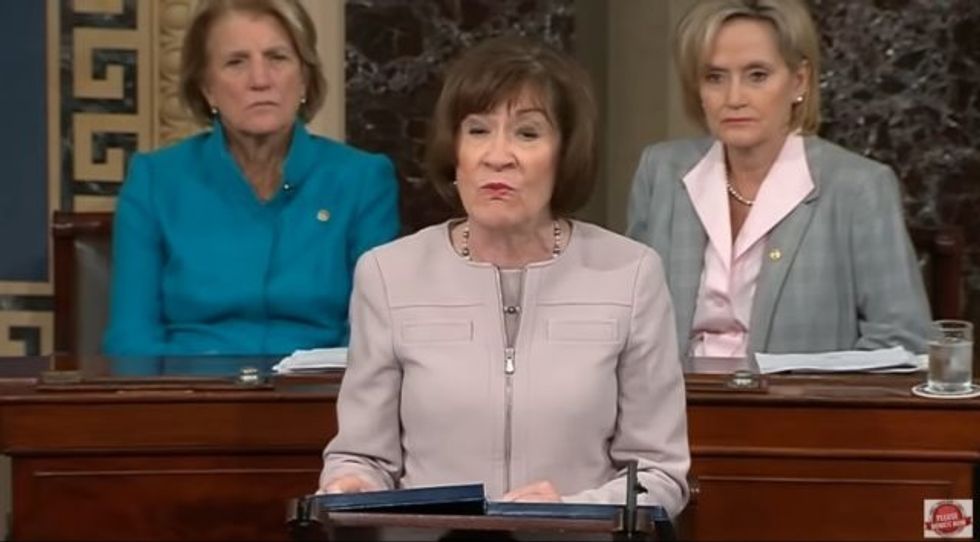 Trump's enormous unpopularity is making Republicans worry about not only holding on to the White House, but also about key 2020 Senate races, the Hill reported.
"His numbers are problematic," a Republican pollster told the Hill. "Folks are nervous, but no one is surprised."
Polls conducted by the Trump campaign and outside organizations show Trump trailing nationwide as well as in key 2020 battleground states, many of which also have competitive Senate races.
A June Quinnipiac University poll showed Trump losing to every single top Democratic candidate polled: Vice President Joe Biden, Sen. Kamala Harris (D-CA), Sen. Elizabeth Warren (D-MA). Mayor Pete Buttigieg, Sen. Cory Booker (D-NJ), and Sen. Bernie Sanders (I-VT).
The news is just as bad for Trump in major swing states like Wisconsin, Michigan, and Pennsylvania, where Trump's approval rating has dropped by nearly 20 points since he entered the Oval Office.
Republican Party leaders are concerned that voters' disdain for Trump will hurt other Republicans on the ticket, including seven GOP senators running in 2020 in either battleground states or states where Trump lagged in recent polling. According to the Hill, those senators are: Sens. Martha McSally (AZ), Cory Gardner (CO), Susan Collins (ME), Thom Tillis (NC), David Perdue (GA), Joni Ernst (IA), and John Cornyn (TX).
Republicans currently hold a 53-47 majority in the Senate (Democrats have 45 members and 2 independents who caucus with Democrats). In 2020, Democrats can gain control by either gaining at least four seats, or gaining three seats and winning the White House.
Trump's unpopularity is driven by a number of factors, including his cruel immigration policies and his attempts to sabotage the American health care system. Voters cite Trump's immigration policies as a reason they would vote for someone else. Voters also want to strengthen the Affordable Care Act, not destroy it like Trump is trying to do.
Vulnerable senators like Gardner, McSally, Ernst, Tillis, and Collins are some of Trump's most ardent supporters in the Senate, refusing to break ranks with him even when his policies hurt residents of their own states.
It is not impossible for GOP senators to win a state if Trump loses it. It happened a few times in 2016, but usually by a narrow margin, according to the Hill. Trump trailing in so many key states is a cause for concern for political consultant Alex Conant, who told the Hill it "just puts us on defense in a lot of states."
It's very possible that Trump could not only cost Republicans the White House, but control of the U.S. Senate as well.
Published with permission of The American Independent. 
IMAGE: Senator Susan Collins (R-ME).