Republicans Fear NRA Turmoil Will Hurt Trump's Re-Election Chances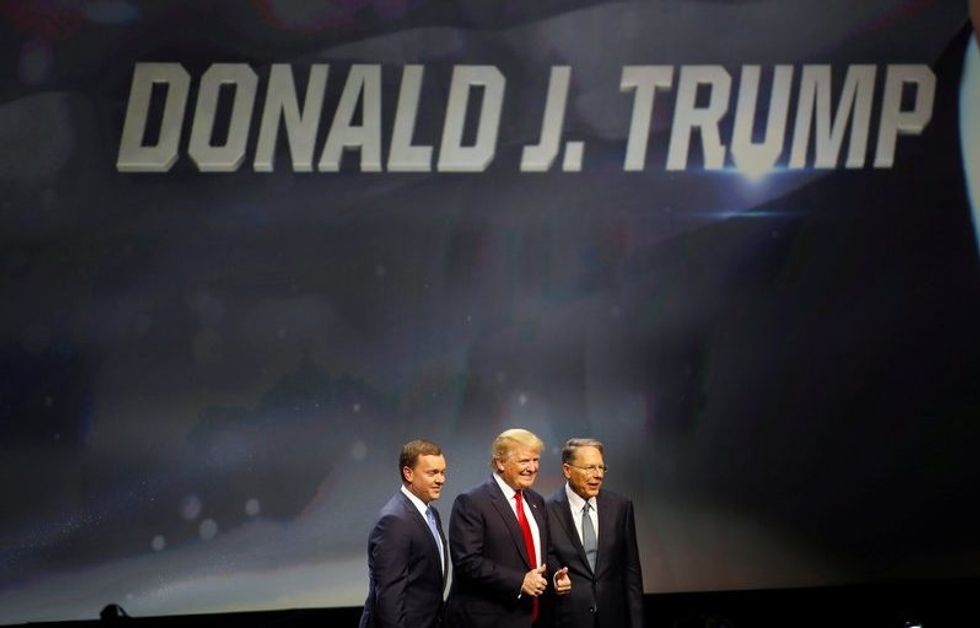 Republicans are concerned that the seemingly never-ending parade of scandals at the National Rifle Association could seriously hurt Trump's reelection efforts.
This week Politico reported on GOP concerns about the NRA, which has been a pivotal part of the Republican right's vote mobilization efforts in the past.
"The turmoil is fueling fears that the organization will be profoundly diminished heading into the election, leaving the Republican Party with a gaping hole in its political machinery," Politico noted.
The outlet reported that Republicans are already raising alarms and asking the NRA to come clean with its plans for 2020 so they can address possible deficiencies before the race begins in earnest.
Politico noted that Republican senators "have privately expressed concerns" about those problems to Todd Young, chairman of the National Republican Senatorial Committee.
"The situation has folks nervous," said Gregg Keller, former American Conservative Union executive director.
GOP strategist Chris LaCivita told Politico that the raging internal controversies "will have an impact on the NRA's ability to raise money, which would be used in elections to turn out its membership."
In 2016, the NRA gave $54 million to Republicans, with $32 million of that backing Trump through an avalanche of campaign ads and voter mobilization efforts.
Things have gone considerably downhill since.
There are congressional inquiries into the source of some of those funds after it surfaced that Russian money was being funneled to the NRA.
It was revealed that an admitted Russian spy had infiltrated the top levels of the NRA.
The NRA is currently embroiled in a very public fight between key executives, which led to the ouster of its president Oliver North and the revelation that CEO Wayne LaPierre went on lavish spending sprees while the organization was cutting jobs and perks.
Recently, the gun lobby shut down its propaganda arm, NRA-TV, letting go high-profile figures like spokeswoman Dana Loesch.
And in 2018, the NRA's chosen candidates within the Republican Party lost congressional races all over the country, leading to a Democratic majority in the House. That majority recently passed the first gun-related legislation in years to make it through the body.
On the presidential campaign trail, leading Democratic candidates have been more open with their support for gun-safety legislation than in the past, a clear indication that fear of the NRA's political muscle is at a new low.
Published with permission of The American Independent.
IMAGE: U.S. Republican presidential candidate Donald Trump poses with NRA Executive Vice President Wayne Lapierre (R) and NRA-ILA Executive Director Chris Cox (L) at the National Rifle Association's NRA-ILA Leadership Forum during their annual meeting in Louisville, Kentucky, U.S., May 20, 2016. REUTERS/Aaron P. Bernstein