Republicans Hate Hillary Clinton (Unless They Actually Know Her)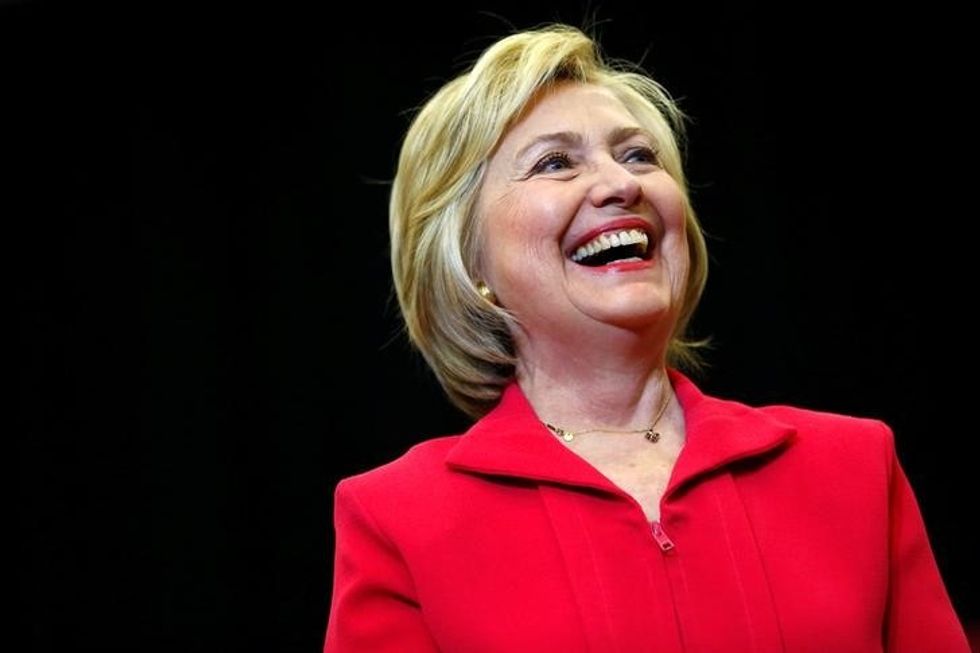 Dating back to Hillary Clinton's earliest days as First Lady, the frame imposed on her by mainstream and conservative media both has been "unlikable" — a description that has mystified many people who know her.
What this framing has proved is that she is disliked by a lot of journalists and columnists, most of whom don't know Clinton, at powerful outlets like the New York Times, the Washington Post, the broadcast networks and cable shows.  (A clinical example is Maureen Dowd of the Times op-ed page, whose crazed animus seems based on no personal knowledge whatsoever.) To those who are familiar with Clinton, in fact, she has always seemed considerably more agreeable than the vain, bitter, superficial journalists who whine incessantly about her. But hammered in over and over again for decades, the framing stuck.
In the current electoral context, it is hard to imagine Clinton being less likable than the juvenile bigot and prevaricating braggart Donald Trump (who used to praise her quite generously, by the way, until he decided to run for president and realized that she's the devil).
But what I've found truly striking about the "unlikable Hillary" narrative is how often and how bluntly it is contradicted not only by Democrats and independents, but by Republicans, too, who actually know and like the former Secretary of State despite their profound disagreement with her political outlook. These Republicans, including many of her former Senate colleagues, admit that they like — or even "love" — Hillary despite her liberal voting record and Democratic loyalties.
So I wrote a guest column for Monday's Daily News that noted how routinely she has earned the affections of Republicans and conservatives who served and worked with her — as Weekly Standard online editor Daniel Halper learned, to his apparent dismay and frustration:
…Halper was astounded to hear Hillary Clinton praised by one Republican after another on Capitol Hill while working on Clinton, Inc., a scathingly negative book he published in 2014. When he interviewed "Clinton's biggest opponents within the Republican Party during her time as First Lady," Halper recalled, "no matter how much they were coaxed, not one of them would say a negative thing about Hillary Clinton as a person." Unwilling to believe his ears, Halper assumed that she had merely flattered them into extolling her.

But the positive view presented by her erstwhile critics was remarkably consistent, Halper admitted. Among those who got to know her best was Sen. John McCain, the Arizona Republican who "developed a very friendly relationship" with Clinton on the Armed Services Committee. McCain's political consultant Mike Murphy explained, "They get along. He respects her. She's funny. She's smart." Former Arkansas Sen. Asa Hutchinson, who ran the Drug Enforcement Administration during the Bush years, said working with her was "always a joy." Other Republicans described her as "highly regarded," "engaged," even mischievous, with a keen sense of humor.
There is much more at the link, notably the revealing remarks of conservative commentators Dick Morris and Michael Medved (who has known Clinton since law school and, I'm reliably told, may soon endorse her over Trump, whom he despises). The point is simple: Be skeptical of journalists who constantly disparage the personality of a public figure whom they scarcely know at all.