Republicans Have Boxed Themselves In A Corner On Obamacare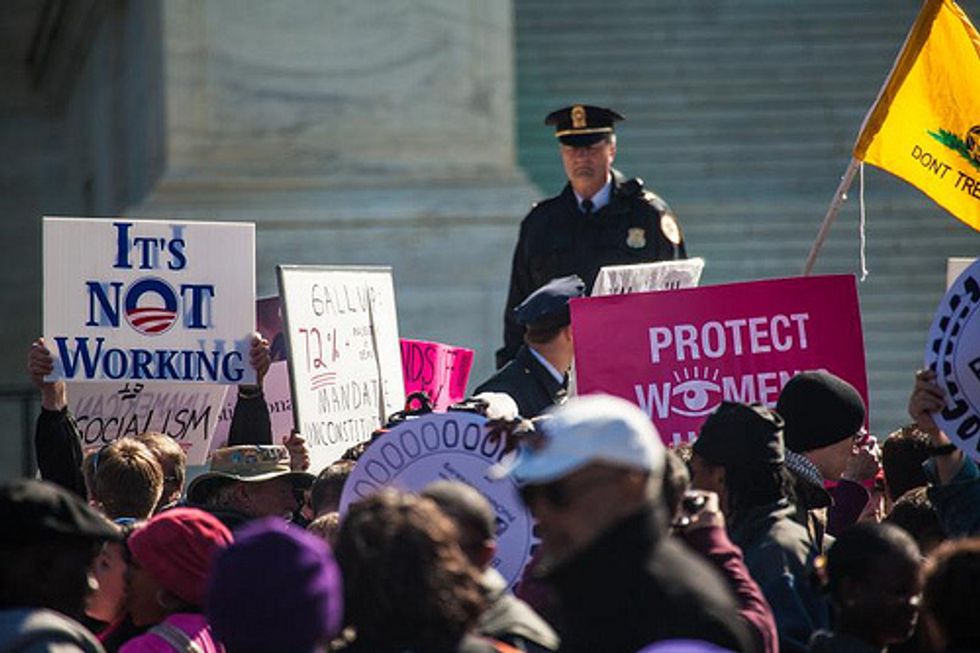 There's an adage that perfectly captures the Republicans' conundrum on Obamacare: Watch what you pray for; you may get it. Having spent the past five years viciously battling the Affordable Care Act, GOP leaders are worried that the U.S. Supreme Court may grant them a victory.
If the high court rules in favor of conservatives who have challenged the health care law — essentially gutting it — millions of Americans will lose the subsidies that allow them to purchase health insurance.
They'll no longer be able to afford to see a doctor. They won't be able to pay for knee replacements or chemotherapy treatments. They won't have the money for drugs for hypertension and diabetes.
And they'll be furious — just in time for the 2016 presidential election. Now that so many people have reaped the benefits of access to medical care, they want to keep enjoying them. They will be fighting mad if their health insurance is suddenly taken away.
That's because the Affordable Care Act is doing exactly what it was designed to do. Consider a report from the highly respected RAND Corp. — a nonpartisan research group — which issued its latest judgment on the Affordable Care Act in May.
Its study found that nearly 17 million people now have health insurance because of Obamacare. In addition, families may keep adult children on their policies until age 26. There are no longer "lifetime caps" that limit the amount of money insurers will spend on the chronically ill. Patients are no longer turned down for health insurance because they are already sick.
"The Affordable Care Act has greatly expanded health insurance coverage, but it has caused little change in the way most previously covered Americans are getting health insurance coverage," said Katherine Carman, who, according to a RAND press release, was the study's lead author. In other words, the law didn't wreak havoc on those who already had health insurance, as its critics had predicted.
It has slowly dawned on some Republican leaders that the law has provided tangible benefits to millions of Americans, and that they are likely to be blamed if those benefits are jerked away. But they have locked themselves into a very small room and lost the key. They can't seem to find a way out.
President Obama noted the GOP's intransigence in a speech to the Catholic Health Association a few days ago. "Once you see millions of people having health care, once you see that all the bad things that were predicted didn't happen, you'd think that it'd be time to move on. It seems so cynical to want to take coverage away from millions of people," he said.
But leading GOP officials have taught their aging base, many of whom are Medicare recipients, that the passage of Obamacare was tantamount to a communist takeover. Republican politicians have insisted for years that the Affordable Care Act would corrupt the health care system, ruin the economy and pave the way for a dictatorship. Now, they'd have a hard time persuading those voters, especially the Tea Partiers, it was all just extreme partisan rhetoric.
This latest high court challenge, King v. Burwell, is itself a symbol of Republicans' determination to strip health care away from millions of Americans. (It's also a sign of the partisanship that has overtaken the nation's highest court, which should never have accepted the case.) It's a frivolous suit that turns on the interpretation of four words in the statute — even though it's perfectly clear what Congress meant.
If the court agrees with the challenger, chaos will ensue. The GOP will have to take responsibility for finding coverage for millions of people, although its fractious caucus is unlikely to agree on a fix.
Given the stakes, there are undoubtedly those among GOP elders who want the U.S. Supreme Court to maintain the status quo, even if they won't say so publicly. After all, as Obama put it, "This isn't … just about the Affordable Care Act. … This is now part of the fabric of how we care for one another. This is health care in America."
Let's hope at least five justices concur.
(Cynthia Tucker won a Pulitzer Prize for commentary in 2007. She can be reached at cynthia@cynthiatucker.com.)
Photo: southerntabitha via Flickr.com