House Republicans Denounce Biden's Effort To Cut Carbon Pollution
@jeisrael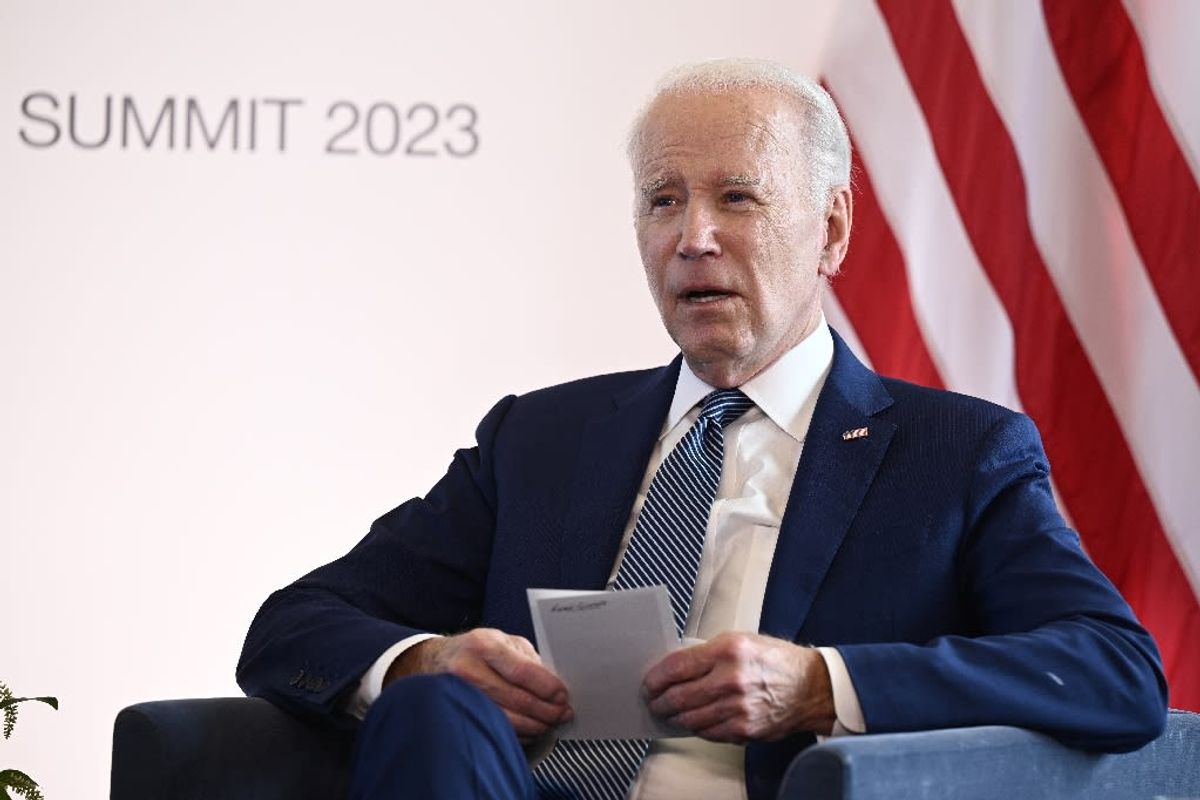 Joe Biden
White House senior adviser for clean energy innovation John Podesta cited recent climate change-fueled disasters on Wednesday in explaining the significance of the clean energy and climate action investments in President Joe Biden's Inflation Reduction Act. The Republican National Committee and GOP members of Congress pounced on his statement, framing it as a shocking admission.
Podesta, who is overseeing the clean energy investments funded under the 2022 law , acknowledged at a press briefing that it was "a time of heartbreak as the toll of extreme weather, fueled by climate change, is being felt across the country and the world." He said:
This summer has brought one climate disaster after another, from extreme heat in Arizona and Texas and across the Southeast, to floods in Vermont and upstate New York, to thick smoke from Canadian wildfires. And all of us have watched in horror as the Maui fires have claimed over 100 lives — the largest loss of life of a fire in the last 100 years in America. … To stop these disasters from getting even worse, we have to cut the carbon pollution that's driving the climate crisis, and that's what the Inflation Reduction Act is all about.
Podesta's warnings are consistent with scientific consensus . NASA said on Monday that July 2023 was the hottest month on Earth since 1880, when global temperature recording began.
The RNC's research team tweeted a clip of Podesta's remarks and wrote, "Top Biden advisor John Podesta: 'We have to cut the carbon pollution that's driving the climate crisis and that's what the 'Inflation Reduction Act' is all about!'"
Rep. Ben Cline (R-VA) retweeted that message. Montana Rep. Matt Rosendale wrote : "So the 'Inflation Reduction Act' was never about reducing inflation. It was always about promoting the Left's radical climate agenda. This is an insult to the hardworking taxpayers across America!"
"When I said it was the Green New Deal under another name, I wasn't kidding," tweeted Colorado Rep. Lauren Boebert. "Now they're saying it too."
House Speaker Kevin McCarthy's deputy spokesperson Chad Gilmartin wrote , "Translation: Biden's radical agenda is about to cost American families even more of their hard-earned money."
While the Inflation Reduction Act is not actually the Green New Deal , a 2019 proposal to address climate change and other issues, it does include significant investments to help consumers lower their energy costs and carbon dioxide emissions.
The Energy Department estimated in August 2022 that by 2030, American families will save an average of $1,000 a year on energy costs due to tax credits and rebates for installing heat pumps, weatherizing homes, and switching to electric vehicles. The law did not raise taxes for anyone earning less than $400,000 annually.
In August 2021, the Intergovernmental Panel on Climate Change, the United Nations group dedicated to climate change science, released a "code red for humanity" warning that humans are causing global warming and that immediate action is needed to curb greenhouse gas emissions in order to avert catastrophe.
Republican lawmakers in Congress ignored that report and unanimously opposed the Inflation Reduction Act. Pennsylvania Republican Rep. Lloyd Smucker denounced it as "socialism."
The law's investments have already spurred jobs in the clean energy sector in districts represented by House Republicans, but 217 of them voted in April for the Limit, Save, Grow Act, which would have repealed virtually all of those climate and clean energy investments.
On Wednesday, Biden tweeted : "One year ago, I signed the Inflation Reduction Act into law – delivering on the most ambitious climate action in history and lowering costs for hardworking families. We got it done together."
Tennessee Republican Rep. John Rose tweeted the Biden comment, along with a headline about an August 10 Biden speech in which the president said: "The end result of a lot of these things — and, by the way, the Inflation Reduction Act — I wish I hadn't called it that, because it has less to do with reducing inflation than it does to do with dealing with providing for alternatives that generate economic growth."
"It's been one year since President Biden signed the so-called 'Inflation Reduction Act' into law," Rose wrote. "Now, Democrats are saying the quiet part out loud: it was never meant to reduce inflation! It was just another step closer to socialism."
Reprinted with permission from American Independent .