Republicans Scheming To Rip Off US Postal Service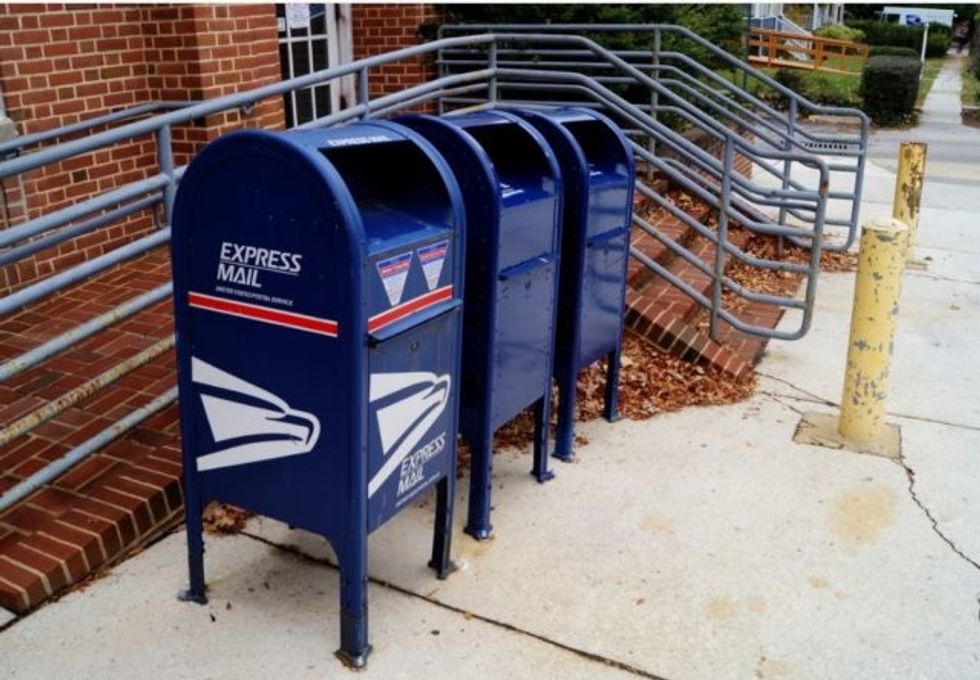 Reprinted with permission from Creators.
D.T. (as aides refer to the present occupant of the Oval Office) is really quite good at one special skill: branding. He has slapped his name on a ridiculous range of consumer merch — teddy bears, steaks, made-in-China ties, vodka, underwear and even a urine test. His nasty policies and behavior steadily turned the brand toxic, as only two merchandisers have kept his name on their products. Still, some two dozen towers, condos, palaces and other glossy real estate edifices blare his name, and 17 global golf meccas proclaim his ostentatious wealth. Then, of course, there's his very own post office.
Yes, he bought a 60-year lease on the "Old Post Office Pavilion," an iconic 1899 federal structure that once housed our country's postal service and has also been the home of various other national government agencies. Located just five blocks from the White House, D.T. and daughter Ivanka had it converted into a 270-room hotel for the rich in 2016. "The Trump International Hotel Washington, D.C.," boasting gold-trimmed bathrooms and a 5,000-square-foot suite in what once was the office of America's postmaster general. The suite can be yours for about $25,000 a night (but that's a bargain compared to a bigger presidential suite that The Donald named for himself, charging up to $29,000 for a one-night-stay, plus $4,000 in taxes). Branding the once-public facility with the family name was "really important," Ivanka declared at the launch of the redo. "You've got to be careful," she explained. "You can't allow people to walk by thinking it's a post office."
Daddy agrees. Now that he's in the White House, he wants to bring the family's sensibility for branding to our local POs. The Trumpsters say it's time to turn this historic public service over to the magic of the free market profit motive and the efficiency of bottom-line corporate management. You know, like airlines and cable companies.
This spring, Donald signed an order creating an inter-agency federal task force to propose structural reforms in the U.S. Postal Service. In a stunningly short time — shazam! — the task force (comprised entirely of top Trump officials) issued its cursory report only 10 weeks later, with a key recommendation that fit their base to a T: "Prepare (USPS) for future conversion from a government agency into a privately-held corporation."
Are they not aware that the mail agency is enormously popular and important to the public? A February Pew Research poll finds that an astonishing 88 percent of Americans give a thumbs-up to the PO's work, dwarfing the pitiful approval rating of Trump and the congress critters who're trying to kill it. Even the president's executive order that set up the task force conceded that our postal service "is regularly cited as the Federal agency with the highest public approval rating."
The 640,000 middle-class postal workers and letter carriers merit such kudos because they literally deliver for us in every ZIP code . Working from 30,825 local POs, they trundle 150 billion pieces of mail a year, 4 million miles a day to 157 million addresses across the land, from inner-city neighborhoods to back roads—and deliver them within a few days. They carry their loads door to door, ride snowmobiles, fly bush planes, run mailboats and even ride to the bottom of the Grand Canyon on mules to reach us. USPS does all of this without taking a dime in taxpayer funds, financing its operations entirely from its sales and services to customers.
This is an unmatched bargain, a civic treasure, a genuine public good that links all of America's people and communities into one. And that's why the right wing is so dead set on offing it. For decades, extremist anti-government propogandists (from the John Birchers to the Koch brothers) have relentlessly pushed the narrative that government is inherently incompetent, wasteful and "the problem" — a social evil that is to be hated and, piece by piece, eliminated.
The problem for these ideologues and corporate predators is that USPS is not only a government agency that works, but a tangible presence in people's daily lives, so millions of folks see it working for them. Therefore, to maintain the negative political narrative about public entities, the far-right corporatists are desperate to kill our public post offices. For more information and to keep the post office public, go to USMailNotForSale.org.
Populist author, public speaker and radio commentator Jim Hightower writes "The Hightower Lowdown," a monthly newsletter chronicling the ongoing fights by America's ordinary people against rule by plutocratic elites. Sign up at HightowerLowdown.org.