Residents Displaced In West Virginia Train Derailment Wait To Return Home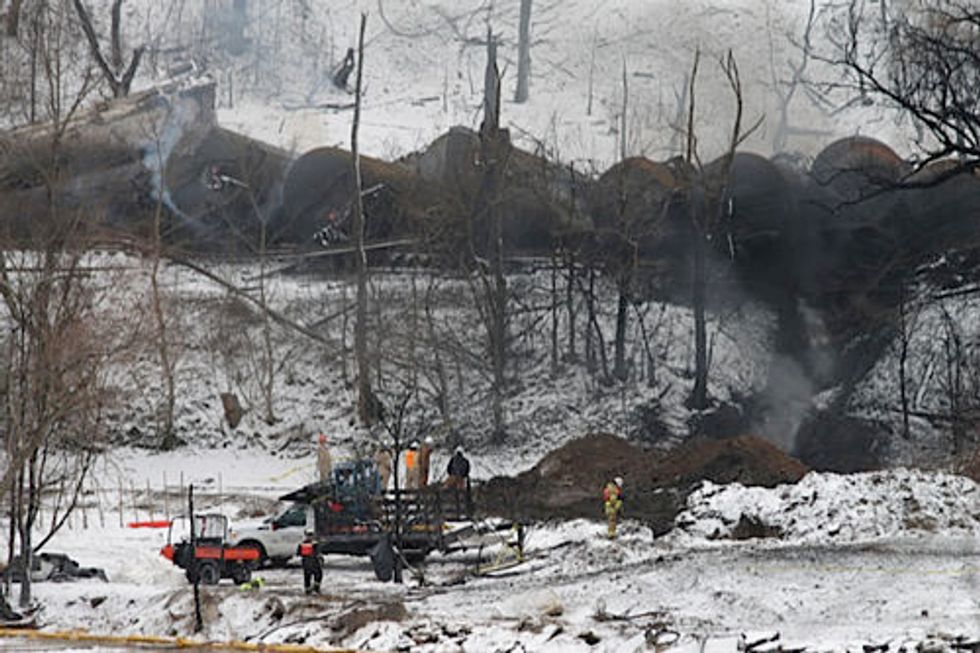 By Lexi Belculfine, Pittsburgh Post-Gazette (TNS)
OAK HILL, W.Va. — John Carelli and his family were ready to head home to Mount Carbon, West Virginia, on Wednesday afternoon.
Five of the up to 125 people still displaced by the Monday derailment of a CSX train hauling 3 million gallons of North Dakota crude oil that was still burning Wednesday evening, they knew the decision was risky with an evacuation order still in place.
"I don't feel like it's an immediate threat," Carelli, 40, said. "Plus, I'm tired of staying in a hotel room."
Bags packed and coats zipped up, they stood in the lobby of the Holiday Lodge Hotel and Conference Center in Oak Hill, about to make the 20-some-mile trek home — until they heard the power was flickering in Adena Village.
With wind chills expected to plummet to minus-30 Wednesday night in southern West Virginia, the Carellis worried about losing power — and heat.
"We're making the call to be safe, rather than sorry," said Carelli's wife, Sharon, 37.
They left their home Monday after the first blast from the derailment blew open their front door, and they lost power.
Twenty-seven of the train's 109 cars derailed and 19 caught fire, shooting flames sky-high, leaking oil into a Kanawha River tributary and burning a nearby house down to its foundation. The train was headed to Yorktown, Va.
Treacherous roadways forced the Carellis to stop at the lodge, which happened to be one of the hotels in Oak Hill and Charleston at which CSX was providing housing.
Families mingled in the lodge's lobby Wednesday afternoon, and walked their leashed dogs through the hallways. Carelli brothers Cayden, 6, and Cruz, 4, played hide-and-seek behind couches and drapes.
A blinding snow fell outside.
Kristi and Eric Halstead, who were among those in the lobby, live about 100 yards from the derailment and left their homes with just the clothes on their backs. They, along with their 18-year-old daughter and two small dogs, had been at the lodge since Tuesday and plan to stay until at least Friday.
"It was devastating at first," she said. "You worry about things. But it can all be replaced. People can't."
CSX spokeswoman Melanie Cost said the company is working to get residents back in their homes as soon as it's safe.
Containment and cleanup efforts in Mount Carbon continued Wednesday, as fires were allowed to burn out.
"That's the safest thing for the community, first responders and the environment," Cost said.
An anticipated one to three inches of snow and subzero temperatures were expected to speed up the process.
Neither Cost nor public safety officials could say how long it will be until the fires are extinguished.
The West Virginia Department of Environmental Protection is overseeing containment of the spilled crude, though it's too early to know how much was dumped, spokeswoman Kelley Gillenwater said.
Contractors dug containment ditches, and additional boom materials — which collect oil on water — were put in the nearby Kanawha River.
Gillenwater said 41 rounds of water testing conducted hourly came back "non-detect" for crude particles in the river. Some got into a tributary but was contained by ice and boom materials, she said.
Five thousand gallons of crude oil were vacuumed from the creek and ground near the derailment, though most is believed to have burned off in the fire, Gillenwater said.
Tankers, which each carry up to 30,000 gallons of crude, not involved in the derailment were removed from the area.
Crews on Wednesday began moving cars that derailed but were not damaged back onto the riverside track, so they could be moved to a railyard where their load will be transferred to temporary storage tanks.
When it's safe to do so, oil from tankers that aren't structurally sound will be vacuumed out on-site, officials said.
The soil will be tested and extracted after debris has been cleared, Gillenwater said.
Water had been restored to communities downriver from Mount Carbon, though they were still under a boil water advisory, according to West Virginia American Water.
Only one injury was reported since Monday, when some of the tankers hit an Adena Village home and burned it to the ground. The homeowner fled in his bare feet and was treated for smoke inhalation.
CSX has been in contact with that man, Cost said, and is working to "make him full."
Photo: The wreckage of an oil train derailment in Mount Carbon, W.Va., still smolders 48 hours later. On Wednesday, Feb. 18, 2015, federal investigators got a closer look at the derailment site, but it still wasn't safe for a thorough examination of the damage. Their work is further complicated by subzero temperatures in the coming days. No one was killed when the 109-car CSX train from North Dakota to Yorktown, Va., derailed on Monday, but one man was treated for minor injuries. His house, and truck, were destroyed in the derailment. (Curtis Tate/McClatchy/TNS)